Tags
Related Posts
Share This
Aboriginal Day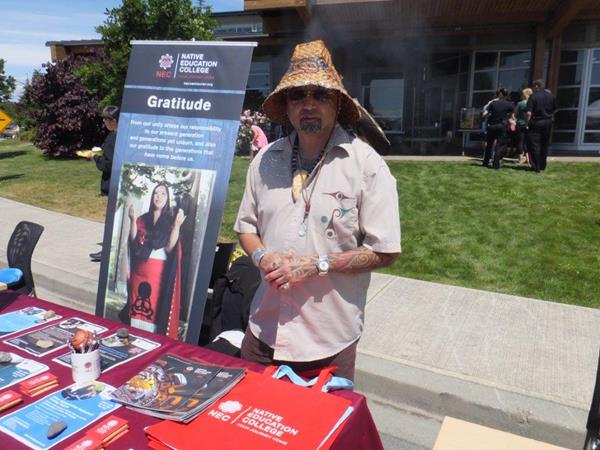 By Ellen McLaren
Photos: Barb Mikulec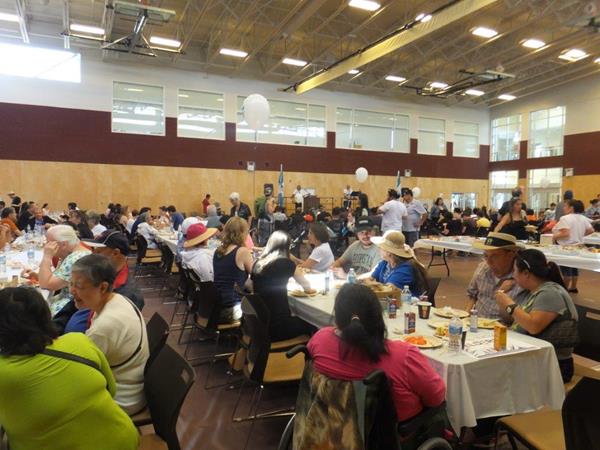 Steady drum beats reverberated throughout the hall, deep voices singing out a canoe journey song. Water nowhere in sight, the audience was still transported to riverbanks and shorelines, chants pulsing with imaginary currents. The Coastal Wolf Pack performance group then transitioned into an honor song, equally stirring – the friendly chatter preceding the opening ceremony had long since faded to a murmur, listeners all sitting in respectful silence. The auditorium had filled, organizers and volunteers leaving their booths to catch a moment of the final canoe journey song before the performers descended from the stage, still singing as they exited the room.
Applause broke out as the Musqueam Band's celebration of National Aboriginal Day was set into motion. Taking place every summer solstice, June 21, National Aboriginal Day is a time for all Canadians to honor the cultures and contributions of First Nations, Inuit, and Métis peoples. Festivities take place across the country as people, both within and outside Aboriginal communities, gather to learn about and appreciate Canada's foundational societies.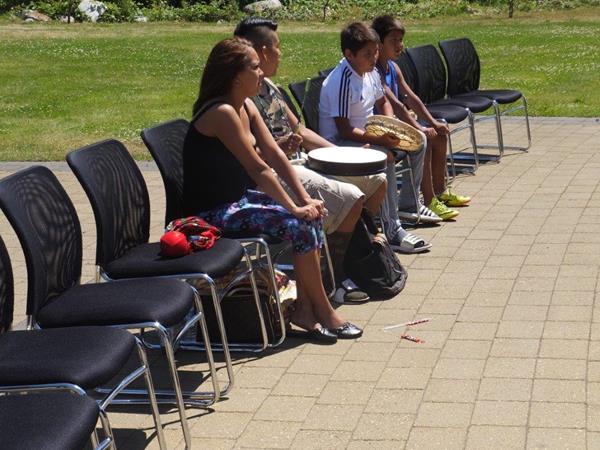 In Musqueam, the celebration took place a few days early on June 19, a sunny Friday afternoon. The day started with emcee Gordon Grant, who carried on a lively banter with each person he introduced to the stage. Chief Wayne Sparrow gave opening remarks, first acknowledging Musqueam's elders and then extending welcome to visitors to Musqueam. This included the new Vancouver Chief of Police, Adam Palmer, who was there with a number of his force, all relaxed and chatting with other attendees.
The crowd was decidedly mixed, attendance among Musqueam Band's community traditionally high, but with a sizeable number of outside participants also present. Fellow intern Amy Cheng and I were there representing Kerrisdale Playbook, hoping for a few spur of the moment interviews but mostly looking forward to enjoying the event (especially trying the famous barbecue salmon lunch).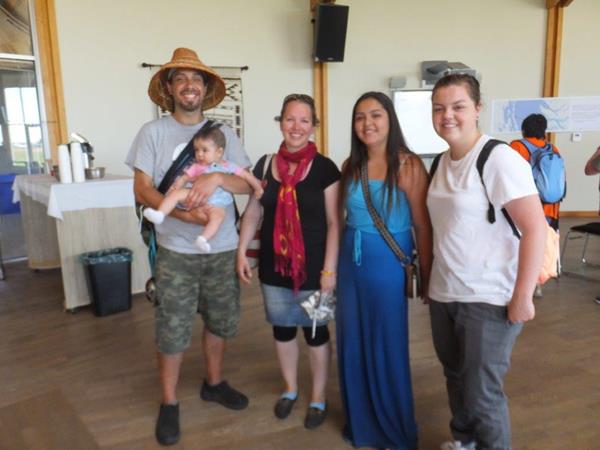 While the mood was generally light, a moment for solemnity was taken for the Witnessing Ceremony, conducted by Councilor Howard Grant, father to the emcee. The ceremony, he explained, was a time for witnesses "to stand be recognized." They have "the responsibility to say, 'I heard, I understood, I saw what happened,' from now to eternity." Though National Aboriginal Day is an opportunity to celebrate, such homages must be paid to past grievances, many of which still affect lives and perceptions of Aboriginal persons. The Witnessing Ceremony plays an important role in the reconciliation process, creating a space for inside and outside communities to come together to acknowledge a difficult history while moving forward to a more informed, respectful future.
Amy and I had the chance to speak with Gordon Grant after the opening ceremony, and we asked him to elaborate more on what he felt National Aboriginal Day meant. According to Grant, "It [National Aboriginal Day] is all about bringing the community together. And not only that, bringing people from outside the community, our nonnative friends, to come and learn a bit about ourselves, have fun and celebrate being Aboriginal." This positive sort of interaction was a theme throughout the day, everyone heart set on enjoying the booths, performances, and wonderful weather.
That being the case, moving as the opening speeches were, people were soon itching to get outside for a bit of sunshine. In the parking lots surrounding the cultural center, all sorts of stands had been set up. Many of them were informational, handing out pamphlets and fliers, brightly decorated poster boards catching eyes and sparking conversations. Others had games for the kids, offering small prizes and generating lots of giggling. There was a plethora of crafts, intricately made jewelry, detailed prints, and the ever popular weaving of resident artisan Debra Sparrow.
Debra, who is self taught in the style of traditional Salish weaving, is not only involved in the Musqueam community but is also a mentor in the Vancouver Arts Colloquium Intergenerational Generational Creativity Project. Amy and I have had the fortune to work hands on with Debra on a weaving project of our own. Though ours is not of a traditional Salish design, it's provided a fascinating opportunity explore an aspect of First Nation's culture that we'd otherwise be fairly ignorant of.
Seeing Debra at the National Aboriginal Day event reiterated the benefits of engaging more actively within the Kerrisdale community, as well as stressed the importance of the connection between Kerrisdale and Musqueam. While we were there, we ran into a few other familiar faces from Kerrisdale Community Center, a pleasant reminder of the investment in relationship building amongst neighbors.
Additional attractions included some of the armored police trucks, which were open for public exploration. Police horses were also poking their heads out of trailers, neighing passersby to pet and feed them. Music wafted from nearby speakers and the air slowly filled with the scent of lunch.
As enjoyable as the day was, thinking back about the celebration, I find myself feeling disappointed that these sorts of events are not shared more often among Canadians. One day out of a year set aside to appreciate a culture seems much too little, causing all communities, Aboriginal and other, to miss out on valuable connecting. Certainly, these sorts of celebrations don't need official recognition to be worthwhile, but the publicity of a national holiday goes a long way in raising public awareness, which smaller events may be lacking.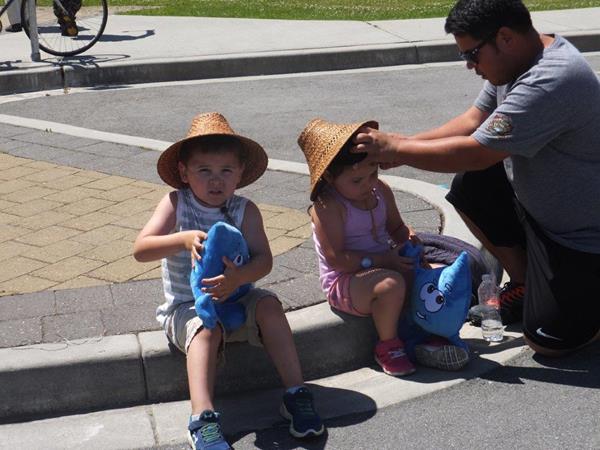 The willingness of communities members to connect is certainly present: Amy and I spoke with two women, both outsiders to Musqueam and first time attendees to the National Aboriginal Day celebration. In our conversation, they stressed how this event was both one of community building and education. "This is a step forward," they said, "in the truth and reconciliation process. We want to establish solidarity within our communities." Impressed with their succinctness, Amy and I felt that they very much embodied the ideals of which they spoke. Extending a welcoming hand, as well as accepting it, is vital to the strength of any society.
The day was doubtlessly a rewarding one. It reiterated the value of community and how it may be defined in terms of culture, neighborhood, as well as mindset. In that regard particularly, though its other accomplishments were many, National Aboriginal Day struck me as a sincere success. I hope to attend countless in years to come, as well as involve myself further in Vancouver's celebrations of its myriad of distinct heritages. Bare minimum, I'll be encouraging my friends and family to join me at next year's National Aboriginal Day for another excellent salmon barbecue lunch.