Tags
Related Posts
Share This
Paralympic Athlete Andrea Holmes Shows off her Favourite Leg at the Vancouver International Women in Film Festival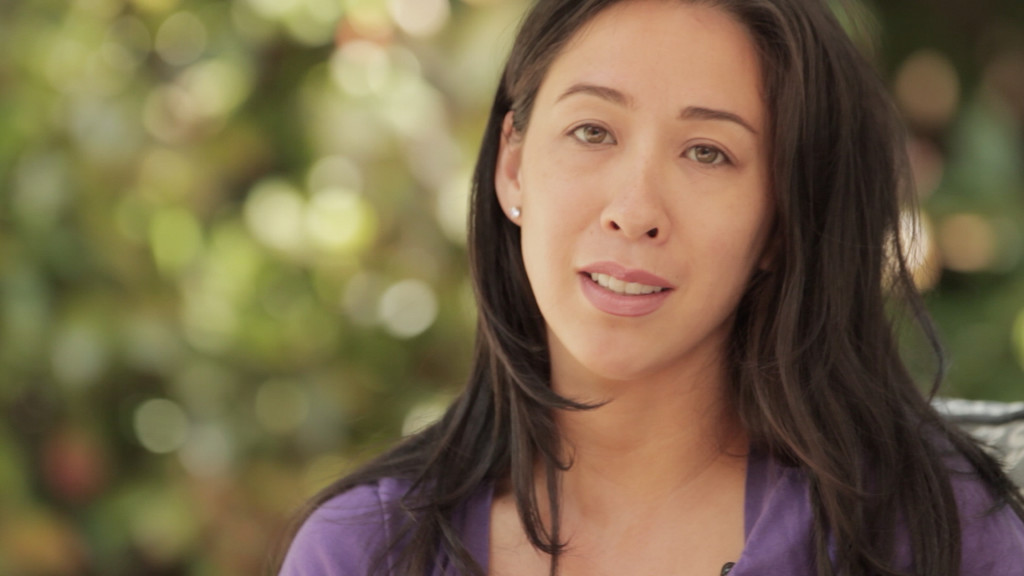 By Katja De Bock*
Photos Courtesy of Coni Martin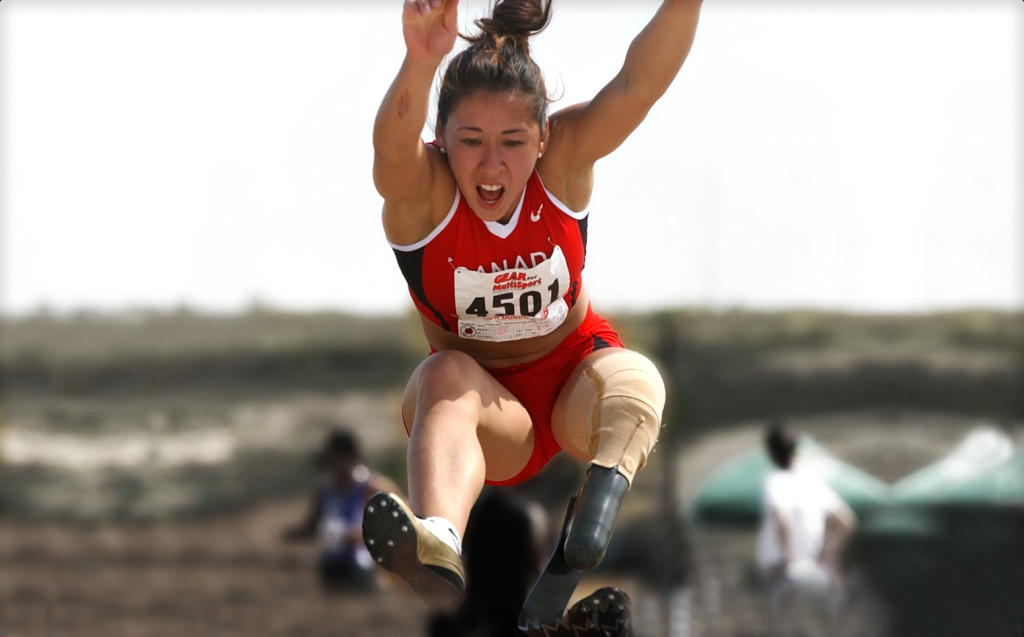 A young woman sits on a racetrack, holding a prosthetic leg in her hand. "This is my everyday leg," she says, "The toe is split, so I can wear thongs." Then she looks over to a metal leg adjusted to her left knee. It looks a bit like the "blade runner" tool that gave Oscar Pistorius his nickname, but it is prettier. "This is my running leg," she explains, with my new, beautiful cover over it."
Using those legs is what made North Vancouver's Andrea Holmes famous. She is an award-winning Paralympian.
Holmes was born with a condition of her left foot called fibular hemimelia. Her parents made the difficult decision of amputating her foot, so she could have an active lifestyle while using a prosthetic leg.
She represented Canada in Athletics from 2002 to 2007, winning a Bronze Medal in long jump at the Para-Pan American Games in 2007. She has also competed on the BC Para-Alpine ski team. Holmes is a four-time Canadian long jump champion, three-time 100m champion and a Canadian record holder in high jump.
Five years after her retirement as a professional athlete, a Langara College graduate of the Documentary Film Production program made a film about her.
Coni Martin's fine short My Favourite Leg recently screened at the Vancouver International Women in Film Festival (#VIWIFF2015). It will also be shown as part of the Just Film Festival, an annual festival of short films made by students in the Langara College Documentary Film Program. That screening will take place Sunday March 22 at 12:15 PM, at Langara College, 100 West 49th Avenue.
"It made me cry," says Holmes about the film, hardly 15 seconds into our interview for Kerrisdale Playbook. "She so eloquently was able to describe so much of me in such a short amount of time. I said to my husband after we watched it, 'if I were to die, I'd want this to be shown as my eulogy'."
Holmes is no stranger to publicity. She conducted lots of interviews during her sports career and as a Paralympic torchbearer. You may recognize her from speaking opportunities at Kerrisdale and Dunbar branches of RBC, her present employer.
 "[Martin] found interviews and videos that I had never seen, she did interviews with other people that said such kind things," says Holmes. "That makes it a special thing for me."
Though Holmes has been an active athlete since childhood, her biggest challenge was not her leg, it was to finding a coach, she says. Some didn't want to train disabled athletes; some thought she was not going to make it. Luckily enough, she found a great coach in Victoria-based Ron Parker, who helped her reach her athletic goals. Parker had never trained a disabled athlete before, but was willing to think outside the box and be creative, says Holmes.
"If Andrea had two healthy legs, if she had a left leg that was equivalent to her natural right leg, I don't think there is much doubt she would have become an Olympian," says Parker, who remembers how she phoned him in 2003 to try and make it to the 2004 Paralympic team. And she got in!
Holmes retired after the 2010 Paralympics and is now a banker in West Vancouver. Though still active in barre class, her biggest challenge is being a good mom to her young daughter.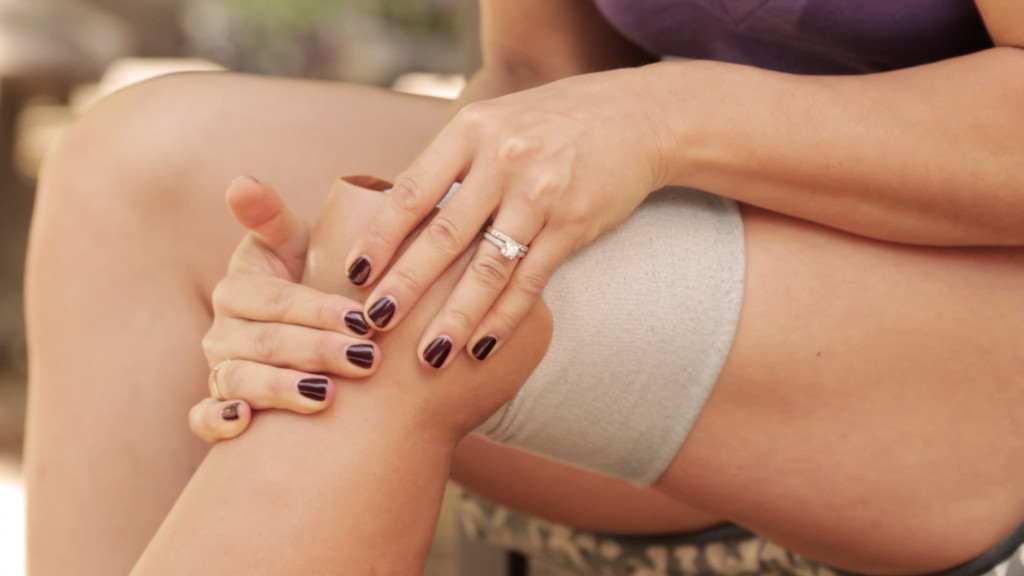 In the film, Andrea explains her different legs. She has a "cheetah leg" for running, an unfinished carbon-fibre one for swimming, and a flat-heeled, skin-coloured everyday leg. And then there is her favourite leg, a high heeled, custom-made leg, molded from her actual right leg. When you see it in the film, it looks no different from her healthy leg.
It's her favourite leg, because Holmes says she is a girly girl.
Holmes is surprisingly easy-going discussing her leg. "People have a stigma what a disability looks like. And for me, you can visually see that I have a disability. And sometimes I think that makes it easier because there are so many people living with things on the inside. There may be low self esteem, depression, cancer, you can't see any of these things," she says. "There's nothing that I am hiding. You can see that I have a prosthetic leg and whereas other people are dealing with things on the inside, that's a bigger struggle."
Holmes adds some people feel self-conscious addressing disabilities, because they don't want to make people uncomfortable.
"If someone asks me any question, I'll be totally honest with it," says Holmes. "If someone's staring at my leg and being awkward and weird, that's when I feel uncomfortable."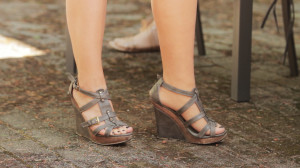 Holmes says she felt excited and confused when Coni Martin asked her to do the film. Confused, because most people would choose Olympic athletes or sparkly professionals at the top of their game.
Holmes' openness made it easier for the filmmaker, whose film was an assignment for a maximum 10-minute documentary with a low budget and a tight completion schedule.
Martin, who worked as a social worker in Germany, came to Vancouver for love a few years ago and decided to change careers. She is now a filmmaker and photographer.
What does she love most about My Favourite Leg? "The process of honouring someone with such persistence and it's wonderful being screened," says the filmmaker, who is working on a new film about another Vancouver amputee.
My Favourite Leg premiered at the United Nations Headquarters in New York City as part of the United Nations Enable Film Festival. The Vancouver Women in Film Festival marked the Canadian premiere of the film.
Watch a Q&A with the director here:
*Katja De Bock wears several hats as an entertainment reporter for Reel West Magazine and an associate producer at Red Cedar Films. She also works as a part-time communications coordinator at Women in Film and Television Vancouver.