Tags
Related Posts
Share This
Rachelle Chartrand Turns her Demons into a Dark and Delicious Diary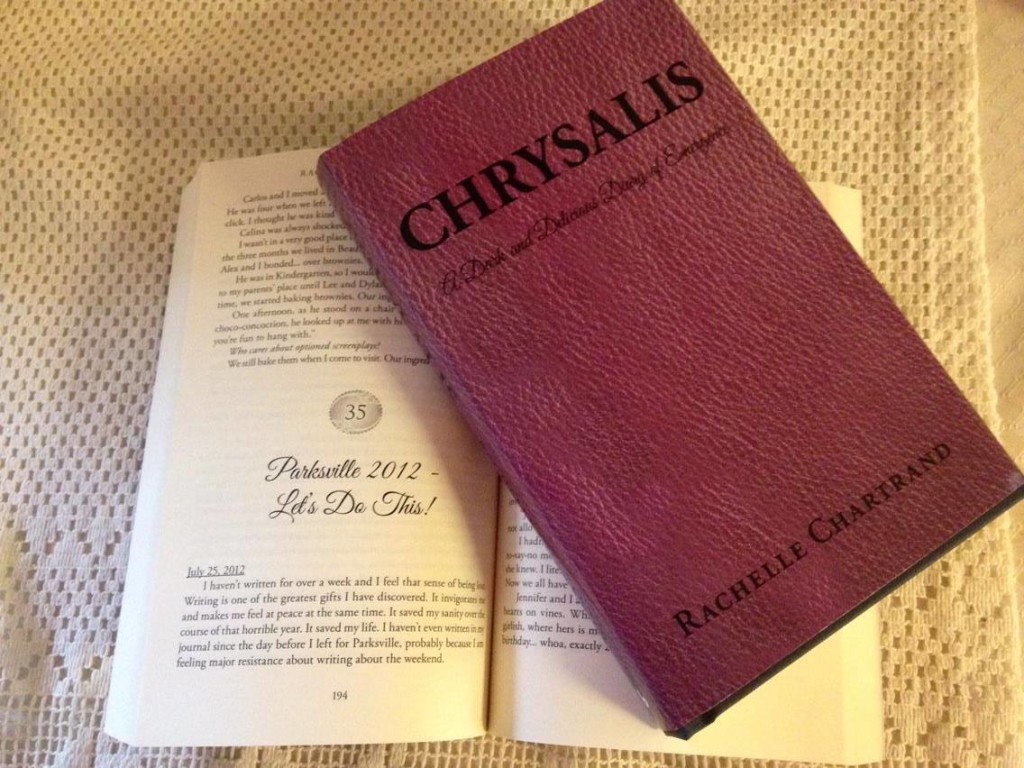 By Katja De Bock
Photo Courtesy of Rachelle Chartrand
When Rachelle Chartrand was performing yoga at her sister's home in Beaumont, Alberta shortly before her 39th birthday in 2011, she had a vision of herself turning into a butterfly.
"It was about a week before my 39th birthday and all babies born in 1972 dreaded turning 40 and I was like 'Bring it on'," says Chartrand, who at the time came out of two hard years after a divorce.
She instantly understood this as a chance to finally turn from a scared little girl into a woman.
Chartrand decided to write down her journey and publish it as a book. But she wanted to be honest, without sugarcoating, after having felt like a fraud most of her life. A life that included an early loss of virginity, bulimia, alcoholism and two broken marriages. Her goal at the time: Making 2012 the best year of her life.
Fast forward two years and here's Chartrand today, a beautiful woman radiant with the joy of her achievement.
Chrysalis is not your typical Sunday-afternoon, cozy-corner memoir that can be easily consumed with tea and cookies. Chrysalis can be fascinating if you like raw, honest dialogue and a no-nonsense attitude. Even though Chartrand says she did not write the book as a form of therapy, it touches on methods such as Emotion Freedom Technique and Emotion Code, as these are practices she used to come to terms with her past.
Chartrand does not mince words in some passages of Chrysalis when reminiscing her loss of virginity at a young age, the inability to speak with someone about this shocking event and the resulting mental pain she suffered throughout her adult relationships with men. She is honest in the description of her two failed marriages and does not lay the blame solely on the husbands. In fact, her second husband (who chose his own pseudonym for the book) gave her permission to publish a few unsavoury details that happened between them. He also turned up at her 40th birthday party to celebrate the event with his pregnant girlfriend.
"One of my hopes for [the book], and it's happening, is that this wound between men and women can heal. Because if I am able to heal my relationship with men, anybody can," says Chartrand, who is astonished about the attention the book has been getting on social media, with nearly 2,700 Facebook likes in a short period. Many of the fans are women who had similar experiences with bulimia, alcoholism or divorce, but many are men. As an example, Chartrand posted a video of a 20-year-old man who wrote a song based on the book, about how there is no such thing as meaningless sex.
"I never in a million years thought that they would be giving this feedback to me. It's blowing me away," says Chartrand. "The book is the anti-Men are from Mars, Women are from Venus."
Chartrand says in order to reach male readers, her gut feeling was to not go for an illustration of a butterfly on the cover of the book. In fact, she decided to not go for any illustration at all, but to just show a purple cover, similar to one of the five journals she filled, all in handwriting, during the course of the year. She assumed many men would not want to touch a book with a butterfly on it.
One of the men portrayed in the book – a coffee shop acquaintance she had a crush on and calls her "soul mate" – was so moved after finding out what difference he made in a stranger's life that he gladly revealed his true name on Facebook. The two have become good friends.
Far from being all doom and gloom, Chrysalis also includes scenes in the life of Chartrand the teacher and Chartrand the screenwriter. Chartrand teaches physics to children with autism and parts of the conversations with these students reveal interesting insights into their way of thinking. As with most characters in the book, the names are changed for privacy.
It also reveals Chartrand's joy in passing on knowledge, a skill she applied working as a Director of the Board, and later President of the film industry organization Women in Film and Television Vancouver. Chartrand organized workshops and festival pitching sessions for years, all the while getting her screenwriter career on the go. She is currently writing her third screenplay, Happiless, and expects her second screenplay, Flow, to be produced in 2015.
The book is available at Banyen Books and Book Warehouse in Vancouver as well as in online bookstores. You can find more on Rachelle Chartrand and Chrysalis on her website: http://www.rachellechartrand.com