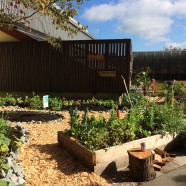 Nov

16
Tags
Related Posts
Share This
Collaborative Community Garden Enjoys Root in Kitsilano
By Dave Wheaton
You may have noticed an increase of community gardens in Vancouver over the past couple of years, and with the positive impacts they seem to have on the community, it's no surprise. Gardens can turn a vacant space into a sanctuary, provide a great place to get together with friends, and make connections between neighbours. And let's not forget the obvious – local gardens grow some of the tastiest produce available. There's nothing better than digging in to a plate of fresh food, and you can't get any fresher than community gardens. So it shouldn't shock you that over the last five years, Can You Dig It project co-ordinator Cinthia Page has personally been involved in three dozen projects all over the local mainland that create community gardens in urban places, transforming vacant spaces into thriving community sites.
The Kitsilano community garden, located next to the community center, is built into a small tightly wound space that borders the community center. At first, it might seem like an unusual place for a garden. It's much smaller than you'd expect and isn't shaped like the gardens we're used to seeing. But this is exactly the type of place that Cinthia hopes to find when starting a new project. "We are using pieces of land we wouldn't have thought of using before", she explains "But if we're going to make this work we have to be more creative with how we use space". The Kitsilano community garden is well worth a visit. If you go, you'll see garden plots that have been elevated and shaped to get the most possible surface out of the small piece of land. It's this exact sort of creativity that allows these urban plots to flourish and beautify a communal space. Only a few years ago the neighbourhood was a suburban area, and in its place is a shared space for people to work together and grow not only food, but a sense of community as well.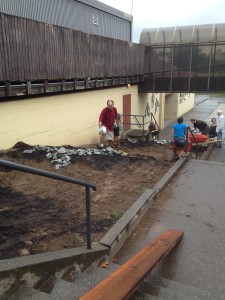 So what do you do if you want to start a garden in your community? Well first of all, consider giving "Can You Dig It?" a call. If that doesn't work out, you can take your project to the city of Vancouver and get it supported that way. Burnaby is currently in the process of creating a system where individuals can start to transform spaces in their community into gardens. "The city creates fewer gardens every year, but they really support the ones they do create", Cinthia says, "I would encourage anybody to apply to the city"
What are you waiting for? Go ahead and get growing!
For those who are interested in volunteering and/or learning more about the collaborative garden, please contact Kitsilano Community Centre and follow us on FB and/or please call Oren Burnspark at  604 257 6991 or email  oren.burnspark@vancouver.ca