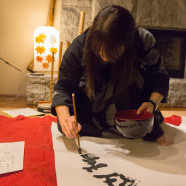 Oct

15
Tags
Related Posts
Share This
Etsu Inoue Continues Exploring
By Haley Cameron
Photos: Noriko Nasu-Tidball
When Etsu Inoue first came to Vancouver from Fukuoka, Japan back in 1989 it was to explore. The twenty-four year old had caught the travel bug while working for a Japanese airline, prompting her to apply for a Canadian working holiday Visa. Fast forward twenty-five years and Inoue is still exploring — but these days it's with water colours and calligraphy.
"There is so much more nature here than in Japan," Inoue shares, explaining how she came to stay in British Columbia and what inspires her creative work. "And there is quite a strong community of artists," continues Inoue, a member of the Federation of Canadian Artists who is graciously appreciative of her local support systems.
When Inoue first landed in Vancouver she remained in the tourism industry, working with a local tourism company until 9/11 and SARS fears began to hurt the travel sector. "That's when I started pursuing my art and calligraphy more seriously," she shares.
Inoue first began studying calligraphy at the age of eight, when it was introduced to Japanese children as a part of their regular academic curriculum. Since leaving Japan, Inoue has continued to train under the guidance of her master, whom she calls Kisui, using his artist name. "I'm still learning," laughs the humble student, explaining that she sends her work back to Japan for feedback once per month.
Her water colour work is an entirely different story. "It is all self-taught," she says. She began pursuing painting professionally fifteen years ago. "Before that it was always a hobby; I love painting very much," says the artist. Inoue has customized her watercolor painting by incorporating materials traditionally used for calligraphy. "I use the washi paper – it's a very strong paper, and my calligraphy brush." She uses a mineral based pigment to separate the painting from her calligraphy.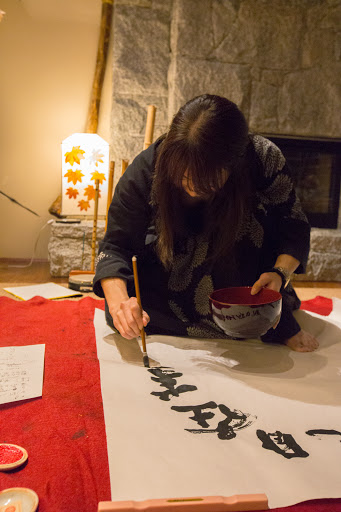 It's by means of these unique watercolors than Inoue combines her loyalty to traditional forms of Japanese art, and the visual inspiration of her local environment. "The materials I use are all traditionally Japanese, but the motifs — cherry blossoms for example — are all taken from around here. It's a Japanese and Canadian mix-up in my eyes," she offers. When asked if there is an underlying political goal in these cross-cultural creations, Inoue shakes her head. "People here don't know about Japanese watercolor painting; I want to spread awareness, that's all," she insists.
Inoue has had to get extra creative to reach the North American population with her work — especially when it comes to her calligraphy. "There is such a strong Chinese population here; my work competes directly with Chinese calligraphy," she explains. Ever the innovator, Inoue is focusing on the aspect of her calligraphy people are most interested in: production. "Viewers are much more interested in the show," Inoue claims. "Three years ago I started collaborating with Alcvin, a shakuhachi musician, to turn my calligraphy into a performance." The idea seems to have caught on. Inoue has performed at the Sakura Matsuri fair, local Japanese temples, and the Nikkei Heritage Centre.
The topic of collaborations leads Inoue to share one of her main goals. "I'm trying to collaborate with other types of artists. Maybe a dancer," she suggests, "Totally different types of artists." And Inoue is well on her way. She recently worked with local First Nations mask designer, Phillip Gray, painting Japanese characters onto his designs.
Though Inoue remains humble about her artistic goals, she admits that she does hope to expand her work eastward. "Montreal, Toronto, New York," she begins, before sharing that she has just sent her first submission to the International Art Festival in New York. It will be on display at the Highline Loft Gallery from October 8th to 11th.
Inoue's work can also be seen locally this fall as well. Her art will be displayed at the Hycroft gallery from November 5th to December 1st, and as a solo exhibition at Murata Art from November 15th to 30th. For more information visit galeriedeetsu.com.