Tags
Related Posts
Share This
Spotlight on Kerrisdale Playbook Photographer Noriko Nasu-Tidball
By Katja De Bock
If you are a regular reader of Kerrisdale Playbook Magazine, you will have noticed the beautiful photos of our interviewees, capturing the essence of their personalities with just a short click of the lens. You might be surprised to it's an emerging photographer, Vancouver-based Noriko Nasu-Tidball, who made the professional photos.
In my experience as a producer and interviewer of television magazines, the videographers dominate the set. They have to set up their gear of tripods, lamps and cables in what is usually a very short time. However, for the nervous interviewer and self-conscious interviewee, that time seemingly takes forever. Moreover, the videographer often interrupts the flow of the interview as the subjects move in and out of focus, or when camera cards are full or batteries empty.
Not so when I am working as a writer with Noriko Nasu-Tidball as my photographer colleague. When my editor-in-chief, Keiko Honda, and I are speaking with the interviewee, Noriko has the astonishing ability to become what they call a "fly-on-the-wall." You don't hear her, you don't see her, and yet she manages to make hundreds of photos per session, of which only a handful will be selected for the magazine.
For most of the interviews in Kerrisdale Playbook, Noriko relies on ambient light (daylight) and does not ask the subjects to pose, as she wants to capture the gist of the moment. An exception is a group portrait at the end of the interview.
Noriko says her love for vérité-documentary style of photography began during her childhood. She grew up in Susami, a small town in the Wakayama prefecture (administrative district) in Japan, as a daughter to a banker and a kimono storeowner. Magazines were always around in the Nasu family, as Noriko's uncle, Yasutaro Mori, was an executive at Mainichi Graph magazine, a photojournalism periodical in the style of the U.S. magazine Life.
"I've always had the chance to see journalism magazines, so it is inside my image of what photography is about," she says, adding that her preferred style, photojournalism "is not for hanging in the living room, but I like it! It's more for a book. . . I like it when my subjects are regular people."
During her studies of sociology at Tezukayama University in Nara city, Noriko met her future husband, Dan Tidball, an exchange student from UBC. They lived together in Japan for seven years before moving to Canada and starting a family. Noriko continued to have a career working in tourism for a Japanese company while in Vancouver, but was drawn back to photography in 2009.
When Noriko got her picture taken by local photographer Yukiko Onley, she was so mesmerized she decided to take classes. Four years later, she has four digital cameras and has mastered working with celluloid film.
She recently showcased some of her work at the Visual Space gallery in Vancouver and is sharing some of her work with Kerrisdale Playbook.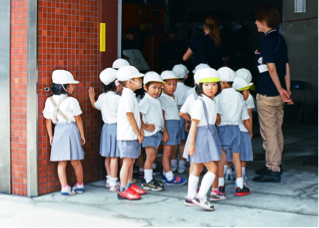 Personalities is the striking portrait of a group of Japanese school children visiting a fire department in Kyoto. Noriko shot the photo on her celluloid film-based camera while walking by the scene in August 2013.
"Every face is like a small person," says Noriko. "They have individually strong personalities.
"This is me," she says about the girl in the left corner, who turns away her face from the photographer and somewhat shyly observes the group.
"And this is not me," she adds about the other girl, third from the right, who looks confidently in the camera. "I don't like being in the centre of attention, I always like being off and I want to see the people. That's pretty much me!"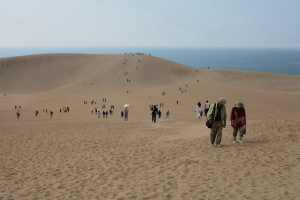 Traveller is an amazing shot of people in a desert-like landscape. To my surprise, it was not shot in Egypt (Exodus comes to mind here) or in the Sahara, but in Japan!
When Noriko visited the Tottori sand dunes, Japan's only large dune system, stretching over 30 km², it was a hot August day. Maybe surprising to Vancouverites, who dress summery even in winter, people tend to be dressed up in Japan, even on a hot summer day, says Noriko.
The photo, shot on a digital camera, is named Traveller, because the depicted peopel remind Noriko about life's journey.
"The people who come here, some are obligated to go, or may want to be with a girlfriend," says Noriko. "So are they happy, or just obligated to come here?"
Fresh Snow is a beautiful photo of two snowy Sakura cherry trees in Vancouver's Queen Elizabeth Park. It links Noriko's Japanese roots with her Vancouver life and is also a rare depiction of cherry trees.
"We always capture spring, but winter is also beautiful," says Noriko, who shot this picture in December of 2013. When she saw the snow one early morning, she knew she had to go out and shoot in the park while it was still undisturbed.
She made only two shots of these trees on a digital camera.
One of her next projects will also link her Japanese heritage with her Canadian life. Noriko is working on a photo album about her Japanese home town, as she feels that the memories are needed for the next generation of both Japanese, whose children have moved to the larger cities, and Canadians with Japanese roots, who may never see their ancestors' home town.
Hopefully, Noriko's work will be published in print sooner than that of one of her role models, German-Canadian photographer Fred Herzog, whose magnificent photos of Vancouver were only discovered when he was already in his 80s.
Till then, you can visit the photo gallery on her website – or keep returning to Kerrisdale Playbook.
By Katja De Bock