Tags
Related Posts
Share This
It's About Finding the Soft Spot and Giving the Community What it Needs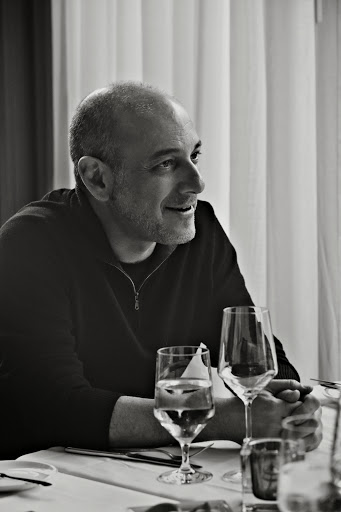 By Dave Wheaton
Photos: Noriko Naru-Tidball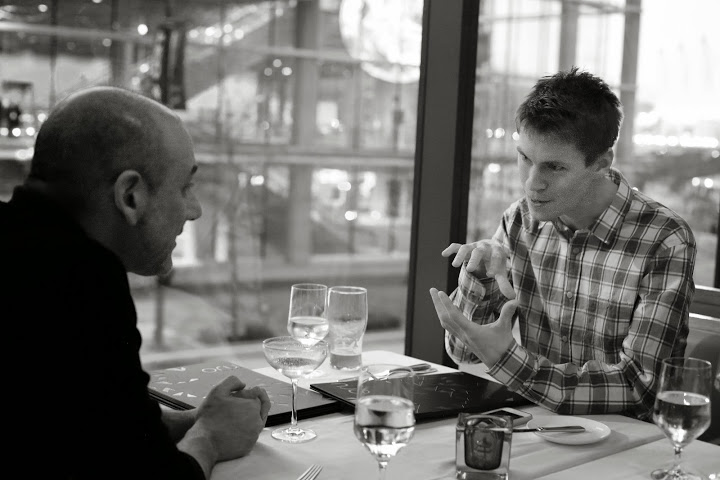 In Oru Restaurant one Tuesday afternoon we met with superstar architect Gregory Henriquez, managing partner of Henriquez Partners Architects.  As one of Vancouver's most influential community figures, Gregory has received wide recognition for designing Woodward's redevelopment in the Vancouver Downtown Eastside. Today, Gregory and his architectural firm are working on several projects to promote community, social justice, and sustainability across Vancouver. As if that wasn't enough, Gregory's buildings are designed to have a distinct style and are some of the most recognizable pieces of Vancouver.
As expected, Gregory keeps busy.
"We're doing all sorts of things – everything from Oakridge, which is very large, to little projects like the York Theater on commercial drive, where we've brought an old theater back to life. We're turning a prison into social housing over on Main Street, and creating the first immigrant services building in North America which is going to integrate temporary housing with non-profits to help immigrants from other countries, which is exciting. We're doing our first project in the Middle-East. We're doing a myriad of different re-zonings around town – most of which are for complex mixed-use. We're redoing a church into rental and social housing. It's an amazing project. So we're pretty busy."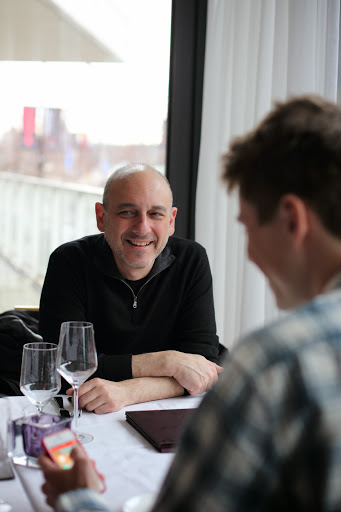 But despite these staggering contributions to Vancouver, Henriquez Partners Architects is a relatively small team. They employ only 51 people while most competing firms are multi-nationals that employ thousands.
Gregory's architectural style is famous for incorporating an ethical component to the buildings he and his team design.  "Each project is about finding the soft spot and the thing that is required in order for a community or an issue or an idea to be brought to light", Gregory explains, his inspiration comes from communities. Of course, Vancouver is unique in many ways: we're new and fast growing and we have a very diverse population. But a significant portion of money coming in to the city comes from overseas; meaning gentrification and homelessness are issues we deal with. Gregory points out that architecture here is different than in any other city in the world.
"Vancouver is unique. Most of the world doesn't allow the type of community we have, most of the world doesn't embrace it, and most of the world has a strict hierarchy of castes in society that doesn't allow for democracy to happen. As profane as people think our system is, it's the best thing out there. Even with all the lack of inclusivity and inequity here in Vancouver, it's the most inclusive and the most equitable society on the planet. This is what's fundamentally interesting about making architecture here. "
But there is a separation between the type of social justice Vancouver requires and the architecture we see when we look around. Tall, glass high-rises make up most of downtown Vancouver. So how do we begin to integrate architecture with social justice and make ethical buildings?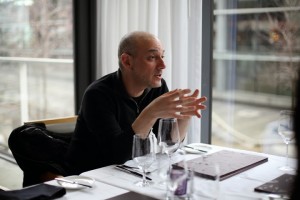 "I believe that this integration is possible in small, episodic spurts. The larger economic engine of the world or the city or the country has so much inertia that you have 'pockets of resistance' that start to talk about these issues. Some of our projects in the early days were about stepping outside of the mainstream and doing social housing, community based projects – little things. When we did Woodward's we realized that if we participated in the political social dialogue society has to offer, we can do more, but we have to make compromises and participate in the profane realities. While it may not be perfect, I think we've been pretty successful."
And they have. The Downtown East side's Woodward's building has brought the first food store, drug store, bank, and dentist back into a community that had none of these basic things. Today, Gregory continues to integrate social justice into the community through architectural design and rezoning projects. Henriquez Partners Architecture is currently in the process of converting a remand center into social housing.
            "Back in the 70s and 80s my father designed a remand center. But with the advent of modern technology and new approaches to surveillance, they don't need these anymore. This place has been sitting vacant for years, so back in 2008, when Gregor Robertson came to power and started talking about ending homelessness I made a pitch to him to turn this remand center into social housing. And because the Olympics were coming we could do it fast because the building already existed. It took a lot of time, but it's just getting started now. Take a prison yard and turn it into community garden, take the cells and turn it into community housing, remove all the bars and put in terraces and gardens. The metaphor is really nice."
Another project of Gregory's is in Oakridge, where he and his firm are turning a suburban shopping mall into a miniature city. The idea is to take an area that has no money or people moving in, and create something that will tie the community together and redirect the future of the area.
            "Oakridge is very controversial. It's a suburban shopping mall. The population has not grown in 25 years. Nobody's moving in. Our forefathers have made some really great decisions. They've stopped the freeway from coming through the area, they've planted Stanley Park, and they've made the Sea Wall, a land reserve, an agricultural land reserve, and the Canada Line. These are mammoth decisions about doing the right thing for the community as a whole. Oakridge is one of those decisions. We're going to turn a shopping mall into a mini city. Somewhere to live, shop, enjoy leisure. It'll have a day care, community center, and park. All within the context of no money coming from the government. So the question is: how many societies are doing this? Very few. You go other places in the world and many of them don't see integration and giving back as something that's of great value. We live in a blessed place with enlightened values."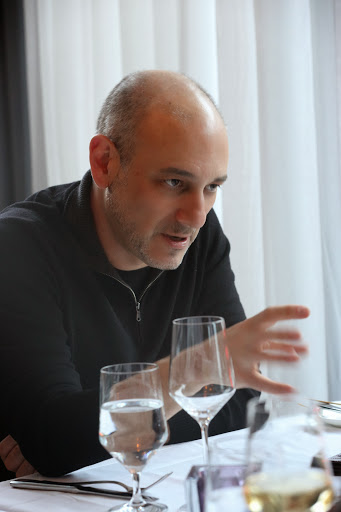 The Woodward's redevelopment shows the impact that ethical architecture can have on a community. As a mixed-use building, and by offering a certain number of houses to residents of the downtown eastside, Woodward's redevelopment re-shaped the Downtown Eastside and addressed gentrification in the area. But the Woodward's building also defines a communal identity for the Downtown Eastside. When you enter Woodward's atrium, the first thing you see is a 30 by 50 foot photographic mural entitled Abbott & Cordova, 7 August 1971, by Vancouver photographer Stan Douglas. As Gregory explains, the mural was installed to preserve the communal history the Woodward's site represents.
 "There are two ways to look at historic preservation. Sometimes you retain a building for architectural reasons and other times you maintain a building for its cultural significance. The original Woodward's building meant something to the community because of experiences and events in their lives. You can also look at history in terms of the history of ideas and what happened at a specific place and time that changed a community. The Woodward's project is like that. Over time there have been many events like the Woodward's squat in 2002, like the Gastown riots – whole series of events that date as far back as the 1930s because Woodward's was the historic center of that time. Asking Stan Douglas to do a piece there is really about trying to capture some of the contestation, the critical nature of that site's history. Woodward's squat would be too recent a part of history to be able to capture what it meant, whereas this event he felt could elucidate some of the social issues surrounding the neighbourhood- issues of gentrification and issues of identity. You and I look at the photo and see protesters being beaten by police officers. Then we see observers, who are the actual residents of the Downtown Eastside. The protestors are actually groups of hippies from the Westside of Vancouver protesting for marijuana legalization. So to have these people infiltrating the Downtown Eastside and get beat up raises issues about living in a police state. How much freedom have we got?  But it's also about an early form of gentrification."
Perhaps the most iconic feature of Woodward's redevelopment is the red exoskeleton on the building's exterior. It's a modern rethinking of the flat iron style that mixes the building's appearance with sustainable function.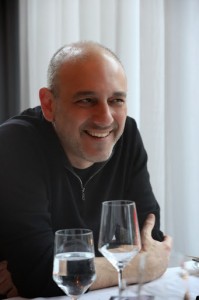 "The interesting thing about this site is that it sits on the hinge of the old city grid and new city grid, encompassing the shifting that occurs at this point. In those days they used to make buildings out of steel. The idea was that we make this flat iron building at the hinge of the city coming together. We had to find a historical precedent that would find a way of talking about this turn of the century building method. So we took the exoskeleton, applied it to the edge of the building and used it as sun shades for the building so we didn't have to put air conditioning in. It's a way of making an aesthetic gesture to the past, a way of acknowledging that it's a modern reuse of steel technology. But it's also an environmental thing."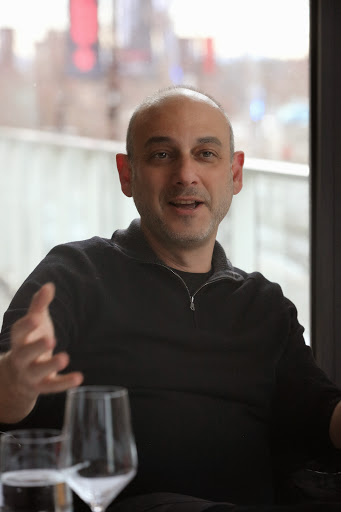 We're very lucky to live in a city that takes sustainability seriously. On the journey towards becoming a green city, we have to think differently about our environmental footprint and how our city relates to the environment. Projects like the Museum of Vancouver's Rewilding Vancouver look at the connection between our urban life and Nature. The idea is to reconcile Vancouverites with the wilderness. But is this the right way to think about sustainability?
"It's interesting to have a discussion about it but there are much larger issues, like global warming and the need for densification, that are much more pressing than having a green spot here in the city. I don't think people realize that we would need three whole planets to sustain the world if everybody lived the way we do in Vancouver. The days of everybody living on their own plot of land in the wilderness are gone. It won't save the planet."
Community involvement was such a big part of Woodward's redevelopment. With feedback from the community the project provided the area with the exact thing it needed. But a great deal of Gregory's inspiration also comes from his family, which has shown him the value of an inclusive community.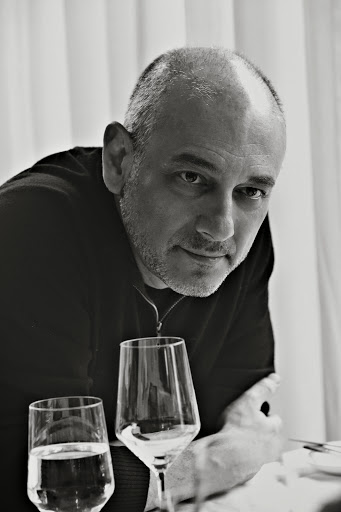 "I was fortunate or unfortunate enough to have a daughter with some physical challenges. But the reality is that the experience has been very enlightening in terms of what it means to be human and what it means to have a life of value. Every life is of value regardless of whether you contribute a cure for cancer or a smile to the world. I think my daughter's gift to me was recognition of the importance of designing for people with disabilities and recognition that everybody has a meaningful role to play in the community. Whatever that role is has to be nurtured and supported such that people come to understand that there is diversity."
Despite having accomplished so much and impacting Vancouver in such a positive way, Gregory is still a young man in the world of architecture. So what comes next?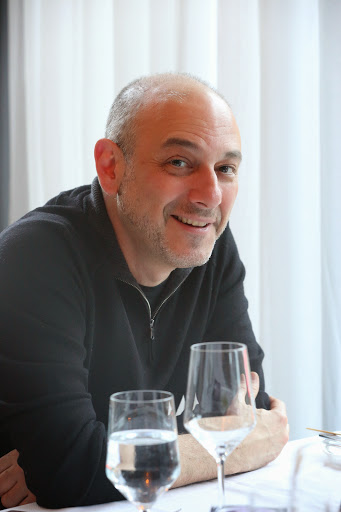 "At 21 I had some very big aspirations. At 50 I've done all of them – it's pretty unusual and I feel very blessed. Now what I'm trying to do is make the studio less dependent on me and run it like a school. I'm trying to give more power to the young people and let them say something of meaning, I just have to make sure the ideas are of substance and that the quality of our practice continues.

I think everybody has one important thing to say in their life it they're lucky. I think mine is about the integration of ethics and poetics and about this complex reworking of programs for buildings such that you can capture some of the greed in the development industry to do good. So if you can find a way to sort that out that's enough for me to worry about."