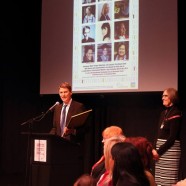 Mar

13
Tags
Related Posts
Share This
Dear Readers
Dear Readers,
On March 8th, the City of Vancouver and the Vancouver Board of Parks and Recreation remarked International Women's Day to celebrate and acknowledge the 2014 Remarkable Women honourees who reflect the theme of the Year of Reconciliation. I was very humbled to be chosen and deeply grateful to the City of Vancouver and everyone who have so generously blessed me with their extraordinary gift as a loving human being.  It was an amazing and surely overwhelming experience.
I feel that this award was not made to me as an individual, but to the true values of community, resilience, and innovation. I am very appreciative for this opportunity to share my passion for building a creative and caring community where we all celebrate our birth right as an artist. I am so grateful for the wisdom of my friends and colleagues who have opened their hearts and expressed their unique experiences from following their passion and intuition.
In the March issue, I am pleased to present the stars of our community who make Vancouver a world city: a truly remarkable woman and environmental leader, Olivia Fermi whose grandfather, Nobel prize laureate Enrico Fermi was a physicist working at the heart of the top-secret effort to build the first atomic bombs, Rev. Jeremy who continues to expand our humanity through a community of acceptance, respect and support, and Debbra Mikaelsen and Philip Solman, the brilliant and gifted couple who put together thousands of interesting and dynamic pages of Edible Vancouver – my favourite magazine!   
Thank you for the International Women's Day 2014, which I will always remember.  Going forward, I will try to live up to the standard of excel­lence I know this award stands for.  Thank you very much.
Keiko Honda Editor-in-Chief