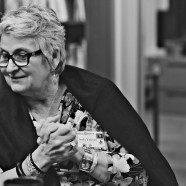 Feb

01
Tags
Related Posts
Share This
Strength in Numbers: The Arthritis Society Learning Centre
By Haley Cameron
Photos by Noriko Nasu-Tidball
When I walked into The Arthritis Society Learning Centre in the Mary Pack Arthritis Centre, at West 10th Avenue and Laurel Street, I was met by two welcoming women who were more than happy to be at the office after hours for the opportunity to spread the word about their work. As an introduction to what that work entails, Linda Freisen, Health Education and Learning Centre Coordinator, opened a book to picture of a bed-bound young boy with unnaturally inflamed joints holding together a skeletal frame.
The MPAC began in 1945 as the vision of Mary Pack, an empathetic and innovative schoolteacher, Linda explained. The young Rheumatoid Arthritis victim depicted in Linda's book was a student of Mary's who inspired her to take on the cause singlehandedly 65 years ago. "Mary basically put on a uniform and went to battle for Arthritis," Linda tells me. Joined by Joanna Li, Manager of Education and Services, the two ladies described how far we've already come in terms of managing the evasive disease. "Thanks to her we'll never again see a case as bad as this," Linda motions back towards the book. "Is there still a long way to go? Absolutely." These days it is Linda, Joanna, their co-workers, and a mass of volunteers who don the same uniform and continue Mary's fight.
When Mary Pack first took on this cause over half a century ago, there was very little support in place for those suffering from Arthritis. Without disability pension or medical coverage only marginal welfare existed to help those affected. Working with a team of local health care providers, Mary constructed a one-stop shop Arthritis patient program, which has since become an international model for proper care.
Today the Arthritis Society Learning Centre, and the entire MPAC facility, is a part of the 3-block Vancouver Coastal Health complex that includes Vancouver General Hospital. (The collaborative venue, which offers arthritic mainlanders all-encompassing care in one convenient location, also has a Vancouver Island detachment.) With the government stepping in as their "landlords", so to speak, the Learning Centre is fuelled by the latest generation of innovative thinkers and sensitive citizens, working to improve the resources available to the millions of Canadians currently living with Arthritis.
Linda and Joanna emphasize the wide-reaching impact of Arthritis, helping to defy any myths and bring awareness to the reality of this limiting disease. "Today, over 4.6 million Canadians are living with Arthritis," Linda shares, "and yet the discussion is still largely taboo." While extensive research continues to be focused on treatments and cures for Arthritis, this inflammatory issue won't stop impacting our society any time soon – and not just those personally diagnosed with the disease. "A big problem is that right now our Baby Boomer generation is still active in the workplace," Linda explains. "As they develop Arthritis prior to retirement we are expecting a 31 billion dollar impact on our Canadian economy." Unfortunately these North Americans' post-career plans will also be hampered by the disease. "It's going to be devastating for the Baby Boomers who expect to do so much with their retirement – nobody told your knees you were going to be doing the Grouse Grind at sixty-five!" Linda says, shedding light on the restrictions this disease can present even for the most adventurous and active individuals.
There are plenty of other factors associated with Arthritis, beyond hiking envy, which are commonly overlooked or unknown prior to diagnosis. Joanna mentions the difficulty of door knobs to illustrate how inaccessible our society can be to someone with Arthritis. Linda draws attention to the extra height that has been added to the Learning Centre's couch: a piece of furniture previously dysfunctional for many of those visiting the centre. Issues of access extend well beyond specific furniture designs. "Developers must consider our greying population," warns Linda, who brings to light how impractical small high-rise units are to those suffering from Arthritis. The classification of Arthritis spans far and wide to include over one hundred diseases with degenerative or inflammatory symptoms affecting the muscular or vascular systems. "Everything from Gout to Lupus to Crohn's Disease to Psoriasis are classified as forms of Arthritis," Linda tells me. As our arthritic population grows accessibility issues will simultaneously increase.
The Learning Centre leaves medical treatment to the government programs available in association with MPAC, but covers just about everything else under the vast umbrella of patient services. Their main objective is to improve the lives of those currently battling Arthritis through informative programs, and to raise money for future research by establishing a strong donor base. They call it their FACES model, an acronym for fund development, advocacy, communication, education, and support.
Funding is a very real part of the Learning Centre's overall mission and daily focus. Almost entirely donor funded, they rely primarily on individual pledges. The occasional governmental grant or corporate endowment assists with the maintenance of their programs, but the great majority of money put into their programs, research, and top level resources comes from individual contributions. "That's why partnerships with community centres are so important to us," Joanna mentions, referring to the Kerrisdale Community Centre, "No one knows a community's population better than a community centre." And our conversation detours to the additional partnership opportunities available between the Learning Centre and the KCC.
On this note I witness the push for advocacy which also ranks highly among the Learning Centre's goals. For Linda and Joanna, the interest in spreading the word comes from a place of personal inspiration. Both women have been directly affected by Arthritis within their own families, and like Mary Peck, couldn't resist the urge to become involved. "The more I learned the more I felt I needed to know. Especially witnessing cases of young children suffering, I just had to help out," says Joanna, who has joined the team at the Learning Centre this past year. "Most of our volunteers have Arthritis themselves, and are therefore able to offer first-hand experience and true empathy to those visiting the Learning Centre," she explains with a tone that reveals the admiration that she has for their countless volunteers.
Their own stories help to demonstrate just how wide-reaching the effects of Arthritis are. Linda shares how her stubborn eighty-eight year old mother continues to participate in the Arthritis Society's Walk to Fight Arthritis wearing high heels each year. The annual event, an initiative designed to bring light to the issue and increase awareness throughout the community, attracts all ages; creating a visible example of the cross-generational impact of Arthritis. "It's truly a family event," Joanna explains, "this disease affects everyone and that's made visible through The Walk." "We want to give Arthritis a visible presence," Linda adds, and The Walk itself does double service, both as a reminder of the disease's existence in our community, as well as a push for an active lifestyle.
As endearing as the story of Linda's headstrong mother might be, it also demonstrates the sorts of lifestyle decisions North Americans make which further fuel the propensity of Arthritis. "The biggest thing we can offer, and try to offer, are lifestyle changes that will help to prevent or decrease the onset of Arthritis. Ultimately it's about educating our population on nutrition, exercise, overall well-being; healthier choices that will promote a healthier, pain-free lifestyle," she elaborates as I start to ask about the specific programs offered through the Learning Centre. Joanna lists Arthritis 101 and the Arthritis Self-Management Program as popular choices, but explains that there is an incredible variety of programs in place. Many are education or support oriented, while others are hosted in collaboration with the additional medical services offered through MPAC. "We function largely as a conduit," Linda tells me, "connecting people with the services available to them." She lists doctors, physiotherapists, an infusion clinic, and rehabilitative specialists among the additional government-funded facilities offered in the complex, before going on to joke that they serve as a sort of medical match-maker.
Linda and Joanna are clearly proud of the enormous progress that has been made since Mary Pack first dressed for battle sixty-five years ago, however they're also the first to admit that without a cure, we are far from a solution. "By 2026 six million Canadians are expected to be diagnosed with Arthritis," Linda tells me. And beyond the search for a cure, researchers are still working towards an effective treatment.  Linda explains that Methotrexic for example, a drug used primarily for cancer patients, can help to minimize symptoms of Arthritis in much lower doses. We begin to discuss alternative treatment options, and Linda and Joanna share the Learning Centre's view on the use of traditional practices from other cultures. "If it doesn't harm you, and you believe it works, it will," they claim, advocating the power of positive thinking – a universal medicine. That being said, the Learning Centre and MPAC do base their own programs and treatments respectively on empirical evidence. "We practice on a three-month trial period," Joanna explains. "If someone tries something for three months and sees notable progress, it's worth some attention. There are a lot of treatments out there for a lot of different diseases that have no supporting evidence."
When it comes to Chinese medicine, or other popular practices on the West Coast, they praise worldwide research for the collaborative discoveries that can lead towards a successful breakthrough. "Arthritis research is a worldwide dialogue," Joanna tells me, insinuating that the focus of overcoming such a limiting disease can transcend language barriers and cultural boundaries. "We can learn a lot from the traditional medicines and philosophies of other cultures," she continues, stressing that Eastern and Western medicines can merge towards a communal goal.
In the meantime, the goal of the Learning Centre all comes back to awareness: awareness of the need for funding among prospective donors, of the support available to diagnosed patients, and of the overall impact Arthritis has on the community. Ultimately by increasing awareness, they hope to implement an effective call to arms, continuing to expand Mary Pack's original vision beyond a one-woman war.