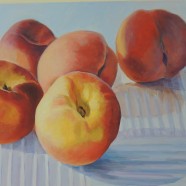 Feb

01
Tags
Related Posts
Share This
Reinventing the Easel: An Interview with Georgia Youngs
By Haley Cameron
Photos by Noriko Nasu-Tidball
When Georgia Youngs finds our indoor seclusion from the fiercely cold evening rain she is protectively bundled from the elements. But as she removes her big winter coat and knit toque she immediately begins to open up, as though unwrapping her story along with her winter layers. As our pre-amble winds down and Georgia takes off her fogging eyeglasses, she leans in to reassure me that she is a "good sharer", as though confiding a secret. I quickly discover that Georgia's willingness to share is anything but.
It's difficult to narrow down Georgia's career by definition. Artist, Art Teacher, Gallery Marketer, Curriculum Developer, Consultant; while being firmly entrenched in the fine arts field, Georgia's numerous titles and trades seem to cover a little bit of everything. When I ask Georgia how she got her footing in the ever-changing industry of art she replies quite simply, "I just said yes to every opportunity that presented itself." 
As it turns out, Georgia's career plan was not always fine arts focused. She describes her upbringing fondly, acknowledging that she is lucky to have come from a family that instilled a strong sense of confidence, but admits that her education was streamlined towards either a commercial or academic future. "You chose commercial if you were going to be a secretary, and you chose academic if you were going on to university," she explains. Georgia chose the academic route, and became a paediatric nurse.
It wasn't until her late twenties that Georgia found an art program with flexible hours that could accommodate her shift work as a nurse. As soon as she began the program, Georgia realized that this source of art was filling a hole in her life. "I had been so starved for art. I was so wanting to express myself," she shares emotively, as though reliving the feelings this exposure to art awoke in her. She became increasingly active at the art school and within six months found herself teaching: her first example of saying yes to things beyond her comfort zone. Over the course of two years she gradually weaned off her nursing shifts before ultimately opening her own art school.
Since officially re-inventing herself as an artist in her early thirties, the opportunities have continued to present themselves, and Georgia has continued to say yes. These days Georgia can be found teaching daytime adult classes at the Kerrisdale and Dunbar Community Centres, and hosting workshops throughout the community. Evenings and Saturdays she dedicates to her own school, Georgia's Art School, where she teaches a range of programs for children including her self-designed No More Scribbling classes for those with Developmental Coordination Delay (DCD).
Georgia's background in paediatric nursing played a big part in the establishment of this particular program, which utilizes art classes as a platform through which to improve core strength, basic motor skills, and logical reasoning while instilling focus, self-esteem and a sense of accomplishment in kids who struggle developmentally. No More Scribbling came to be almost by accident, as she identified common problems among her young students. "I realized how many times I was saying to these kids 'sit up straight', 'hold your pencil properly', and then I came to realize that parents were putting their children into art class hoping that this would help them with their fine motor skills – which it was – but they were also getting so much more." 
The program targets three year olds who show evident signs of delay with basic exercises that Georgia can implement herself and introduce to each student's family. "It's basic things, like improving their posture or throwing a ball around," she explains, describing how the one-on-one nature of No More Scribbling allows these children, fully aware of their developmental delays, to trust her. The program has seen enormous success, bringing clients from as far as New York City, with developmental progress discernible in the students and increased happiness notable among their families. Georgia jokes that she feels like their grandmother; implementing basic manners and good posture through the pretence of an art class, but when I suggested Professional Grandmother as an addition to her ongoing list of career titles, she smiles warmly – a grandmotherly smile if I ever saw one – and agrees that it's quite fitting.
Much like a grandmother serves as the uniting matriarch of a family, Georgia's ultimate focus is to stimulate a sense of community through her programs. When I mention that her work all seems to be of a collaborative nature, contrasting the isolated expectation of an artist, she admits that her personality presents a bit of a conundrum: she is continually juggling an innate shyness with the outgoing, sharing nature she introduced to me early on. We laugh about that word, 'shy', as she has proven to be anything but up until this point, and while it becomes the running joke for the remainder of our meeting, the sense of pride she has in her own artwork reveals a certain inclination for an artistic retreat to her studio space.
However, Georgia is quite adamant that one should not live a divided lifestyle that separates work from play, study from pleasure. And she practices what she preaches, as I witness firsthand when she asks, "How lucky can I be that I'm doing this kind of work that's putting a smile on people's faces?"
Georgia admits that even when working solitarily she talks to herself constantly. "When I'm painting by myself, I'm talking to myself as though I'm the student; working through things in my mind." She finds this inner dialogue therapeutic, something which extends into her teaching style. Georgia compares her adult classes to a support group, where people looking for a creative outlet, a form of stress relief, or a sensitive ear through a crossroads in their own life, can become involved and immersed in something self-gratifying. She describes a most sincere joy in witnessing the pride her students from the Kerrisdale Community Centre recently displayed when their paintings were included in a public art show. "I have to admit, I'm a great cheerleader," Georgia laughs.
Art has served as an outlet through hard times for Georgia, too. While dealing with a marital breakup in her mid-fifties, she suddenly found herself financially independent and needing to re-invent herself once again. "I never said 'I can't do this', I said, 'I have no choice. I'm going to do this.' And I did." She doesn't boast, but rather explains this humbly, sharing her accomplishments as an example of what is possible. As conversation then turns to marital issues, it becomes obvious that Georgia feels strongly about female independence and inner strength. "It was my saving grace that I ended up talking with a lot of different women," she tells of her own traumatic divorce, and I can immediately see that the supportive nature of her adult classes touches close to home. 
Georgia goes on to describe her childhood neighbourhood, Janet Boulevard, on the outskirts of Toronto, where the local wives would gather for afternoon tea regularly. She gushes about how fundamental these relationships are to a healthy society. Her work at community centres suddenly becomes an obvious fit, although her own desire to branch individuals from society seems to go beyond what she can do through community centre art lessons. "I love when my classes go for a coffee after our lesson. I think, 'isn't that great? I got these people together, off doing their thing.' I wish I could start a book club with them." She goes on to admit that she, "already has a few book clubs," further revealing her appreciation for a connection with her community.
The more we talk, the more I feel as though I'm really getting to know Georgia. "Everybody hears my story. Everybody hears everything about me when they come to class," she says, and I believe her. A chatty instructor, she shares her personal trials and tribulations, hoping to demonstrate that success doesn't manifest of its own accord. In fact, most of the lessons Georgia lives by seem to translate into her teaching. Her entrepreneurial instinct to always take on new opportunities is reflected in her encouragement for students to explore beyond their comfort zones; her systematic step-by-step approach to life incorporates the very foundation of her No More Scribbling program; and her own experience re-inventing herself, first at thirty and again in her mid-fifties, exemplifies her adamant belief that it's never too late to start over. When it comes to finished canvases Georgia states honestly that, "I like almost everything I do, because ultimately if I don't like it, I white-wash it and start fresh."
We start discussing specific works Georgia is proud of and she describes a series about the seasonal transformation of a lily with particular passion. The cyclic nature of the plant, as its lovely flower wilts seasonally, and yet maintains the strength to regrow the following year, has clearly stuck with Georgia: the same strength and willingness to perpetually redefine itself equally evident in its artist. Georgia shares how much joy her latest pieces have given her, and I'm left feeling confident that while she reflects fondly over her favourite paintings, Georgia is also able to look back upon her own lifelong canvas – its layers of adjustments, charming imperfections and beautiful accomplishments – with the same sense of joy.