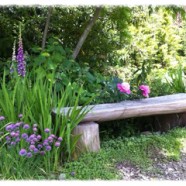 Jul

01
Tags
Related Posts
Share This
The Stellar Rise of the Kerrisdale Community Garden
Written by Hazel Choy – Resident Gardener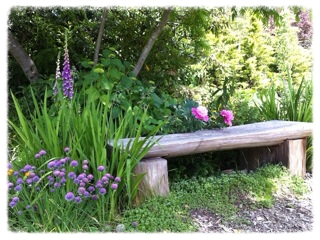 Relax under a shady sumac tree on our handmade bench – 5 June 13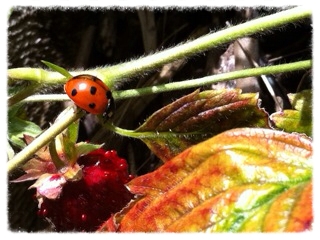 Lady Bug @work in a patch of wild strawberries – 5 June 13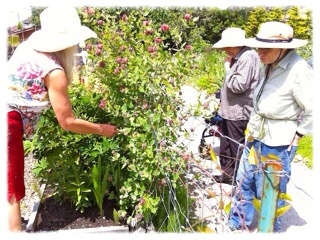 Roberta talking to locals admiring the summer flowers – 5 June 13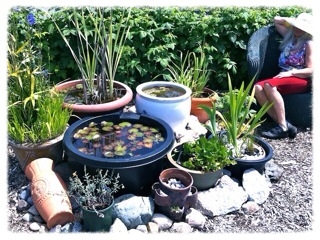 Water Garden expert Roberta Skye enjoying her creation – 5 June 13
Who knows what was originally on the site where the Kerrisdale Community Garden now sits, but some speculate it could have been a creek bed. A diverse and dedicated group of community members came together in 2011, under the leadership of Kerrisdale resident, Monica Tang, to transform the site at Angus Drive and West 60th Avenue into what is now the Kerrisdale Community Garden.We gathered at our first work party in March 2011, a mixture of children, young adults, adults and seniors, to dig up weeds, move rocks and build raised garden beds.  Wheelbarrows full of soil provided by the city were dumped into plots and debris was sifted out. With pure excitement and joy, children dug up and collected worms. By the end of a long day, we had built the foundation for what would become our community garden. Through sheer determination and hard work, by the end of our first season, we had constructed the plots, fence, pathways and a shed to house our tools.One challenge in our first year was the poor soil conditions, so to amend the soil, we planted buckwheat and other nitrogen fixing plants.  Over the past 3 years, we have had a passionate group who designed the communal spaces to include a harmonious arrangement of plants, a water garden, fruit trees, berry bushes, herbs, squash and flowers.  We had previously used black city composters, with little success due to the volume of material we were composting.  This year, our members researched and built a new composting system.
Today, our garden has a friendly, collaborative vibe and we use every chance we get to share knowledge on how to improve our skills.  Frequent conversations occur about organic gardening practices, when to remove the garlic scrapes, how to control weeds, how to cook kale, and scarlet runner beans and how to prevent blight on tomatoes.
Many families garden with us and bring their children.  Last year, we set aside space for a children's garden.  A group of 10 children were involved in planting and cultivating their own strawberries, lettuce, radishes, soybeans, beets and carrots.  We are lucky to also have a group of Girl Guides who have two plots in which they grow vegetables, which when harvested, are donated to the Seniors Centre Kitchen at the Kerrisdale Community Centre.
We are now a group of 28 members and we're proud of what our garden has become in a few short years.  We've overcome hurdles and have learned how to communicate more effectively, and how to capitalize on the unique abilities and passions of our members.  We've created a space not only for ourselves, but are committed to being good neighbours. We've received plant donations from our neighours and, in turn, share knowledge, and provide community benches and quiet spaces for people to relax, reflect and enjoy the beauty of nature.
The key to our success has not only been our ability to learn about plants and gardening, but it has been our collective willingness to learn about, respect, and collaborate with people from all walks of life, with varying levels of gardening knowledge and with different communication styles.
We welcome community residents to come by and ask questions – we love talking about our garden!
And here is tall stories from our resident KCG members: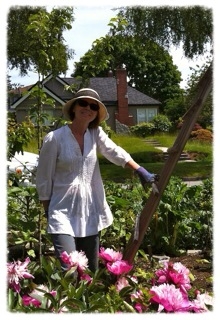 My husband Len and myself started with KCG three years ago. We were one of many that were here from the beginning of the building of the garden. Looking at the garden today and what has been accomplished in such a short time and with what we started with, is truly amazing. There are stories from some of our older neighbours that it was once a creek bed, which explains the mountains of rocks that we have gathered and are still gathering. But it was and is the blackberry, Queen Ann's lace and other assorted invasive weeds that still humble us with their resilience. But coming from all of that, the building, growing and harvesting and shared recipes, we have gotten to know our neighbours and learned a little more about gardening and the shared knowledge that comes with working together.
~  Joy and Len Posyniak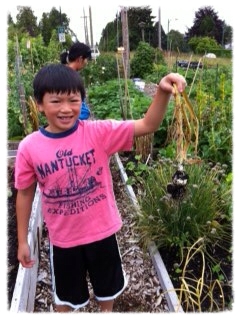 I joined the Kerrisdale Community Garden in 2011 with my kids, Dylan (10) and Zoe (8). Along with us, my friend, Karen, joined with her three girls, Sarai (15), Chaya (13), and Praiya (11).  We joined the garden for a few key reasons.  One was that we want our children to see where their food comes from so that they fully understand that food doesn't just come from the supermarket.  Creating a sense of community was also important to us.  The garden is a gathering spot for people throughout the community and it offers the chance for the kids to meet a diverse group of people and learn to collaborate with them.  The physical work that goes along with building and maintaining the garden is also a great lesson for the kids.  They have been involved in many work parties and have done their share of shoveling, weeding, planting, watering, and harvesting.  Of course, we throw in a few water fights, and spend time looking for worms and other insects to add some fun.  For our part, Karen and I have learned to garden a bit through trial and error and have been guided by several of our gracious garden experts.  We feel fortunate to be a part of this amazing experience and look forward to watching how the garden evolves. ~ 
Hazel Choy