Tags
Related Posts
Share This
Artist Ann Goldberg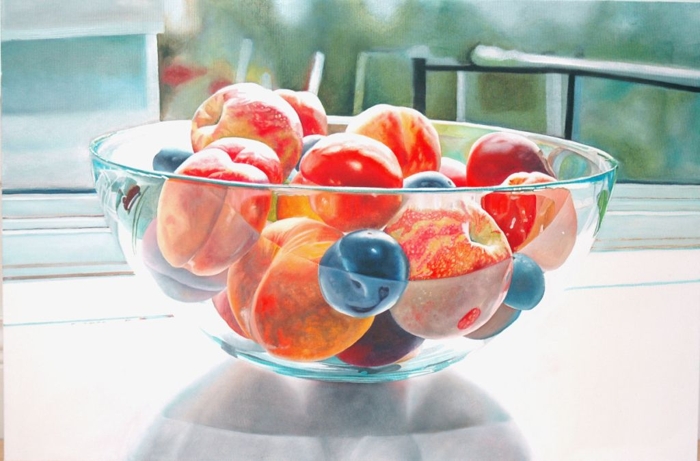 The Nectarines and Plums in Glass Bowl (Photo courtesy of Winsor Gallery)
By Katja De Bock
Photos by Noriko Nasu-Tidball
For a few moments, Ann Goldberg forgets about her fancy, but uncomfortable high heels as she stands on a podium, presenting her paintings to an audience of over 80 art pundits. Quite an accomplishment for a woman who considers herself a hermit.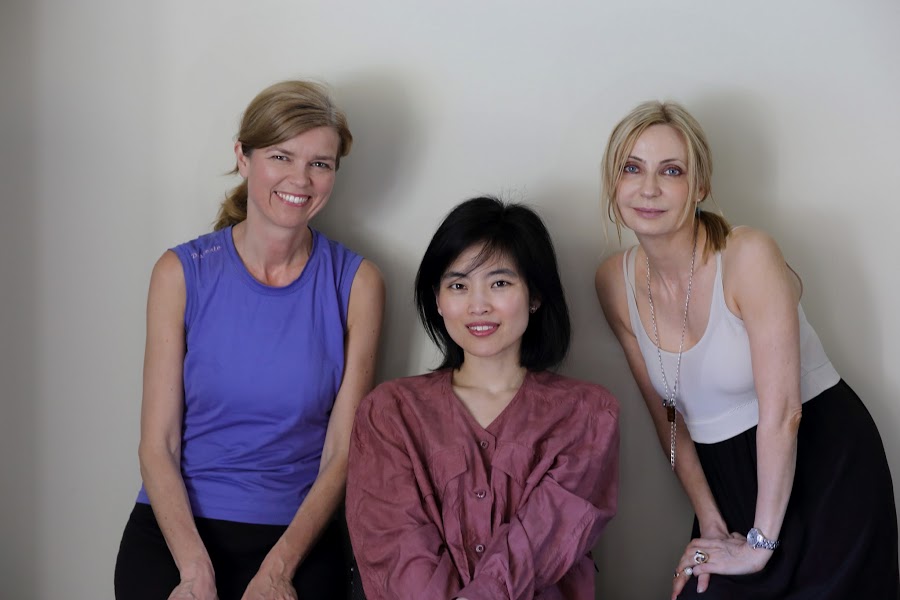 Goldberg, a photo-realist painter, held a preview for her upcoming exhibition "Eden" at her Vancouver home on April 24. The artist spoke with Kerrisdale Playbook Editor-in-Chief Keiko Honda and journalistKatja De Bock about the show, which can be seen from June 13 till July 12 at Winsor Gallery on East 1st Ave.
"Personally, I don't need a lot of attention. When I have a show, I find it a bit overwhelming," Goldberg says. "I am happiest when I am in my studio, working. In the flow, I am the happiest person in the world."
The flow is something that Goldberg can't easily explain. It seems to be a matter of getting into a mind space of being able to focus on one activity, excluding what is going on outside, while combining the scientific and artistic parts of her brain in the act of creation.
Artistic inspiration in Edmonton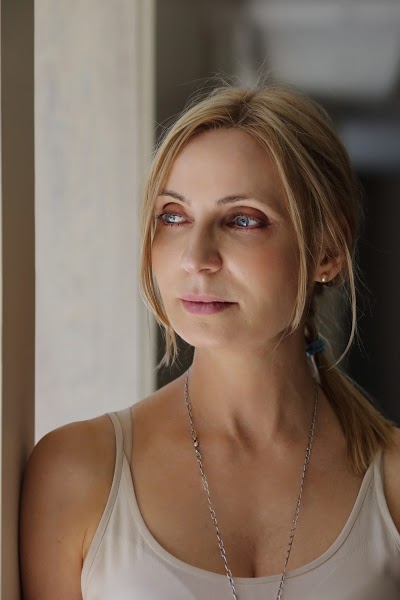 Goldberg was raised in Edmonton. Her father was a pharmacist, her mother a sewer. She was inspired by her grandmother, a weaver who dyed and spun her own wool, and by her mother, who would enroll her in art classes and take her to the Edmonton Art Gallery.
Because her older siblings and parents frequently spent evenings away from home, Goldberg found herself often alone, with her German shepherd, listening to music and drawing a world of monsters.
"I was a bit of a hermit," she says, adding that after a degree in math and fine arts, architecture was the best combination of her talents. Goldberg studied in Vancouver and worked as an architect for 10 years.
"Then I had my daughters and I decided it was time to give up architecture and be at home with them and really go back to my passion, which was painting."
Art and science not entirely separate?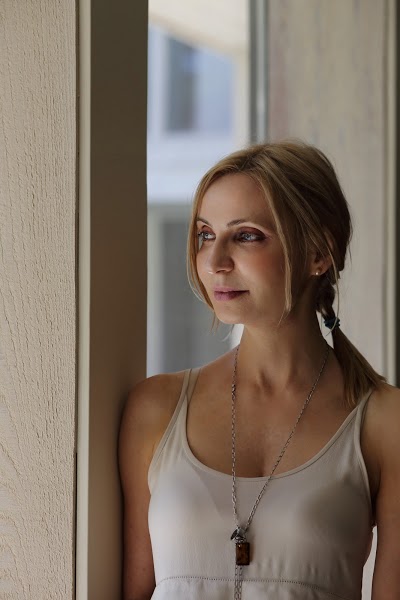 "I think that's so true. I think there is the technical side, which is the scientific side and then within art, there is the artistic side," says Goldberg.
"I would like to explore that more . . . What I try to figure out is why I paint what I paint. If you see something and you say, 'oh that's beautiful, I have to paint that.' Why? What's going on in your brain? What scientific, what chemicals are being released?"
Goldberg, who describes her style as photo-realism, shoots dozens of photos of objects and still-life scenes, then reconstructs the best photo in a painting. She is particularly obsessed with translucent and shiny materials such as water, ice, glass and aluminum foil.
"It is so interesting to find beauty just in the mundane, day-to-day. Like a lot of my paintings are just, you know, peanut butter and a can of coke. And the light, bouncing off," says Goldberg. "I think it's that emotion that you feel of the beauty and you want to inspire other people, you want other people to experience what you have experienced."
Goldberg paints about one painting a month and many of them are commissioned. The commissioners, often people she's met or who have visited her shows, have a lot to say about what the work of art will look like.
"I give them a lot of say. What happens is we go through the process of coming up with the image. And once I have the image, I show it to them, because I want them to know exactly what they are going to get, not having any surprises with their painting. So that they're happy," Goldberg says.
How much trial and error goes into your work?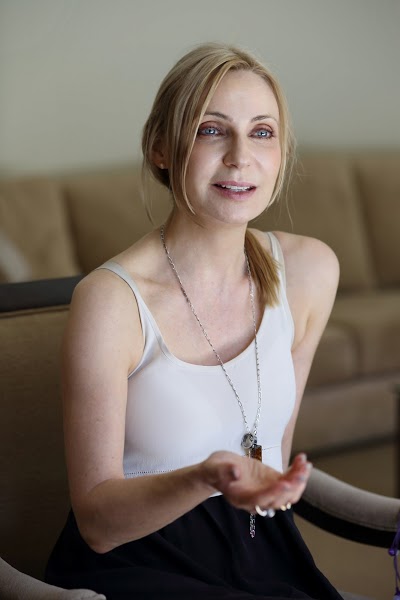 "Well, that's kind of the beauty of oil paint. It doesn't dry right away. You can keep going, layer it and layer it. Get it right," says Goldberg.
One of the hardest paintings Goldberg made was Howard's Ride, two men cycling on the Sea to Sky Highway. It shows the men on bicycles in a rocky landscape. It was particularly hard to get the faces right.
"With faces, you cannot be a millimeter out. And on that one, of the cyclists, the faces were like this big (makes a tiny sign with her finger), I'd have to put a dot. And then I'd make a picture of it and blow it up on my computer and say 'now does that look right?'
"And I don't know how many times I did that, because I knew, if he [Howard] was hanging that in his house, and it wasn't like him, there is nothing worse than hanging a picture in your house of yourself or somebody you know and it's not looking like them. Then you look at it every day and you go 'that's not quite right.' "
Sasan and Jamila Salari commissioned Goldberg to paint their wedding bouquet. "We are thrilled with how the painting turned out, and how Ann has perfectly captured the light as well as the feeling of the image," says Sasan Salari. "It's funny, but we have never actually compared the original photo to the painting – we really like the painting the way it is, and it really represents what we were looking for."
As the painting hangs in their bedroom, not many people have had the opportunity to see it, until now.
Why call the show Eden?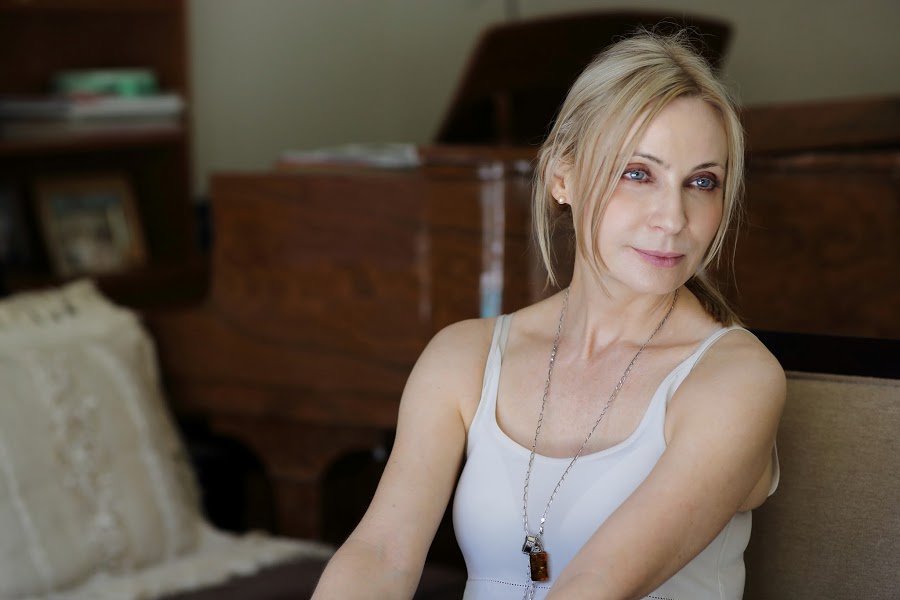 Goldberg refers to the novel East of Eden by John Steinbeck, which was recommended to her by her oldest daughter.
"It has to do with humanity, good and evil," Goldberg says. "There's family, marriage, death, the mystic side of Eden and the story. Eve and temptation . . . All these things kind of came together."
Many paintings in the Eden show deal with themes of sexuality and temptation, good and evil, repression and beauty. There are the shoes at the swimming pool (Reta Rea's Shoes), the woman on tin foil (Fast Food), and lots of flowers, which to paint was new for Goldberg.
Working with Winsor Gallery adds to credibility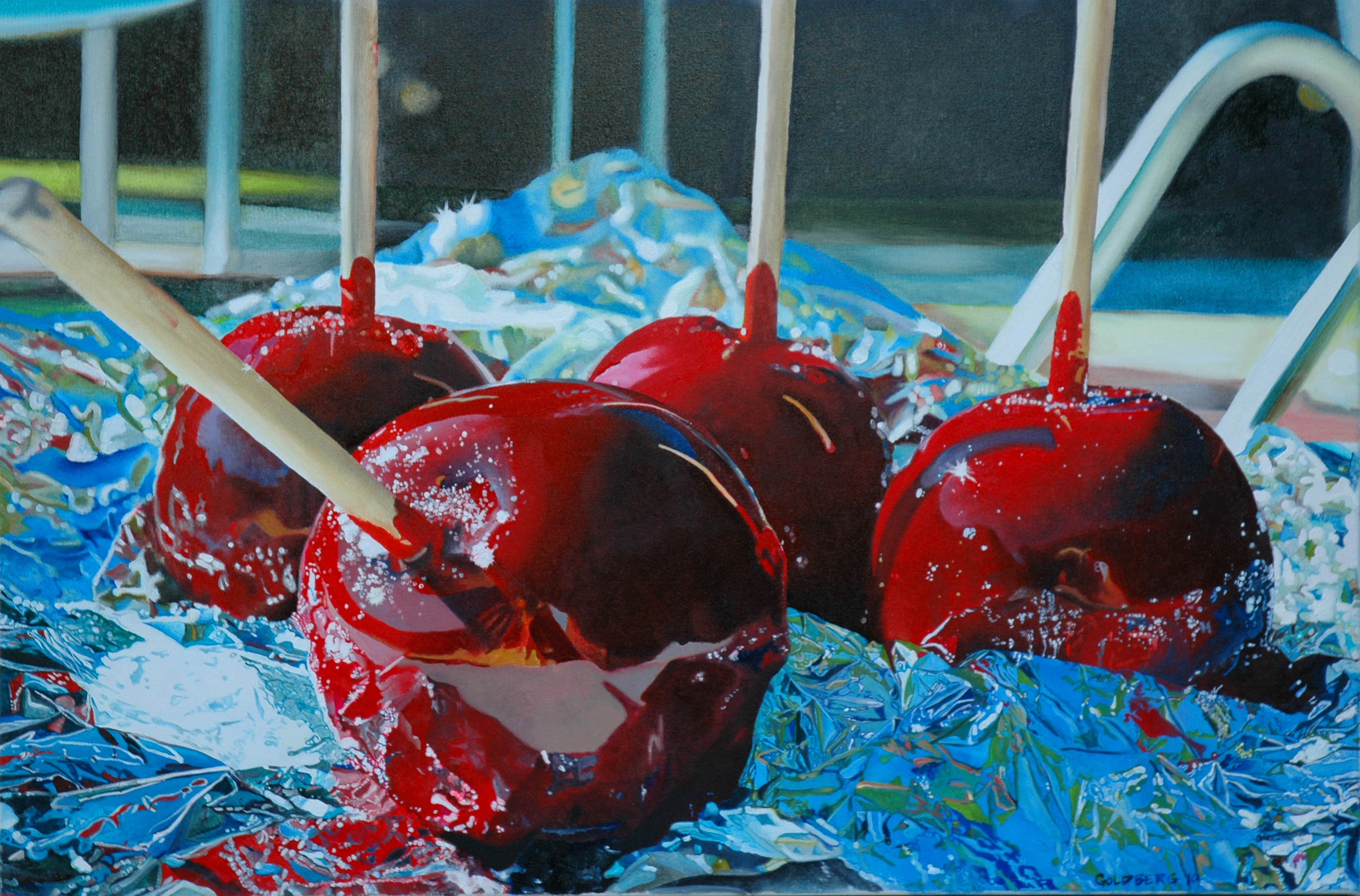 There's nothing worse than promoting yourself. "It sounds terrible, but that's the reality," says Goldberg, who adds that working with a gallery also enhances an artist's credibility and market value.
"Jennifer Winsor . . . she gets me, she gets where I am at … She makes me feel good about my work. She inspires me, gets me excited," says Goldberg about the gallery owner. "And I love her aesthetic sensibility."
Winsor returns the compliment. "Each commission that Ann completes is so unique," she says. "Between her creative vision and the clients' proposed ideas, this recipe, time and time again, is an incredibly successful one."
Winsor refers to the painting Knox Road as an example. "Knox Road is a nod to the Beatles Abbey Road Cover, but is also deeply personal as the figures in the portrait are the client's children . . . These are not your average portrait, these are examples of an extraordinary moment in time."
Winsor says she is particularly excited about a series of painted photographs, an entirely new body of work, which Ann will debut in the Eden show.
Goldberg gives back to the community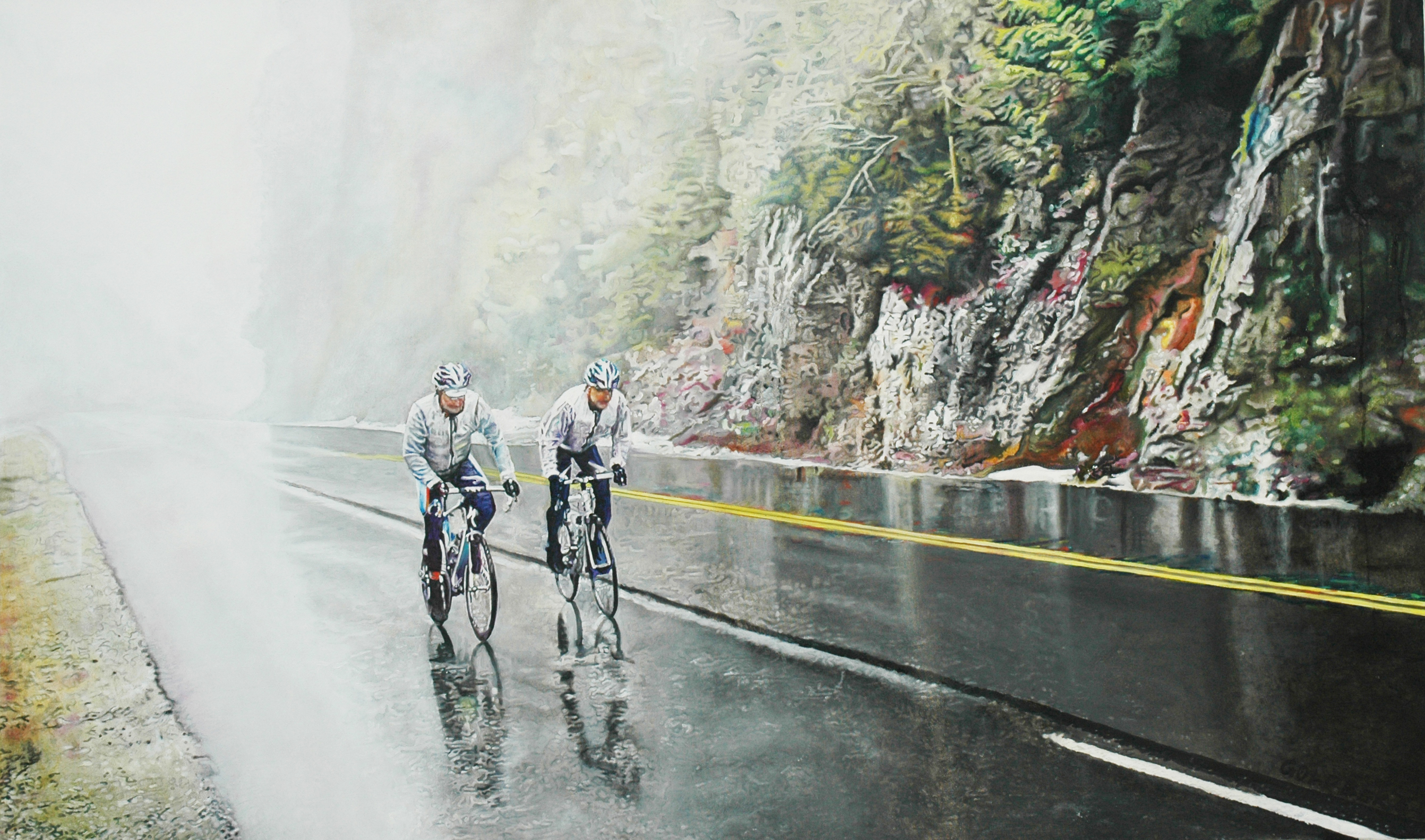 Two new challenges in Goldberg's life will be her positions as board member of Arts umbrella and as artist-in-residence at West Point Grey academy, where she will assist students with arts projects.
If the married mother of two has a little bit of time in between all her activities, she loves to have a sneak view at what's new at the fashion retailer Hills of Kerrisdale and go for a quick bite in Faubourg.
Who knows, one of her next works might be a reconstructed snapshot of a palette of colourful macarons behind the glass vitrine in Kerrisdale's beloved French bakery.[]