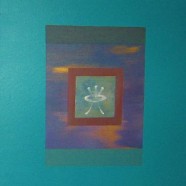 Feb

01
Tags
Related Posts
Share This
Spoken Word Poetry
In the spirit of the Chinese New Year Celebrations
by
Synn Kune Loh*
a poet and visual artist
CELEBRATION
Predisposed response to beauty
Spring rain
calls me to life
random thoughts
deeply transparent
a sigh of forgiveness
unfolds the beauty
EARTH CALLING
What fulfills an inner longing
Mountain storm
had let up
Winter retreated
earth preserved
A double rainbow
framed the road
From behind temple doors,
golden faced buddhas
take a peek at the world.
*Born in China, Synn Kune grew up in Hong Kong. He completed a BA in Psychology from the University of Bridgeport in the USA before his graduate study in Cultural Psychology at Queen's University, in Kingston, Ontaria. An accomplished painter, he studied experimental art at the Ontario College of Art in Tronto. In addition, Synn Kune holds a Master degree in Therapeutic Counseling from the International College of Spiritual and Psychic Science in Montreal, Quebec.
Synn Kune found his inspiration through the abstraction of forms and ideas. What makes his paintings unique is the metaphysical content, which explores the relaity of the ideal. The artist steps outside of representation to create a visual language using dots, lines, circles, triangles, squares, color and form. The result is a vision of ecstatic wonder and astonishment.
"These paintings are about nothing. Therefore they are about everything." ~ Synn Kune ~