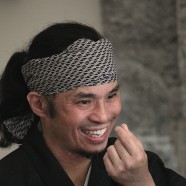 Sep

01
Tags
Related Posts
Share This
A Road to Becoming a Shakuhachi Artist
The road is life and is a dilligent and long one….I was in awe of him; he is truly an inspiration. ~ Editor-in-Chief
Alcvin Ryuzen Ramos
Shakuhachi Artist (Japanese Bamboo Flute Musician and Teacher)
Interviewed by Editor-in-Chief
Photographed by Noriko Nasu-Tidball
Q:   Could you please tell us your cross-cultural backgrounds? What was your upbringing like in Japan (as non-Japanese ethnically speaking)? How did you feel being "gaijin" in Japan? What is your identity now?
A: My parents are from the Philippines but I was born in Japan. We lived on a US military base but made frequent visits outside to be with Japanese friends. I was very young so I don't really remember too much about Japan so I had no conceptual understanding of what a gaijin was. I moved to the US when I was about 6 and went to school there completing university. I returned to Japan after university to study shakuhachi for the first time, which is when I understood more deeply what a gaijin was. Although I have a western mindset, my spirit has always been Asian with a particular affinity to Japan. I moved to Canada in 1997 and have since attained my Canadian citizenship. But I feel that I am more a citizen of the world that is open and loves learning about other cultures and traditions. But there is something in the centre of my spirit that is Japanese.
Q:  When made you first realize you wanted to pursue a career in Shakuhachi master? Who were the early influences?
A: My major in University was Eastern Comparative Religious Studies and I was originally attracted to the monastic life and/or academic life and was headed that way. But when I first heard the shakuhachi flute, I wanted to go to Japan to study shakuhachi so I did so after completing my BA. I didn't think seriously about becoming a shakuhachi teacher/musician as a profession until during the course of my shakuhachi studies, I heard one of my teachers play a particular piece which inspired me to follow shakuhachi as a life path. My early teachers Iccho Muramatsu, Kaoru Kakizakai, Teruo Furuya, Katsuya Yokoyama and other great players and teachers such as Watazumi Doso, Nishimura Koku, Akikazu Nakamura, Kohachiro Miyata, Mitsuhashi Kifu, John Kaizan Neptune, Marco Leinhardt, etc. also inspired me to pursue a career in shakuhachi.
Q:    How long have you been playing Shakuhachi?  Has Shakuhachi music ever changed your life or the way you look at life?
A: I have been playing shakuhachi now for 20 years. Definitely the sound of the shakuhachi changed my life more than once! Shakuhachi music opened my mind to a deeper dimension of life; that it is possible to live a life of love, peace, health, and happiness!
Q:    Where do you look for inspiration?
A
: I am inspired by people (like my zen master) who live a simple, happy, healthy, spiritually-based life. Also, other shakuhachi professionals who are living happy, healthy, creative lives; and musicians (and artists of various genres) who are making a successful living playing and producing quality, adventurous, non-mainstream music. Basically, I am inspired by most anyone who is living a life doing what they love and who are gentle to others and mother earth. Other sources of inspiration: spiritual traditions of the world, Zen/Japanese/Eastern/Asian/indigenous aesthetics and philosophy, Nature, Love, and the paradox of life as a spiritual being experiencing a physical life on this planet.  
Q:    How do you see the word "artist" fitting into your role as a Shakuhachi master? What do you bring to this position that is unique (original)?  
A:  compose my own music and collaborate with various other artist of various genres such as dance and visual arts. I consciously seek out new and unique collaborations that are interesting and exciting to me. I also make my own flutes and am very interested in the process of flute making, acoustics, and aesthetics as well as creative, new instruments.
Q:    Please tell us about your current projects?  What are some of the things you try to 'achieve'?
A:
Samaya (Indian fusion)
One Earth (African fusion)
Maru (Taiko fusion)
Uzume Taiko (Taiko fusion)
Hagen (Electronic dance)
Densabi (Ambient electronic)
Tamas (Electronic free improv)
Essence of Shodo (Japanese calligraphy)
I try to achieve a feeling that satisfies my aesthetic, emotional, and spiritual desires in music. I want the audience to be moved deeply in some way by my performance.
Q:    You are also a Shakuhachi craftman……How did it come about? What is the process like?
A: One of my first teachers was a shakuhachi maker and later I met many makers who inspired me to follow this path. Since I was good with my hands, I just started practicing making shakuhachi and then I picked up many techniques from other makers. Then I just got better as time went on. But I still  have LOTS to learn. I am nowhere near a great maker of shakuhachi flutes yet!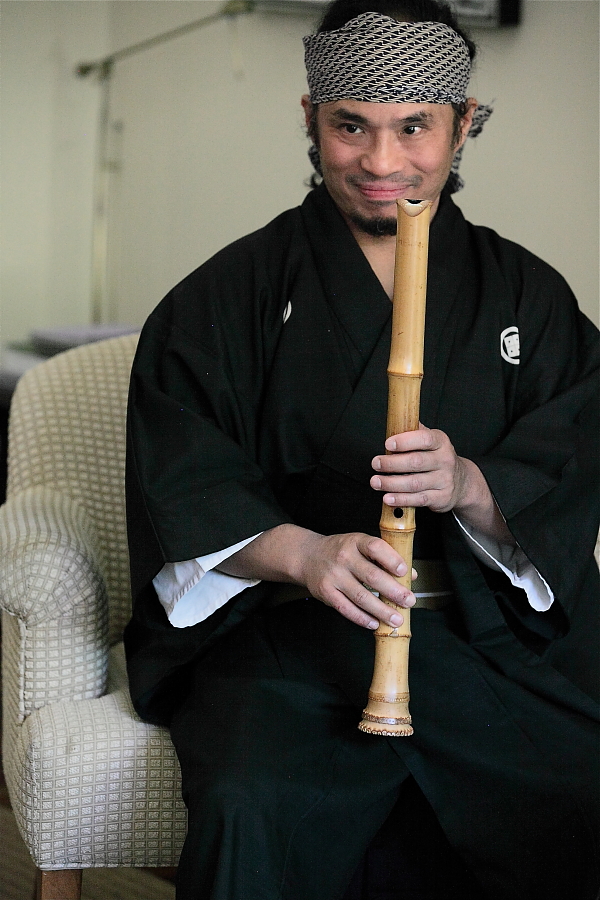 Q:   If a student comes to you and expresses a desired to become a shakuhachi player, what advice would you give them?
A: Great patience and perseverance, and take lessons with a good teacher. Have an open, imaginative, and receptive mind!
Q:   Are you are up against competing the current music scene? What are the challenges you face at your work/life?
A: As a shakuhachi player, I'm not competing with anyone, because there are so few of us in Canada. My niche is so small that I don't have to compete. But as a general musician, particularly in the "world music" genre there is lots of competition to get gigs. One of the greatest challenges I faced in my career is my health. I had various health issues I had to overcome on my path. Another is financial challenges. I'm not a rich person so this makes it more of a difficult hurdle. Current challenges I face in my work: is the distance I have to travel into Vancouver almost every week to rehearse with my groups. I'm always asking students and friends if I can sleep at their place. I'm constantly looking for music gigs for myself and for my groups. Trying to get a successful touring band together is particularly challenging because of everyone has different schedules and varying commitments in life. Very difficult to find the perfect balance and dedication from all band members to make a successful band.
In any case, I see all these "challenges" all part of my education as a human being on this planet; to be constantly being aware of my desires and how they affect my mind and others. Everyone has difficult challenges in life; so to be gentle and compassionate towards others is important.
Q:   What is your philosophy of life? Any favorite quote?
A: For me shakuhachi is a tool for transformation that elicits a metabolic expression and the conviction that music "should not be frozen or unchanging once it is completed but should be apprehended instead as a thing – or process – that evolves from past to present and from present to future." Another way to express this process is a symbiotic relationship between time and space, and one's immediate environment. Shakuhachi is my bridge to the world of music which is a portal, a gateway into seeing deeper into oneself as well as a bridge to other physical and spiritual realms. Life is music. So to study music is to study life itself. To make life better for others is my ultimate goal and I hope I can achieve that through my shakuhachi.
Q:     Besides your music, what keeps you motivated in life? 
A: My extraordinarily amazing wife, Sandra and her work as a ceramic artist and living on the beautiful Sunshine Coast with her. And the beauty and mystery of Life itself!
Q:       We are all looking forward to your upcoming talk and performance at Kerrisdale Community Centre on Sunday, November 18th….What is your expectation?
A:
I expect that the audience will be very interested and engaging. I am very excited about coming to share the shakuhachi with more people!
Q:     Do you do jam session with other musicians? I know one Koto player who is keen on playing with you….
A: Yes, I jam with many musicians. It was a great pleasure to meet and play with Kevin Olafsson! Looking forward to playing more with him in the future!
Q:       What do you plan to have accomplished in 3 years – personally and professionally?
A:
To record an album of my original compositions.
 To take my students to Japan in November 2013 for the best Shakuhachi Roots Pilgrimage yet.  To play at all the Sacred Music Festivals around the world.
 To have regular tours from Art Starts playing at schools all throughout BC.
 To make a successful collaboration with Persian barbat master, Hossein Behrooznia, and play in ensemble with him.
 To heighten my frame drumming and percussion skills.
 To improve my singing skills by studying Japanese minyou vocal styles, classical Persian vocal stylings, and classical Indian vocals.
 To start learning Tsugaru shamisen and to buy a nice instrument
 To study and incorporate Filipino kulintang music into my compositions
 To construct a new new workshop for shakuhachi making and recording studio on my property on the Sunshine Coast.
 To take a journey with my wife, Sandra to Peru; partake in an ayahuasca ceremony with an authentic, gentle, and kind shaman.
 To visit Izumo Taisha in Shimane and offer shakuhachi to the O-Kamisama.
 To do a three day meditation retreat at Eihei-ji, in Fukui-ken, Japan.
Thanks Alcvin, you've been awesome!
More About Alcvin: go to www.alcvin.ca