Jul

03
Tags
Related Posts
Share This
Steve Stanczyk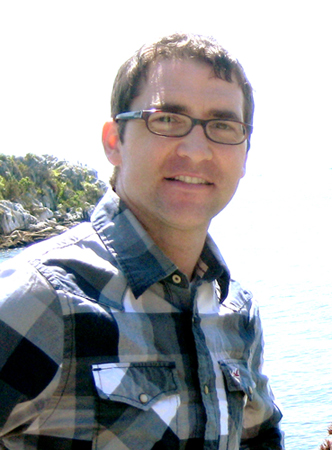 Steve Stanczyk
Interview by Barb Mikulec
Steve Stanczyk is the artist chosen to work with the Kerrisdale community to make a mural for the entrance to the KCC centre. Steve has always been interested in art, from elementary school through high school. He started making paintings as a teenager and has kept it up until today. He attended Emily Carr University of Art and Design in Vancouver and The Cooper Union School of Art in New York City. He also received a diploma in Digital Art and Design from Thompson Rivers University in Kamloops, BC and before studying at TRU, he studied Fine Arts and Art History at The University of the Fraser Valley in Abbotsford, BC.
Steve taught painting in the Saturday Program at The Cooper Union School of Art in New York along with teaching photoshop and digital art with Gateways Learning Centre in Abbotsford and art history and painting at Abbotsford's Reach Gallery Museum.
His art practice consists of working in a diverse range of themes and mediums, including painting, drawing, printmaking, photography, sculpture, digital design, video, installation art and other mixed media. Steve's portfolio includes both experimental and abstract work along with more traditional paintings such as landscapes and portraits, and also works that have been commissioned.
His exhibition history includes exhibited my art in three shows at The Cooper Union, including exhibiting and selling one of his silkscreen prints in a fundraising exhibition at the Arthur A. Houghton Jr. Gallery, with other New York artists, including students, teachers and alumni such as Hans Haacke. Steve has also exhibited art in several shows in Vancouver, including the Pendulum Gallery on West Georgia St and at The Reach Gallery Museum in Abbotsford, BC. Along with completing painting, graphic design and photography commissions, Steve has also painted several large–scale public murals on both canvas and on walls for different businesses, organizations and communities.
An amazing thing is Steve has worked with the Juno Award winning musician Brian Doerksen in creating paintings for the live DVD recording of his album Level Ground and was also the photographer and designer for the Juno Award winning album Here to Stay by Greg Sczebel. In 2010, Steve was interviewed on CBC Radio Canada regarding paintings included in the HEROs exhibition at the Pendulum Gallery in Vancouver. His graphic design, artwork and murals have been published in newspapers and magazines, including the Canadian Museums Association magazine, Muse, and CMYK magazine, New York.
To create the mural at the Kerrisdale Community Centre, the plan is to first make the project known to members of the community who want to become involved, then have the interested volunteers attend mural workshops where they can bring their stories, ideas and pictures and as a group we will discuss everyone's ideas and then decide upon a layout for the mural. Once the layout is determined by the artist and volunteers, and approved by the Kerrisdale Community Centre Board, we will make a small color sketch or photoshop print of it and then start to paint it on the larger canvas that will be installed as the mural in the lobby. Everyone who attends the workshops can help develop the layout idea and also help paint the final mural. Attending the mural workshops will be a great opportunity to meet other artists of different ages and backgrounds in the community, create art in a studio classroom setting and be a part of a creative community project that will remain with the community for generations to come.
Some examples of Steve's art are included: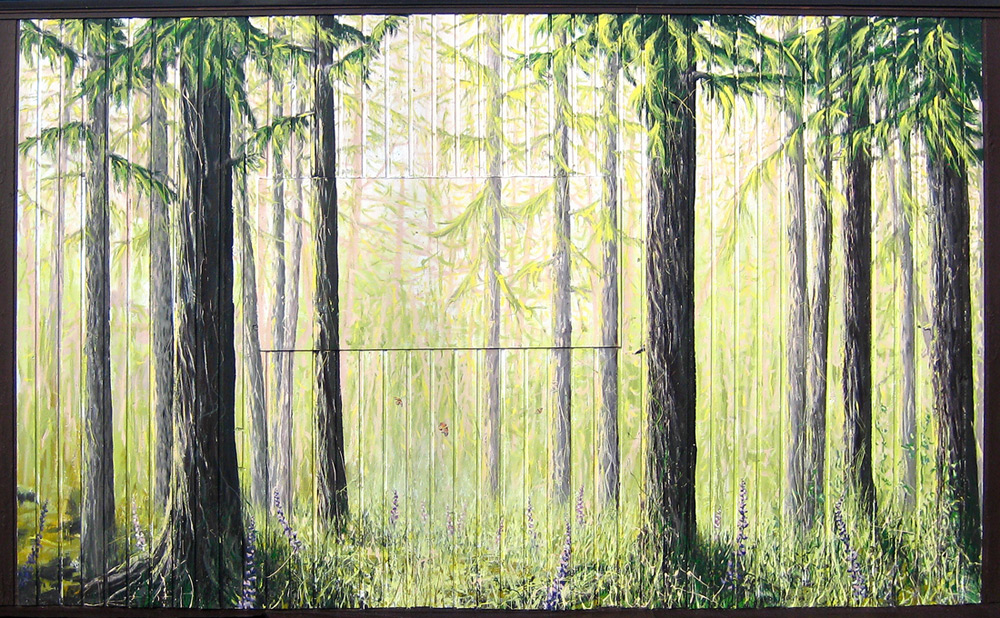 This a 15′ feet high x 24′ feet wide wall mural commissioned by XOXOLAT (Monde Chocolat) and The City of Vancouver. Located on 8th Ave. at 2391 Burrard St. in Vancouver, BC. Depicts a west coast forest scene glowing with yellow light, purple foxglove flowers, and some butterflies.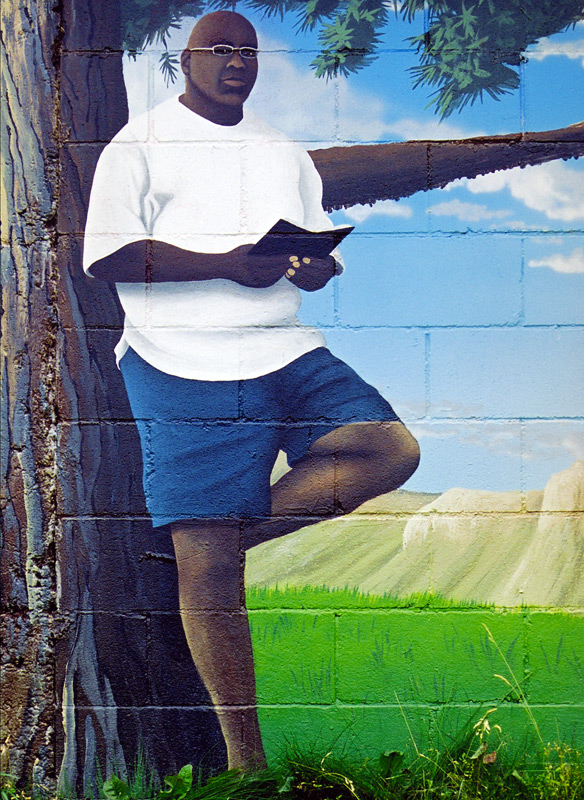 Close-up detail image of the Lesra Martin Mural.

The Lesra Martin Mural, a mural commissioned by the City of Kamloops.
Painted on a concrete wall. 6′ feet high x 150′ feet wide. Located in
Greenstone Park on Pemberton Terrace in Kamloops, BC. Depicts Kamloops
resident Lesra Martin leaning against a tree on the left side with an
eagle flying above the local desert mountains in the center. Lesra Martin
is holding a book, representing his efforts to help reduce illiteracy
worldwide. The mural was briefly featured in the National Film Board of
Canada documentary, The Journey of Lesra Martin.

Close-up detail image of the eagle in the Lesra Martin Mural.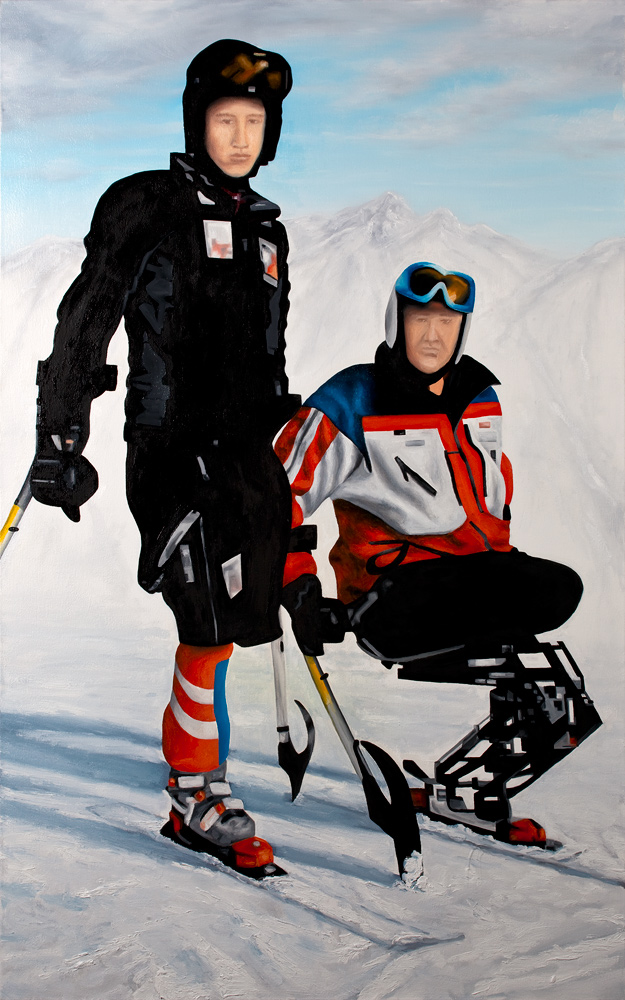 Oil on canvas painting titled: Stephen Shine & Mick Brennan. 34″ x 54″
inches. Painted for the exhibition called HEROS at the Pendulum Gallery in
Vancouver in March 2010. The two skiers are soldiers who became disabled
while serving in Iraq and Afghainstan, suffering limb amputations. They
are part of the UK's Combined Services Disabled Ski Team, organized to
help wounded soldiers returning from war.
Our artist Steve, has set up a blog to track progress of the mural and raise awareness.
The website is: http://kerrisdalemural.com/