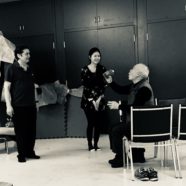 Feb

02
Tags
Related Posts
Share This
Dear Readers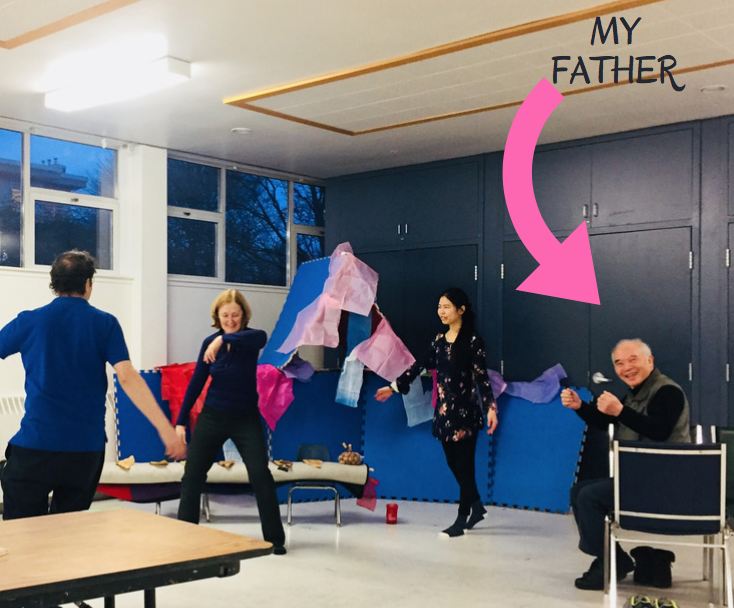 Dear Readers,
How's your new year going so far?  
I am delighted to share my experience in the KCC's brand new series called Kerrisdale Contemporary Arts Lab (K-CAL), which hit the ground running on January 6, with an interdisciplinary artist, Soyoung Park.
I brought my parents who were visiting me from Japan to the Soyoung's workshop, called Everyday Installation, partly because I, as an organizer, was worried about a low turnout. Plus, I thought my mother would enjoy art and craft and my father wouldn't mind accompanying us for a few hours. It turned out that the workshop was an improvisational acting in which people had to create a pop-up installation as a group (with whatever available materials in the room like chairs and papers) and tell a story collaboratively without using any words. 
Hmmm….That's even possible!? …..No one knew what we were getting into! 
There were 3 other adult participants besides my father and my mother (aged 82 and 78, respectively) who cannot speak English and have no acting skills nor previous experience to my knowledge. I was feeling anxious (on the group's behalf) and a bit guilty for "dragging" my parents along to the workshop with no explanations other than, "It's part of my volunteering as a board member!" (I am extremely grateful for my lovely parents who always support me no matter what, evidently!).
As the workshop was proceeding, still weary and disoriented, I noticed that everyone were embodying (as the photographs show!). And more impressively, it seemed to me that everyone were self-contextualizing quite effortlessly at least from a distance. Literally, there was no words to describe what's happening, but it was a wonderful surprise to discover my parents' hidden "talents" and witness their 200% engagement and liveliness. It seemed as if these improvisational, often pre-reflective activities, such as closely attending others' bodily gestures and movements and mirroring back and forth, were creating empathy and connection so naturally among them….So, Bravo! to Soyoung and all the brave and adventurous participants! If you want more in-depth reporting, please read the insightful article written by one of the participants.
For the Spring 2018 K-CAL series, we are excited to bring you a variety of innovative workshops, including the upcoming film screening of "The Organizer" (Feb 3) led by a filmmaker Ana Carizales and Digital Storytelling workshop (Apr 14) led by Danielle Gagnier and more to follow. See our invitation (here) and come explore contemporary art in new and surprising ways!
Oh, and speaking of what's coming, our 2018 Annual General Meeting (AGM) is fast approaching (Feb 21). Application is now open (see the details here). Serving on a volunteer board of directors can be one of the great discoveries of your life, like the one I just had! Join us!
Without further ado, here is the February Issue full of artful stories. Discover how artists and scientists keep on experimenting and searching for new ideas….Read on!
Keiko Honda
Chair, Community Engagement Committee