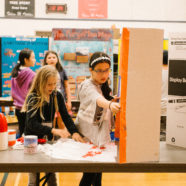 Jul

14
Tags
Related Posts
Share This
A GLIMPSE OF THE FUTURE: REFLECTIONS ON THE 2017 VANCOUVER REGIONAL HERITAGE FAIR
BY JAMIE ZABEL
PHOTOS BY SYED MUSTAFA
*Permission to reprint granted by the Vancouver Arts Colloquium Society
Most of us feel like we have a certain amount of stake in the future of the coming generations. We want to leave our world, the future world of our children, in good enough shape to allow them to live well and in comfort. This depends so much on the children that are right now entering elementary and middle school, the future world changers and earth shakers. This being so, we pay a great deal of attention to what the generations behind us are doing and how they are acting. Undoubtedly, it was like that for the generations that came before us as much as it is for us now.
So, who are these children that are entering the school system, the ones that will one day become our doctors, lawyers, and Prime Ministers? I'll confess, after my brother left middle school a few years ago, I've been quite disconnected from that age group since most of my cousins are already grown. This is where the Vancouver Regional Heritage Fair was so enlightening and, I may say, uplifting.
Before I continue with this thought, however, I feel it might be useful to give a bit of context to the event in which I and the students participated. The Vancouver Regional Heritage Fair is part of an initiative run by the BC Heritage Fairs Society affiliated with Canada's National History Society, Heritage BC, and under the patronage of the Lieutenant Governor of British Columbia. Their main goal is to create an environment in which students have the opportunity to learn and get excited about Canada's history and the Canadians that made our country what it is today. The Heritage Fairs are held in schools across British Columbia and involve about 4000 students. Each student creates a project centering on a piece of Canadian history, with preference being given to local or regional content. The best projects are chosen to go to the Regional Heritage Fairs, of which the Vancouver Regional Heritage Fair is one, where the projects are presented to judges and the public. From there, the three best projects from each region are decided and those students go to the Provincial Heritage Fair.
Needless to say, the students that participate in these events are extremely intelligent. I found this to be true to the point that the youngest, those who were in Grade Five, probably would not have had much trouble participating in one of my university level classes. So, those future doctors and Prime Ministers? Many of them, I believe, are to be found at these fairs.
My colleague Tatiana and I presented to 120 of these students about the importance of culture and the arts in our society. We showed them some of the things that Vancouver is already doing well and tried to challenge them with pictures of what our communities could look like. I could never have predicted the wonderful response that we got from them. They were engaged and opened up to share their own struggles and successes when it came to finding their forms of artistic expression, after we shared our experiences.
Unsurprisingly, perhaps, the students were involved in every artistic endeavour you could imagine, from writing, to violin and piano, to dance, and to martial arts. These children knew what they wanted and what they expected from their schools. They wanted more time and opportunity to participate in the arts in the classroom and to learn more sustainable artistic practices. They also wished to learn about the artistic practices of other cultures, especially the indigenous peoples whose unceded land the Heritage Fairs location was built on. Their projects themselves focused on issues of sexism, racism and other problems that afflict our world. The awareness these students had about these problems was extremely reassuring and a good sign for the future.
But one thing I found especially encouraging is that not once did any of the students question the importance of the arts. No one asked why we were talking about the issue of culture's role in society or why we should care about it. Coming from the Arts in university, I'm used to hearing questions about what I expect to do with such a degree and how I'm expecting to find a job. But to these kids, the societal importance of culture and the arts is a fact, not a discussion point. They came up with many brilliant solutions to the lack of awareness surrounding artists and their work including publicly funded galleries where anyone can post art that they have been working on, at any time, free of charge. They also championed doing more public murals in our city and involving diverse members of the community, something that would increase artistic participation and awareness as well as contribute to community building. While I expected to go into our presentation trying to convince the students that culture is just as important as other areas of our society, like the economy and our government, I quickly realized that this was an awareness that they already had. Any nerves that I had about presenting in front of so many people were immediately dispelled and our presentation turned into a conversation about how culture can be better integrated into our future world.
I left the Kerrisdale Community Centre on that sunny Saturday afternoon with a lot of hope. Despite the more negative things I have heard about the generations below us, it seems that every generation has its problems but also its stars. I believe that I met many of those future stars at the Vancouver Regional Heritage Fair and, if these students are any indication, our world is in decidedly good hands.