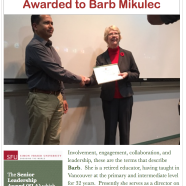 Nov

24
Tags
Related Posts
Share This
The Best of Canadian Spirit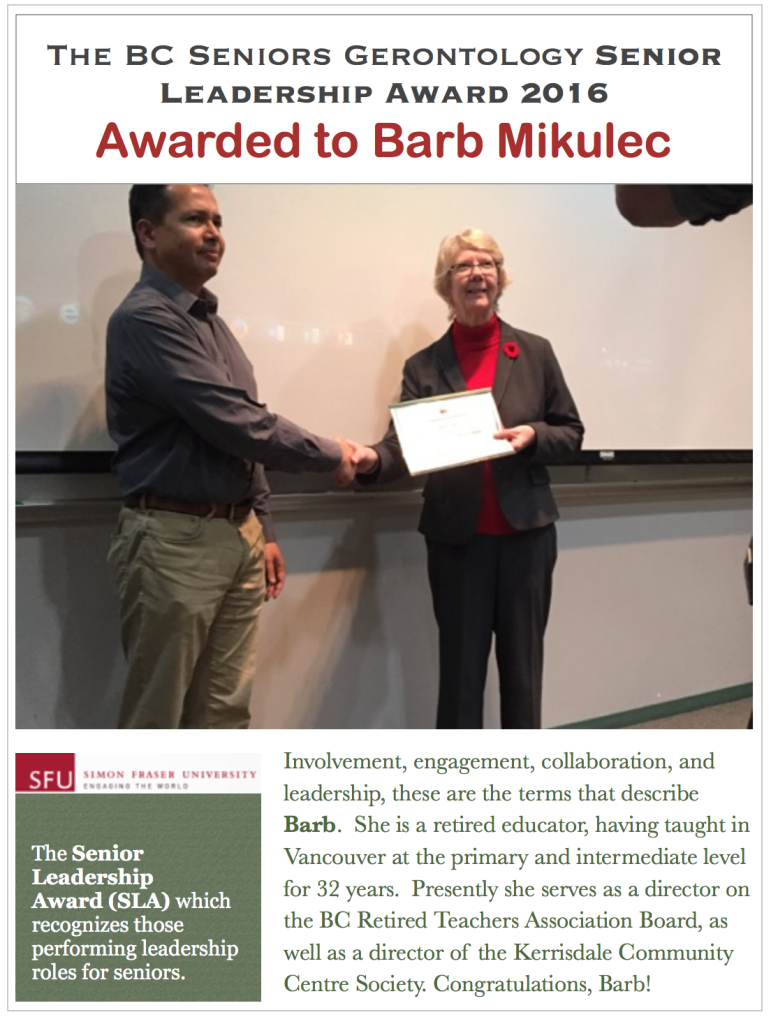 Involvement, engagement, collaboration, and leadership, these are the terms that describe Barb, a director of the Kerrisdale Community Centre Society.  She is a retired educator and during her 32 year career in Vancouver, she taught primary and intermediate students and coached youth in volleyball, badminton, softball, track and field, also Odyssey of the Mind teams (provincial winner).
Barb currently serves as a Director on the Board of the BC Retired Teachers Association, chair of the BCRTA Heritage Committee, member of the Finance Committee and has served on the Membership committee and Health and Housing committees. She is a BCRTA delegate to BC Teachers Federation AGM, and represents them on the Board of BC FORUM (Federation of Retired Union Members). She is past president of the Vancouver branch of the BC Retired Teachers Association.
Through COSCO (Council of Senior Citizens Organization of BC) Barb serves as General Vice-President and Housing Committee Chair and Strategic Planning committee member.  Barb is a facilitator for the COSCO Wellness Institute and regularly presents workshops on health issues to seniors groups in the Lower Mainland. She contributes articles to: Postscript, COSCO News, NPF newsletter and Vancouver Tabloid. Barb served on the planning committee for the recent COSCO 2016 conference, held in September, 2016.
At the NPF (National Pensioners Federation) AGM in September, 2016 she presented an 'Action Plan for Housing' as chair of the Housing committee.  This followed the national 'Housing Policy' paper which she prepared, and was adopted at the NPF convention last year in Ottawa. Barb also served on the action committee for Canada 'Healthcare Declaration' which is endorsed by groups across Canada.
Locally she is on the Board of the Metro Vancouver Cross Cultural Senior Network and has served as their secretary. This group won the SFU award for Innovation in 2016 at the Friesen Conference, for their work making a DVD about elder financial abuse.
Barb currently helps the community through the Master Gardener program and the Green Streets program-both for over 10 years.  She is a part of the Neighbourhood Small Grants adjudication team for "Canada 150 grants". At the Community Centre Barb currently serves on the Board, Finance, Program, Pool and Arena committees, and has served on the Community Engagement and Rentals committees.
The UBC Faculty of Education presented the '100 Alumni of Distinction' award to Barb in 2015. She is currently president of a Vancouver chapter of the PEO- Philanthropic Organization and was the provincial International Peace Scholar Award chairperson.  Barb has been a Director on the R. R. Smith Memorial Foundation, which awards literacy grants in BC and abroad. She is an alternate to the B C Seniors Advocate's Advisory Committee.
Internationally, she was an exchange teacher to Denmark representing the Vancouver School Board.  Through the Asia Pacific Foundation she was part of the Canadian 'Perspectives' teachers institute in Thailand, and through the Secretary of State an exchange program at a university in Japan.
Congratulations, Barb!