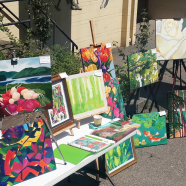 Sep

01
Tags
Related Posts
Share This
Plant Your Flowers on a Canvas: A Colloquium with the Artists In the Garden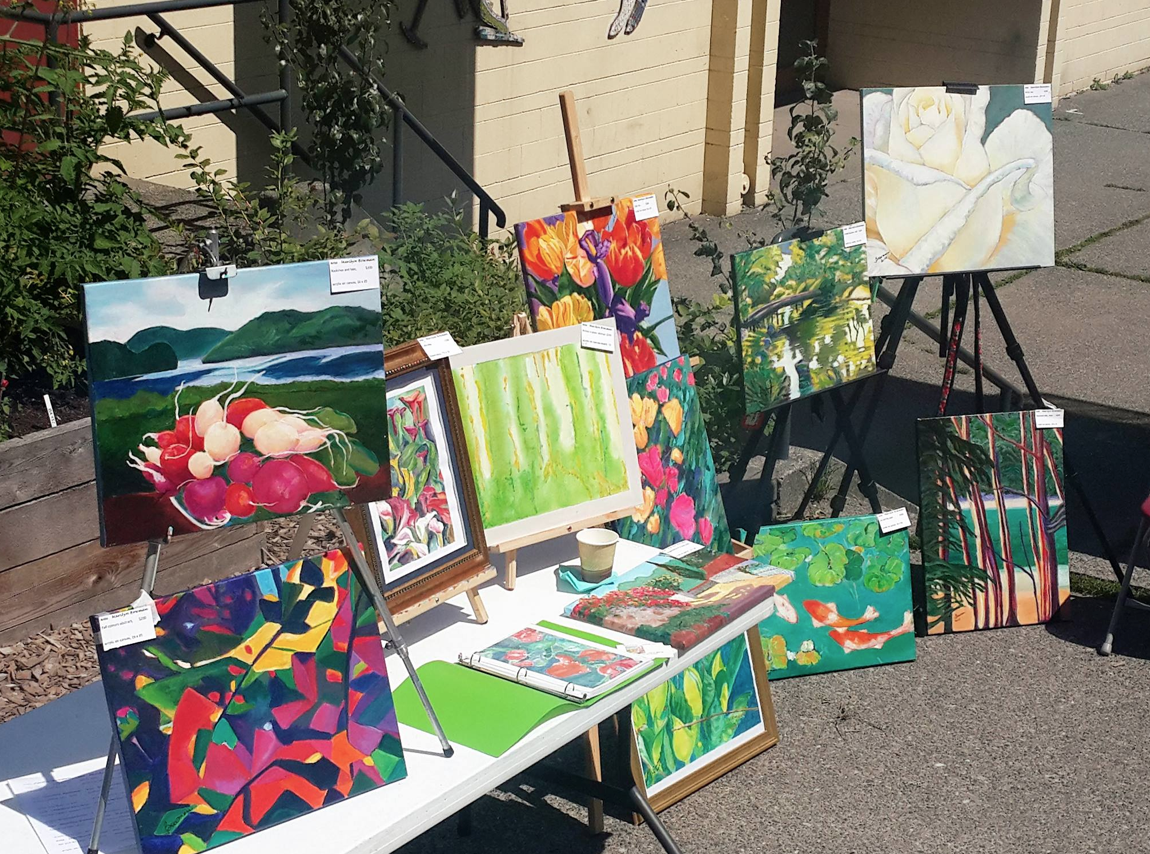 By Susan Tsang
Photography by Kenta Motoike
Artists In the Garden hosted by the Vancouver Arts Colloquium Society was not all about organic pies and fresh Italian pizza made straight from the Kits CC Collaborative Garden, rather it was a celebration of "Eye of The Beholder".  This was the second year that Artists In the Garden a perfect addition to the Kits CC's Summer Garden Party.  This year's theme entitled, "Suggestions From Nature," brought together a group of seven local artists, both amateur and professional, to showcase their arts that had drawn inspirations from everyday's life. The beautiful day outdoor and the pleasing paintings were enhanced by the vibrant edible plants at the background and energized any visitors dropping by. Artworks were everywhere around us. Artists could be spotted in all walks of life. 
"I did painting when I was in highschool, but then I stopped. I went into another field (law)," said Sylvia Andrews while she stood in front of her group of distinctive floral paintings. "I didn't have time to do it. It's better painting during the day when you have natural daylight coming into the room. If it's at night it can be a lot more difficult to really see what you are doing." Sylvia's story mirrored with other artists who were present. They truly proved that artists exist everywhere. Renetta Nagel was an interior designer. Marilyn Bowman was a clinical psychiatrist. And Georgia used to be a registered nurse. Some of them could only reunite with their passion again after retirement. There were also the ones who found their passion for arts later in life and were already owning their styles after painting for six or seven years. Their effort and talent were admirable. There was always room for growth and to discover hidden skills regardless of how old you are.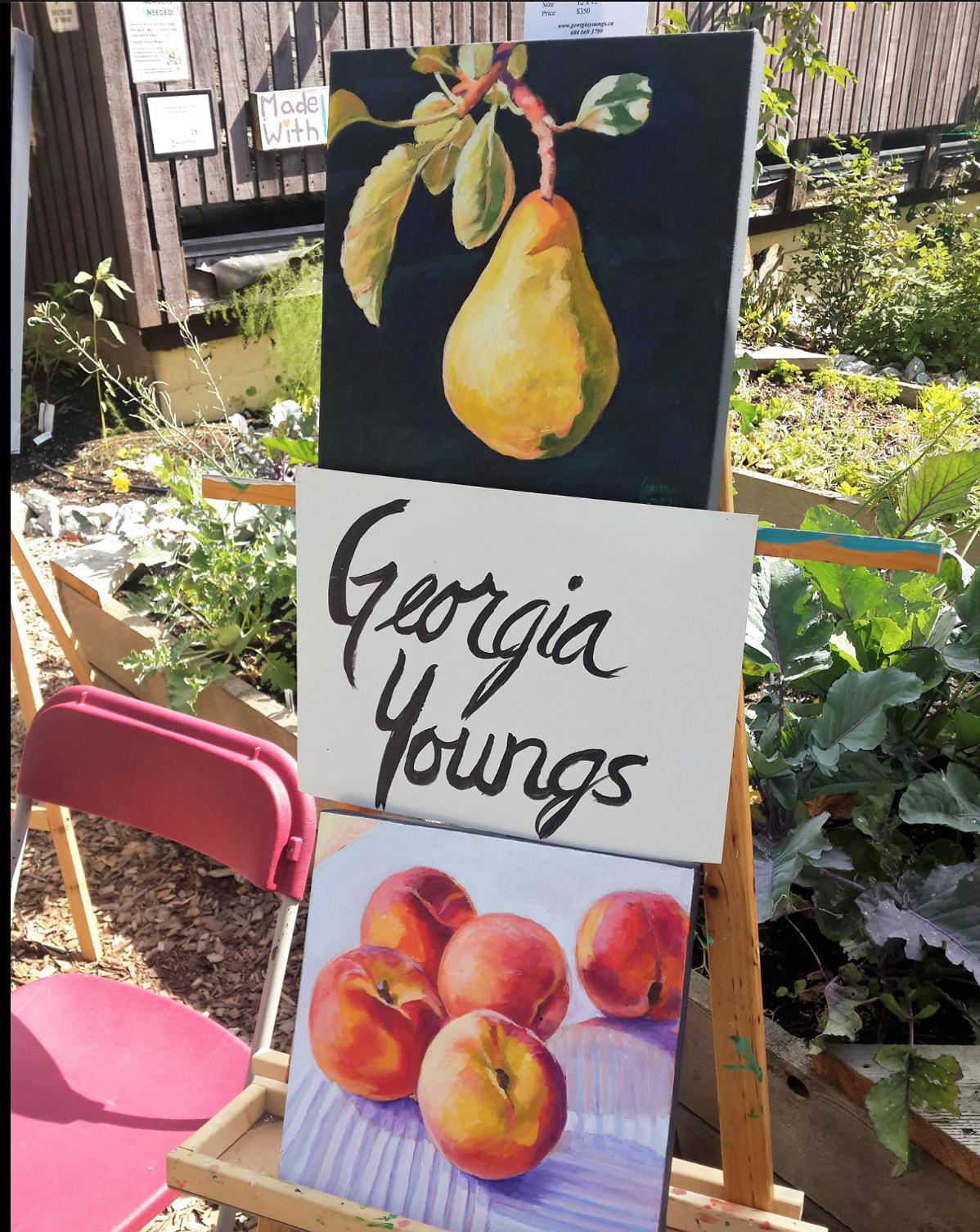 Creating art was more than just perfecting techniques, it was a rewarding process to the artists as well. "Art just takes you to the zone when you are not thinking about your problems or where time is going by," said Sylvia. "You're totally wrapped up in the process. It takes you out of yourself." The most rewarding part should be also transformative to yourself. "You don't know what you can do until you try, And one of the main thing is just being willing to try things and go a little crazy, instead of just doing an ordinary piece of work, see what you can do with the paint; what the paint can let you do, rather than staying in a narrow confine of some predetermined ideas." Of course, generating art was more than just having the thrill by yourself. Marilyn said, "Getting to know other painters and learning from them are also very satisfying."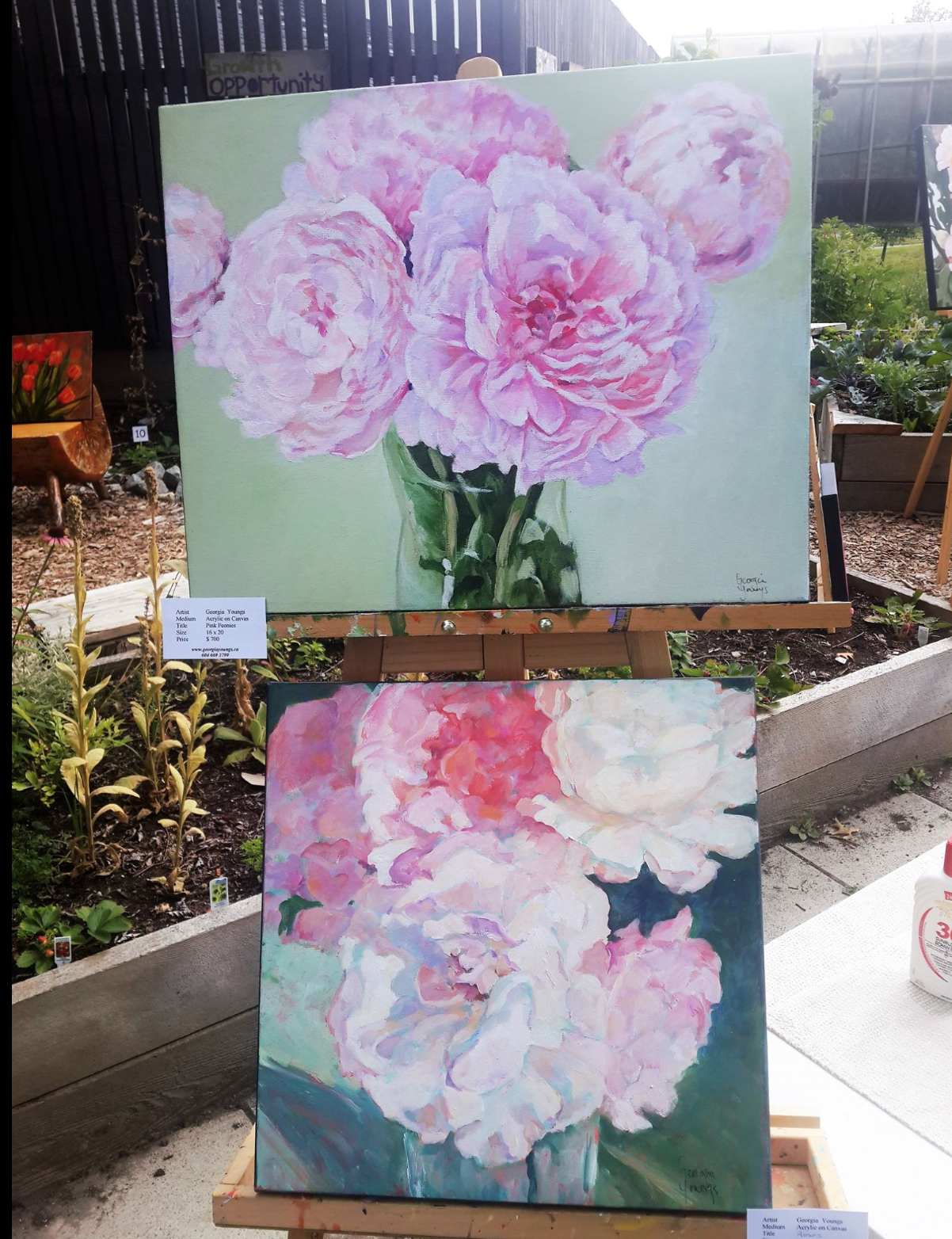 Georgia also loved art because she could pass on her skill and share her passion with other artists. It was immensely gratifying when her students realized their potential and styles under her guidance. "The other thing is, all these women get to know each other. A lot of people form friendships. They'd go out for lunch and coffee together. Art brings people together on another level. It's important to share." Renetta also understood that arts were meant to be shared with everyone, they were not just precious things that reserved to few people. "People don't have to spend a fortune on art to make [the rooms] look good. I prefer that people spend a little bit on artists' original works instead of the mass-produced paintings that you can buy in Winner or HomeSense, but those art have their place for sure. I just think that a really nice personal touches, adding something special that the original artists took the time to do." I was grateful that she was selling her simplistic but lovely heart-shaped dandelion that popped out on the black backdrop for cheap. "If you're doing a teenager's bedroom, pick four or six pieces that are coordinating in colours, put them in a frame to make a collage and that will be as impactful as a really large painting," said Renetta. Combining her knowledge and sensibility as an interior decorator, she drew quality artworks that made good use of colours, shades, and space that transform any room into an art space that pleased the owners and their visitors. Happiness in art was a chain reaction that came from the individual creating or sharing arts. 
The artists cordially guided us through the series of their favourite paintings while answering our burning questions. "Flowers are probably one of the hardest things to draw," said Georgia. "(It's difficult) to get the subtle tonal value, so they (would) look real. I have students who do flowers because they think they are easy. They have a lot of layers (to worry about.)" Sylvia also taught us a couple of pointers: "When you paint a group of flowers, you need to be careful depending on the number—you don't necessarily want an even number. A group of three tends to be pleasing to the eye if you're on low number." Then I pointed at one of her paintings in which she had painted two red flowers on a green-leave background. "This one is a crazy sketch." She laughed. "The colours are a mixture of different shades of cadmium light red and orange, and also some karakorum red," said Sylvia. "You have your primary shade of red and green which makes the red stands out, because they are complementary colours. The green is also a secondary colour so it doesn't dominate the red." The subtle techniques and the aesthetic values that uniquely belonged to the floral paintings were often overlooked and seen as not as amazing, but Georgia said otherwise, "I think it's good to have nice things around us. They make us happy. We have so much negativities surrounding us."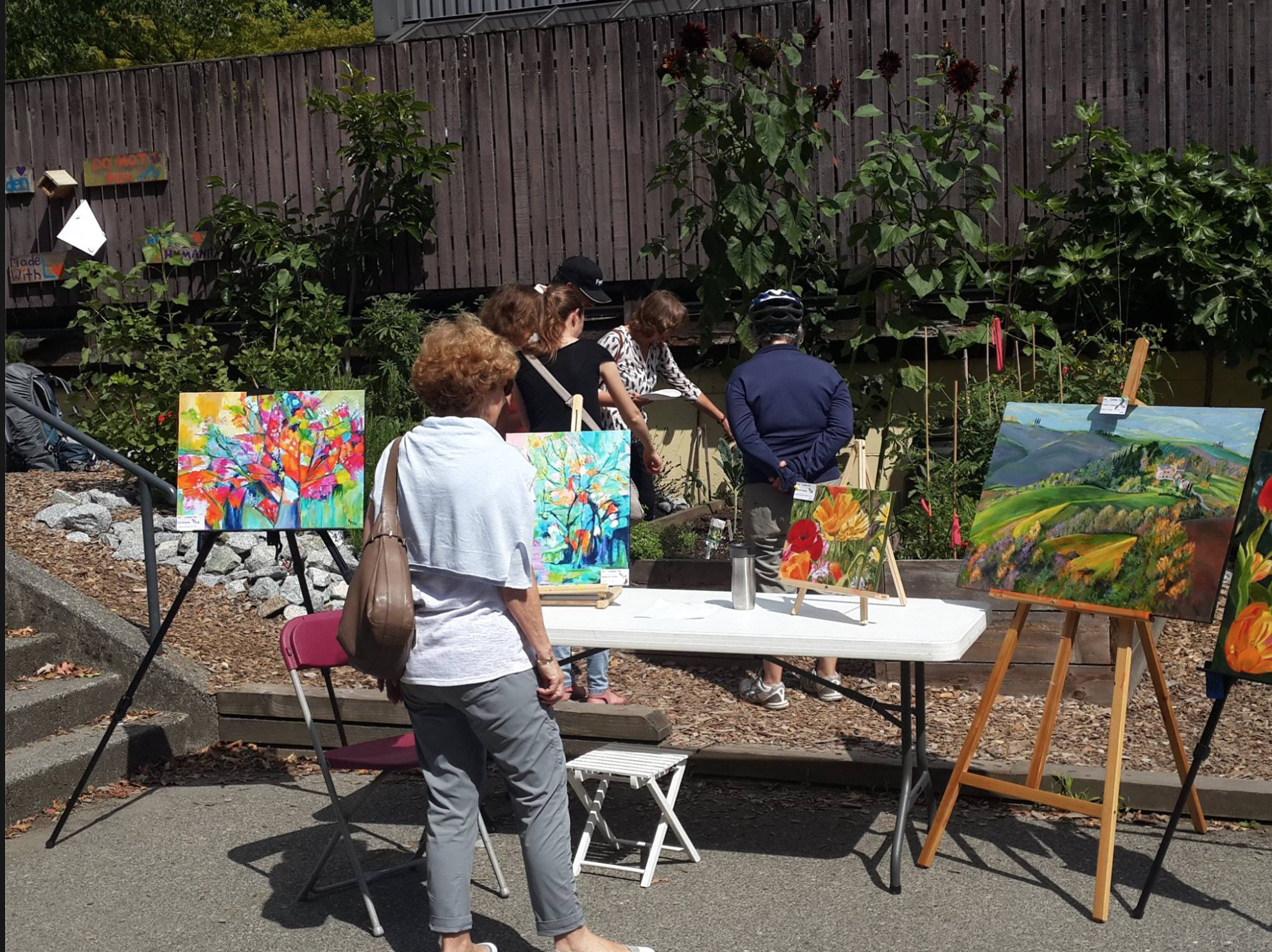 Looking at a group of enthusiasts interested in art, the artists had some advices on where to start painting. They agreed that it would be useful to enroll in an art class. "Get familiar with the paint, the different colours," said Sylvia. "And it sounds obvious: when you first get into the art store, it's kind of overwhelming, because you don't know what type of blue is this or that type of blue. You don't know what brands you like, (or) what size canvases you want to work with." Marilyn too further assured us that art classes were beneficial. "Even if your style and your teacher aren't the same, it doesn't matter. When you go to a new teacher, or take a special workshop or demonstration, you learn new and different things." If you were not too keen on art class, there were more dynamic alternatives for learning as well. Marilyn said, "I just got to take painting holidays. You can go paint in Turkey. You can go painting in Italy and France. There are all kinds of places you can go and get inspired by the colours, the cultures, and the design motif." There were so many arts form that existed in every corner in the world that I have never thought of until now.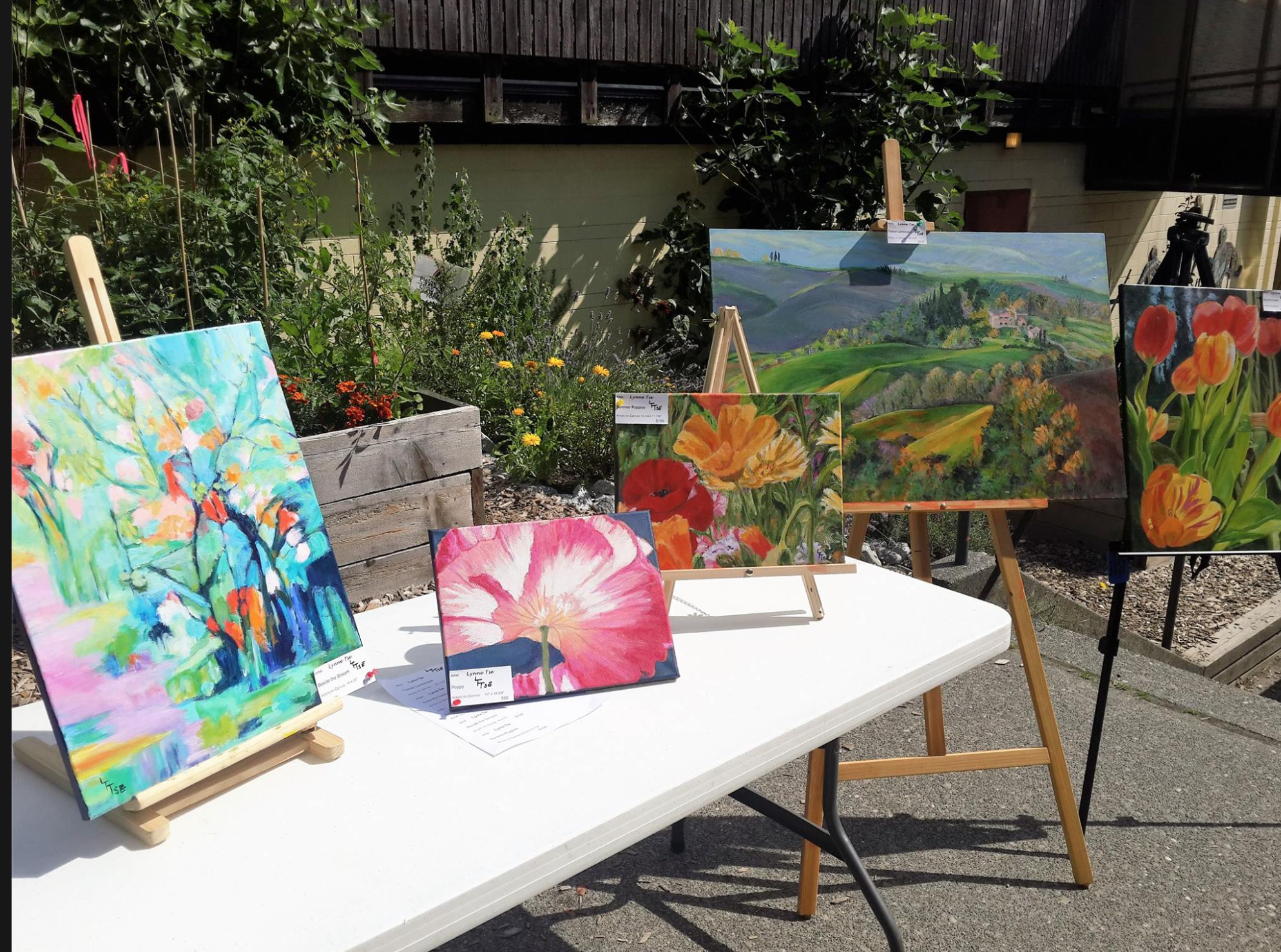 "Art is everywhere. They are important to our society because it spreads happiness," said Georgia. It was heartening to see people stopping by the exhibition not just for the food. They inquired about the paintings, how would they get to know more about art, or how the green thumbs grew the fresh ingredients. I looked forward to VACS and the Kits CC Collaborative Garden to bring out more innovative ways to incorporate creative arts into real-life settings. Artists In Garden was a summer event taking place in Kitsilano Community Centre that was free to the public.