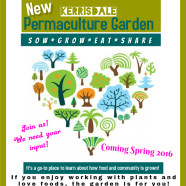 Nov

26
Tags
Related Posts
Share This
Kerrisdale Permaculture Garden
Announcement

Dear Kerrisdale Friends, 
KCCS Community Engagement Committee is delighted to announce that we have granted the Park Board permission to move ahead into the detailed design phase of "Kerrisdale Permaculture Garden (tentative name), which was proposed to be located in the south-west corner of the Kerrisdale Community Centre building (5851 W. Blvd.) near the playground. We are in the process of team building and community involvement prior to the anticipated official approval in January 2016. Kerrisdale Permaculture Garden, will be a collaborative garden and maintained collaboratively by the KCCS Community Engagement and Garden committees, community volunteers and our community partners including, but not limited to, Vancouver Edible Garden Society (VEGS), Vancouver Arts Colloquium Society (VACS), Frisch Farms, Southland Farms, and Kerrisdale Lumber. We will be hosting several public meetings in the next coming month. We need your involvement. Please stay tuned.
Thank you,
 KCCS Community Engagement and Garden Committees (Chair: Keiko Honda)
About the naming,,,,,

Permaculture garden emulates patterns in nature.

The three ethical principles of Permaculture are as follows:

Care of the Earth 
Care of People 
Return of surplus to Earth and people (also called "Fair Share") 

The ancients knew that humans needed community. All living things are interdependent on each other, including people. We humans are communal and social animals, and just like the rest nature. When we share our surplus produce, when we share our skills, knowledge and experience, these actions builds bonds between people which all works to foster a sense of stable collaborative community.