Tags
Related Posts
Share This
Canadian Nikkei Youth Baseball Club: The Shin Asahi
By Josh Coward
Photos courtesy of Josh Coward
Seventy years ago, on the baseball diamond located on Oppenheimer Park, in what used to be the heart of "Japan town" in Vancouver, the great Vancouver Asahi Baseball Team played it's last game.
In their daily lives, those Canadians of Japanese descent were not allowed access to certain jobs no matter how well educated they were. They were socially segregated at public places all the time. Only on the ball park were these "Japs" able to prove themselves as equals.
The story of the Vancouver Asahi Baseball Team is not just about baseball, it was also how they played the game. In order to counteract the adverse conditions, the manager, Harry Miyasaki introduced a strategic style of offence and defense, putting great emphasis on discipline and training. This new type of baseball came to be known as 'smartball' or 'brainball.'
The Asahi baseball team was a symbol of the Japanese Canadian struggle for equality and respect, and despite being disbanded and interned, left a legacy of inspiration for future generations of all Canadians.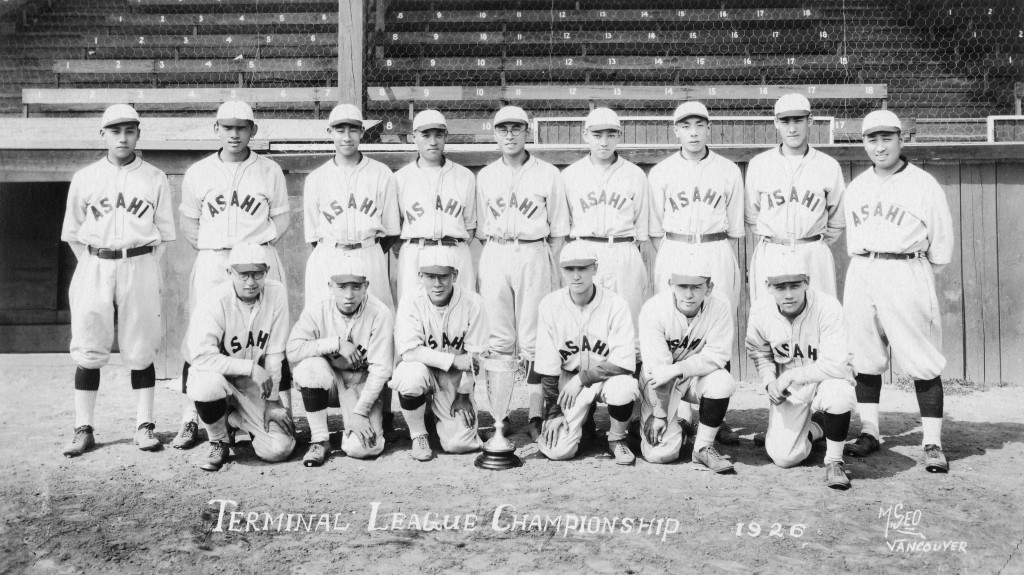 Now, 70 years after the disbandment of a great team, a new spark begins to flicker.
On October 11, 2014 a group of Japanese Canadian and Japanese people got together to revive this legendary team and formed the Canadian Nikkei Youth Baseball Club (CNYBC).
The CNYB is dedicated to creating healthy communities through the game of baseball. Inspired by the legacy of the Asahi Baseball team, for their skill, perseverance and accomplishments, it is our dream to bring back the Asahi Baseball Team to the Nikkei Community and Canada. We are a new club and are open to all, without regard to gender, ethnic origin or residency.
At the CNYBC we are spreading the Japanese way of baseball. Here, an important concept is the idea of the 'team.' Though it is important to get better as an individual, without the other members of your team, you cannot play a single game. It is important to think how you can improve to raise the level of the whole team.
The type of training the Shin Asahi helps raise the level of the kids, to make the team stronger as a whole. We focus on the importance of team play, but we also want to teach the children how to find and play their own individual style of baseball, and how to bring that style and skill to contribute it to the team.
We always start with respect, and end with respect. This is an important part of Japanese culture. Since long ago, there has always been a belief that there is a soul in everything, from the great big mountains and sun, to your simple objects and possessions. Due to this belief, Japanese people have always treated things with deep respect as to not disrespect the spirit dwelling within.
This belief has reached baseball as well. The equipment, the ball park, and even your spikes all contain a soul. This is why kicking the ball, throwing your equipment, spitting on the field, eating during games and practice or fooling around are not tolerated.
The respect not only goes for the inanimate things. This also goes for the people that have helped you reach where you are at this moment. We must always show our respect, gratitude, will and spirit in whatever we do.
It's a complicated mixture of feeling that is hard to describe. The form that we show these feelings is by bowing. Bowing is not only something that you have to do because you have to. It's an important ritual that you do to communicate these feelings to others. This is the reason we bow to the opponents, umpires and the audience, to thank them, to pay your respect and most importantly, to show that you will give it your all until the very end. Though it may be difficult at first, this is something that we hope the kids will come to understand.
Respect also goes for your coaches and teammates. It is expected for the children to be giving the coaches their full attention as they speak, to respect your fellow players, to help with the set up and clean up of the field and dugout, and lining up at the beginning and end of every game and practice.
The Canadian Nikkei Youth Baseball Club now has a mosquito, pee wee, bantam, midget and adult team. Our club has over 150 members and we now are hosting training sessions in the Richmond Oval every Sunday.
We feel the story of Asahi is an inspirational story and which celebrates how hard work, determination and respect can overcome adversity. If you would like more information about the CNYBC please view our website at www.asahibaseball.com, visit us on facebook, or contact Josh Coward at jjoshu@me.com.