Tags
Related Posts
Share This
The Friendship Tree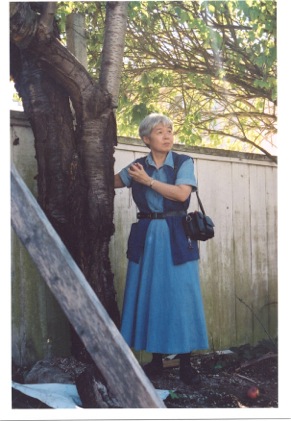 By Melody Pan
On the grounds of the Vancouver City Hall stands a Friendship Tree: a small cherry tree with a tremendous story to tell.
"It was August of 2003, as the BC forests were raging," recalled Joy Kogawa as the time she first discovered the childhood home she had to leave behind at Marpole, the Kogawa House, was for sale. It was then she discovered an ailing and battered cherry tree and fell in love with it.
One strong branch of the tree had been held up with a trestle. Other branches were bound and wrapped with twine and cloth. Joy felt greatly drawn to the tree for all that it symbolized in all of its brokenness. While she could not recall if this was the same tree that had been there in her childhood―there was one that bore dark red cherries―she remembered feeling a sense of awe at such an old tree standing right before her eyes. It was at that moment she felt a powerful connection with the tree. This tree represented her family and community. It became known as the Friendship Tree, and served as a source of inspiration for Joy, both in life and in her works. In particular, there is her children's book, Naomi's Tree, which tells a story of loss and return.
Joy recalled that the tree itself was a landmark on her spiritual journey. There was one particular occasion that she recalled having a profound impact on her. One day, as she was there writing poems for the tree, she happened to place her right arm on its trunk. Just as she did so, she felt a 'heat' running down her arm, from the hand all the way down. She described feeling such a powerful sensation, a physical and tangible sensation. "What I felt at the time as I stood there with this experience was that there was a Knowing that surrounded the tree, that surrounded me, and everything was known." She sensed that the Presence there used this moment to communicate that "everything good and bad was known".
She connected her own experience to the Bible story of Moses and the Burning Bush―where Moses discovers a burning bush and when he approaches, is spoken to by God, 'Take off your sandals, for the place where you are standing is holy ground.' For Joy, it was as if this this story was unfolding right before her, "I felt that way, I felt that I was standing on holy ground." Then, just as God had said to Moses, 'I have heard the suffering of my people,' Joy too felt this way about the suffering of Japanese-Canadians, the suffering that altogether surrounded her family. The suffering she refers to was one that included the forced evacuation and internment of Japanese-Canadians, young and old, throughout the country during the Second World War, and all of the animosity that followed―a topic that often goes unnoticed even today. However, the sense of a Knowing Presence that Joy experienced was not one of negativity, but one of Love.
This experience of love would later give birth to an initiative to create cuttings of the Friendship Tree. Joy explained that in Japan, cherry trees symbolized hope, good will, and friendship. A thousand cherry trees were donated by the grandparents of Leslie Uyeda, the first director of the opera, Naomi's Road and planted in Stanley Park many years ago. Nagasaki, the site of an atomic bombing in the Second World War, also saw the planting of a thousand cherry trees after the war. The cuttings from the Friendship Tree in Marpole were intended to be be symbols of friendship.  Clippings were made with great care and transplanted onto rootstocks, which were planted in a number of locations―including one at the Vancouver City Hall. This graft was planted in the grounds of City Hall by Joy alongside then City Councillor Jim Green, on November 1, 2005 in a dedication ceremony, which saw the day declared as Obasan Cherry Tree Day. The City Hall Friendship Tree was also presented with a plaque dedicated to the preservation of peace in September, 2008 by Michiko Asami and the Japan-Canada Friendship Society on the twentieth anniversary of the Japanese-Canadian redress.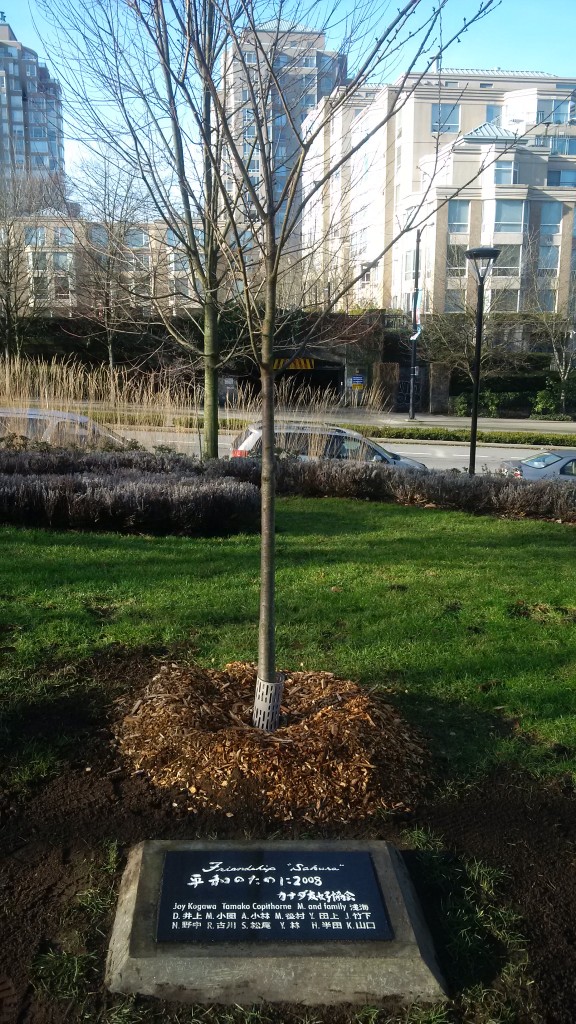 January, 2015 saw the planting of a second Friendship Tree at City Hall to carry on the legacy of the first and a re-dedication ceremony is to take place in April. Unfortunately, the initial cherry tree had difficulty adjusting after being relocated closer to the City Hall building itself. As the original Friendship Tree at the Kogawa House was discovered to have a bacterial infection, a juvenile Yoshino Cherry (Prunus × yedoensis) was chosen as the candidate for this new tree. The Friendship Tree and the plaque have been relocated to a wide, open, and accessible space on the Vancouver City Hall's north lawn, a location selected with the help of the Vancouver Park Board.
Although this Friendship Tree is not genetically related to the original Friendship Tree in Marpole, the message remains the same. In this upcoming ceremony, we turn our thoughts to the re-affirmation of friendship. But, we must ask ourselves, what exactly is friendship? For Joy, friendship is a concept that extends beyond those whom we call our friends. It is equally important to construct bonds of friendship with those who we perceive as our enemies. In the words of Joy herself, "It's easy to be friends with our friends, but being friends with the enemy is transformative."
The cherry tree is today an iconic symbol of springtime in Vancouver thanks to the efforts of the many who have planted them in our beautiful city. Yet, it is only in the springtime when our streets are lined with the beautiful pinks and whites that we notice them. It is for this reason that the cherry blossom is also a metaphor for the fleeting nature of life. It is by no means easy to set aside differences, but it is important to treasure our own lives, as well as those of others around us in the short time we are afforded in this world.