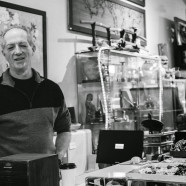 Feb

05
Tags
Related Posts
Share This
Creative Artist Russ Gray – in All Its Various Manifestations
Photos: Noriko Nasu-Tidball
Special Thanks to KIKORI (film location)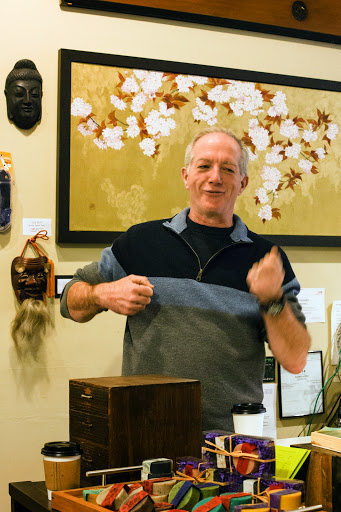 When wood work artist Russ Gray moved to Vancouver with his wife 18 years ago, he developed a fondness for Vancouver's unique climate, referring to the rain as "liquid sunshine." It is this sanguine disposition which has been the vehicle behind his unconventional career path to date.
Having grown up in Ontario, it was Russ' high school art teacher who became the inspiration behind his passion for art. He was motivated by perspective drawing and the eclectic persona of his teacher. Meanwhile, his interest in Japanese culture stemmed from practicing martial arts, specifically Judo and Kendo, ever since he was a young boy. After high school, Russ spent some time in the military. He sang with the Canadian Armed forces as a lead singer. Russ recalls the days when he sang rock and swing, and often travelled across different countries including Germany, Israel, and bases across Canada. Afterwards, Russ travelled to Japan and it was there that he cultivated his skills in Japanese wood work. He began his training in Japan in the 1980s and deepened his woodworking expertise through experimentation and applying Japanese concepts into his own work. Russ adds, "Mistakes are part of the growing process." Russ specializes in screens, lamps, paper shoji (paper sliding doors), panels, and other custom interior goods. Reflecting upon the paths he has taken in life, Russ muses, "Where you go determines where you will end up". He believes that reinvention is achieved through circumstances.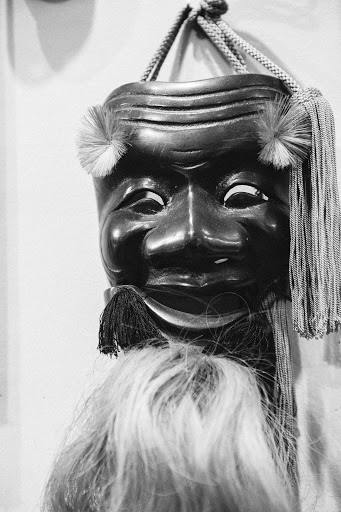 As for the origins of Kikori, a Japanese antiques and furnishings shop run by Russ, it started when his current business partner, Carol Yamamoto, came looking in his furniture workshop in Langley. The two later found out Carol's husband, Robert Mustard, instructed martial arts in a dojo some stores down from his shop and that Russ and Robert had gone to the same high school and practiced martial arts together in Toronto. Carol and Russ have been business partners ever since and have managed Kikori together. Carol works with screens and mounting as a Japanese traditional mounter.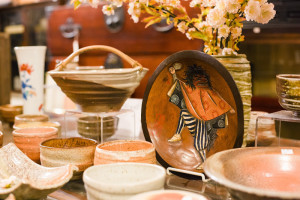 When selecting Japanese antiques for his shop, Russ tries to go to as many places in Japan as possible, including different auctions and dealers. He keeps in mind what is trending and what he thinks people will want. He explains, "People want things that will fit well in a condo, so we have to downsize things to fit in units. They have to be lightweight and movable." He explains that he strategically displays the furnishings in his shop, so his customers can envision them in their own homes and appreciate their beauty.
When designing a piece of furniture, Russ thoughtfully incorporates the concept of reinvention into his artistic process. First, he designs the blueprint in his head from the building to the assembling and materials used. He notes that the material selection process is a crucial aspect to the whole aesthetic of a piece. Russ uses the example of wood to illustrate, "Wood wants to be round in its nature; we need to help the wood find a medium ground. Wood has a life. It moves. It breathes," and continues, "In Japanese woodwork, you work with the wood, which is why Japanese buildings last so long through earthquakes and floods". It is flexible unlike other materials and can be reinvented.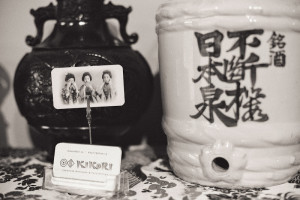 Russ' philosophy behind his work is largely influenced by Japanese aesthetic and philosophy. "Symmetry is boring, in nature there is no straight line, its unnatural," he says, "there's beauty in live edge furniture". What drew Russ towards Japanese woodwork is how their philosophy is based on naturalism. "You much accept nature in life, you can't change the natural course of things," he conveys. His work embraces the mystifying asymmetry found within nature. He likes to follow the Japanese rule of one-third of something and two-thirds of something else. Russ parallels the beauty of naturalism within Japanese woodwork to the way Bonsai trees are beautiful because of their asymmetry and their imperfection. Russ enlightens"In Western culture you don't celebrate the mole of a person's face, but the Japanese will purposely push a dent into a perfect piece of furniture". While Western culture would see the dent as a flaw, Russ admires the beauty in the imperfection. "Asymmetry is what's interesting," Russ states.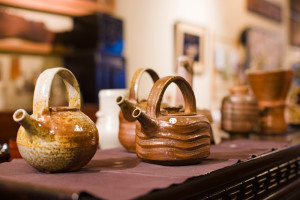 Russ notes the changes in his business over the years, considering that other Japanese antique shops in Canada have closed down since his business started. Russ contemplates at how his is the last of its kind around. He emphasizes, "In the early '80s, materials were easier to get and antiques were more popular. However, nowadays, the value of antiques has gone down and people are less interested in them." There appears to be a disconnection between the buyers and the antiques, as Russ quotes a customer, "It's just a spoon." He is apprehensive of the disconnection as he worries that "people don't see the value, the history, the effort and energy the artist put into the pieces." The goal of Kikori then is to figure out innovative ways to use antique furnishings and transform them to modern interior pieces that fit into contemporary households. For example, Russ redesigned hibachi burning panels into custom headboards, or pieces of artwork. When people visit his store and ask him questions he likes to explain things to people, he hopes he can educate the public so they can have a greater appreciation for the pieces.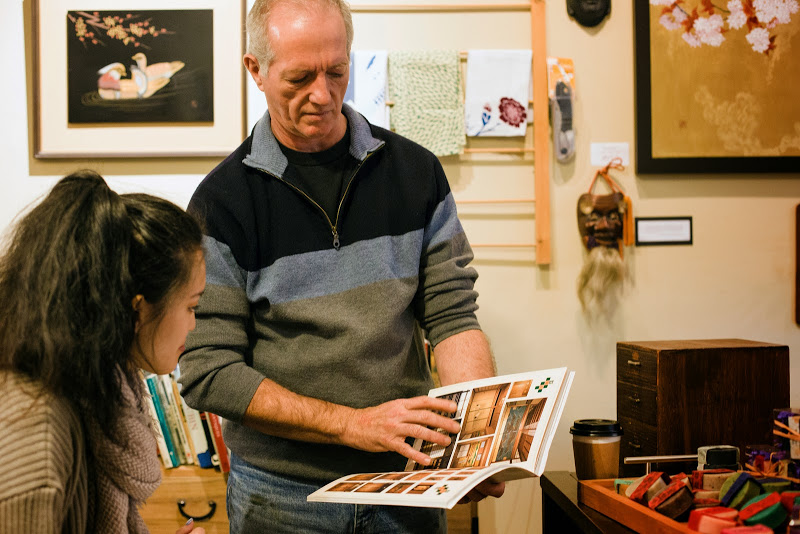 As a highly active contributor in the local Japanese community, Russ remarks, "Skill and knowledge are not worth anything unless you can pass it on to someone". When he is not working in his shop, he is involved with the Vancouver Japanese Language School, which he supplies goods to. As well, Russ helps local Japanese artisans sell their work and represents them. He believes "the less business end, the more artistic end you can do". However, he has found it difficult to represent artists because they want complete control over their work. So, he allows artisans to display their work in his store, as evidenced by the specialty soaps and Japanese hair accessories that can be found sitting on the counter of his shop. Ever since the age of 7 Russ has been practicing martial arts, Russ credits martial arts as a major source of influence on him especially for learning discipline, listening and directing, and for strengthening the mind and spirit. He continues to practice Kendo, alongside his daughter.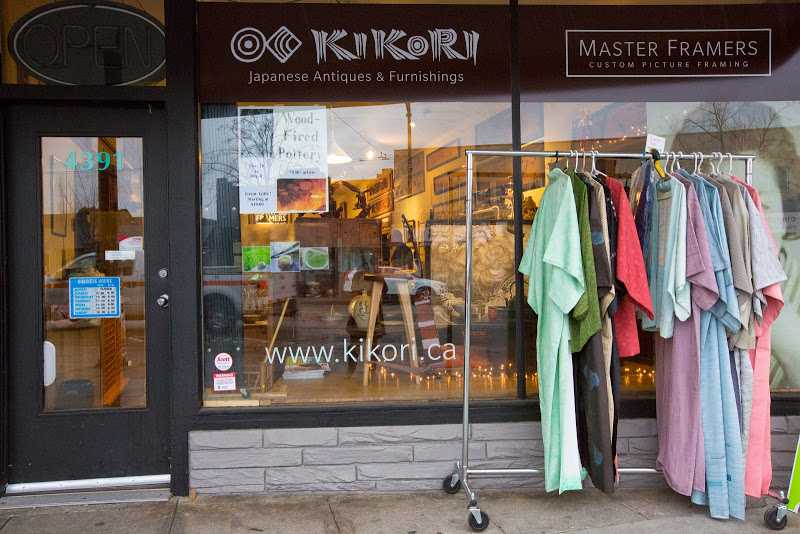 "The mind is like water," Russ expresses, "it can be pure, dirty, hard, steamed, reshaped in the form of its vessel, and it is the strongest thing on Earth".  His mantra is: be like water. He keeps his mind and spirit strong by avoiding instant gratification, and by not placing value in the physical, material life or self-interested goals. He hopes he can pass on the valuable skills and knowledge he has learned to others. Russ shares the advice he often gives to his daughter, "If you want to do something you must try it, at least you understand it, you may not like it but you can apply that knowledge to something else".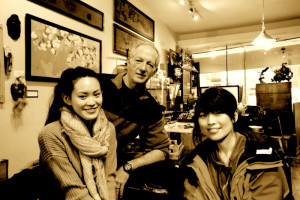 You can visit Russ' shop, Kikori, for more wisdom or metaphors at 4391 Main Street
Vancouver, BC. Canada V5V 3R1
604.251.1867
http://www.kikori.ca/