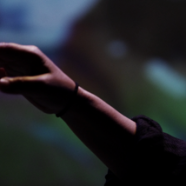 Nov

16
Tags
Related Posts
Share This
The Ebb and Flow of Pia Massie's Creative Career
By Haley Cameron
Photo Courtesy of Pia Massie
Pia Massie was working on independent film No Words Will Ever Do in Geneva when she decided that Vancouver would be her next home. "I had moved almost every year for thirty years," Massie says. For the fearless artist/activist, who calls herself a fish in need of water, Vancouver seemed an obvious choice. "I flew here for five days twenty-eight years ago and immediately knew I wanted to stay."
Proximity to the Pacific wasn't all that made Vancouver appealing. Massie wanted to live in an English-speaking city with a thriving film community. In the end it was the community as much as the ocean that solidified the deal. "It makes it easier to do your work as an artist knowing that there are others working on the same thing; there's a place for dialogue about effort," she shares. Thanks largely to a supportive local film industry, Massie was able to focus on the documentary stories she felt passionate about. Apart from a six year hiatus that took her back to her hometown of New York City, Massie's love of the west coast has supplanted her nomadic ways, making Vancouver her true home.
Massie has always been one for recognizing great opportunities as they arise. Perhaps most notable in her captivating story are the two years she spent training under National Living Treasure calligrapher, Shiryu Morita. Massie was working at an art gallery in Kyoto, Japan when the honorable Sensei happened to see her work and requested to teach her. That she had no formal training in shodo, a form of Japanese calligraphy, and had no intention in seriously pursuing the art form, didn't stop him. "My boss explained that to refuse Morita Sensei was to bring incredible shame upon myself and the art gallery. My job was even put on the line." So she became the celebrated artist's first foreign (and rare female) student.
This wasn't the only time Massie allowed opportunity to direct her career. After finishing an MFA program in sculpture at the Rhode Island School of Design, she spent many years surviving off of grant applications. "I never got the sculpture grants, but I started to win all of the film grants," she tells, laughing as she recalls naively requesting only two thousand dollars from the American Film Institute for their prestigious once-in-a-lifetime Independent Filmmakers Award. "They were shocked," she laughs..
Massie didn't take her success in film for granted. "Ultimately I wanted the freedom to work and be creative," she explains, "the universe led me to film." Massie's career has since been primarily film-based; a combination of documentary film projects and post-secondary teaching, although it still fluctuates as fresh opportunities present themselves. For instance, the Brief Encounters pieces she has created in collaboration with Vancouver based, internationally renowned choreographer Wen Wei Wang have taken her back on stage, reliving her youth as a performer. 
The feedback for Echolocation has been interesting — and arguably Massie's favourite part of the experience. She leaves directions for viewers to comment in a nearby notebook, leaving their impressions behind if Massie isn't around to chat. She describes one viewer who adamantly argued that quality of art depends entirely on its context. "I love having those conversations with people; hearing opinions about high versus low art and where art should be displayed." Massie, whose work has been displayed in numerous galleries and museums, including the Museum of Modern Art in New York City, ultimately disagrees. "Everyone needs to make art; you can bring creativity anywhere in anything you do." She refers to the Joshua Bell experiment made popular through YouTube in which the famous violinist donned a baseball cap and opened his violin case for donations, as he performed in a Washington, D.C. subway station. "The only ones captivated by the beauty of his music were children," — those innocently unaffected by social expectations, she suggests.
In fact, despite her many identities — filmmaker, environmental activist, mixed-media sculptor, mother, even fish — Massie proudly self-identifies as "a very old child". As an increasing number of teaching opportunities present themselves these days, her youthful inquisitiveness allows her to develop symbiotic relationships with her students. "Some of my students are my best friends — and now they're the ones who give me work!" Having grown up with an incredible amount of respect for her own teachers and mentors, she has always been inspired to to give back. "It's the most important thing there is," she emphasizes. While 'teacher' can be added to the on-going list of descriptors, there's clearly no use trying to sum her up. "Every ten years I reach a new chapter, I reinvent myself, and begin a new process," explains the eclectic creative. "I'm so deep into it; there's a blurry line between the practice of art and the art of living," Massie says. "It's a blessing and a curse. It drives the people around me crazy," she laughs. For this inspiring artist, we can evidently add humble to the list, too.