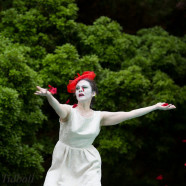 Oct

15
Tags
Related Posts
Share This
A Sneak Preview of Camino Al Tepeyac
Choreography and performance: Salome Nieto
Artistic Direction: Eduardo Meneses-Olivar
Exploring the scope and depth of her Mexican culture and bringing her curiosity over its marvelous reality and surrealism as the starting point for this work, Vancouver's Salomé Nieto uses religious iconography, beliefs and traditions as inspiration for this work, an investigation into the themes of devotion, ritual and myth.
Camino al Tepeyac is a metaphor for the convergence of two cultural and religious beliefs in one female deity that is the origin and end of all things. The Mexicas called her Tonantcin (Our Mother Coatlicue) and after the conquest her name became Virgin of Guadalupe and the Mother of the Mexican people in the Catholic faith.
pataSola Dance wishes to acknowledge the support of the 2014 International Butoh Festival in Argentina, the project "Puedes Volar Mariposa" directed by Master Gustavo Collini-Sartor, the auspice of the Mexican Embassy in Argentina and the Canadian Embassy in Argentina during our stay in Buenos Aires, and the support of Canada Council for the Arts, the BC Arts Council, the Province of British Columbia and Shadbolt Centre for the Arts for the full production of Camino al Tepeyac.
Approximate running time: 120 minutes
Here is the sneak preview of Camino Al Tepeyac