Tags
Related Posts
Share This
Weaving Together a History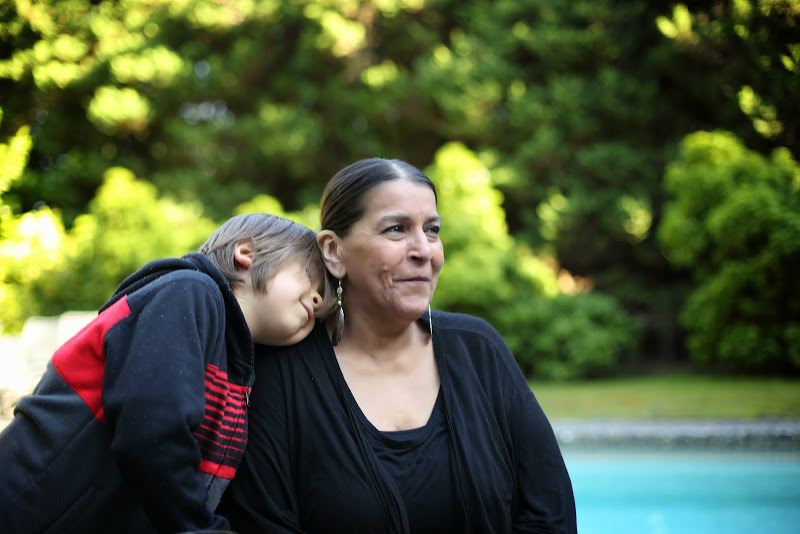 By Haley Cameron 
Photos: Noriko Nasu-Tidball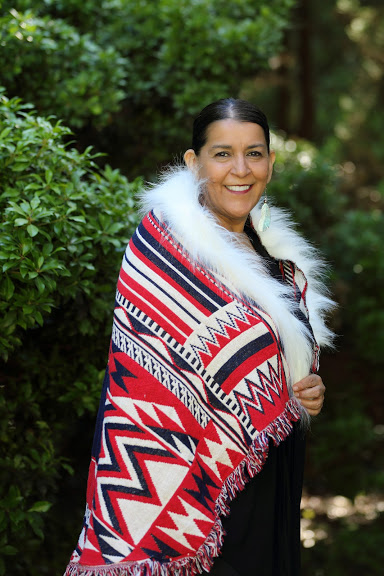 When Wendy Sparrow first began to learn Salish weaving, her sister, Debra, wasn't particularly interested. "At that point I was into my own jewellery design," explains the striking Musqueam woman with a commanding yet nurturing presence that inspires instant respect.
Fast forward a few decades and Debra, perhaps best known for her design of Team Canada's 2010 Olympic jerseys, is a celebrated weaver whose reputed projects are just as practically functional as they are powerfully artistic. But above all else her work is historical.
It was ultimately a longing for history that inspired the two sisters to pursue Salish design. They were lost, Debra explains, and yet inspired to learn their purpose. "In order to know ourselves we had to know our own histories," she says eloquently, her sentences flowing like carefully structured prose. "It was never about becoming an artist but rather becoming who we truly are." The two abandoned their "little girl toys" of drugs and alcohol in order to listen for direction from their ancestors.
For Debra, that internal search quickly led to a curiosity for design. Sparrow, whose brother is the current Musqueam chief, is careful to explain that "art" per se does not exist in Musqueam culture. "Everything made is made to be used," she outlines, describing how even the most ornate and decorative creations had a purpose in ceremonial practices. Her own interpretation is not that art doesn't exist, but rather that "everything is art."
"Growing up we were only really exposed to Northern design styles," Debra says, explaining that the history they did know was never presented visually. "We grew up hearing it but not seeing it," she continues, noting that while she knew the iconography of the Haida people she had never learned that of her own Musqueam band.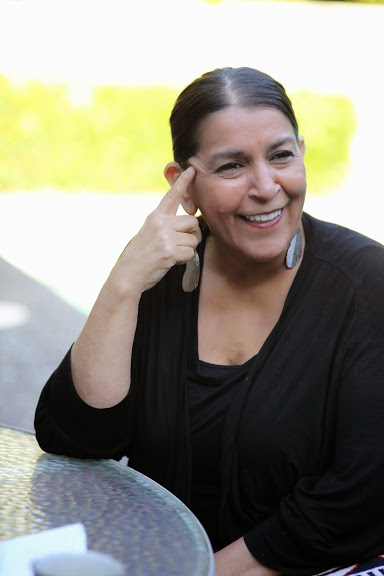 Debra ventured off on a solo quest to learn more about her people's creative roots as a means to find herself. The more she explored Salish design and Musqueam imagery, the more deeply enraptured she became. "I fell in love with it; my people, my history. It felt like I was going home."
Because Musqueam visual history was not well preserved within her community, Debra had to search beyond. She reached out the University of British Columbia in order to further expand her knowledge. "I asked for access to everything pertaining to Salish design," she recalls fondly, appreciative of the innocent curiosity that inspired her research.
The Musqueam woman studied without a designated syllabus, course structure, or traditional academic measurement, however she never found this self-directed education frustrating or lacking in direction. "I didn't want any teachers, except for my ancestors," she claims. "I called on them." In the end she is confident that her education was a thorough one. "I feel that I'm as intelligent and successful as anyone with a university degree," she assures me, before emphasizing that one's education needs to be a personal choice free of social influence.
While Debra speaks of her elders and ancestors with the utmost respect, a particularly strong bond with her grandfather quickly becomes evident. In fact, when summarizing her career she measures her success in relation to his standards. "I have accomplished everything my grandfather hoped I would," she tells me, exemplifying total reverence for him.
Debra fondly recalls afternoons spent listening to her grandfather's stories; a ritual she is passionate about maintaining with subsequent generations. It was her grandfather who first revealed the significance their weaving had on the community's claim to history. "When we began bringing it back into the community, he explained that he had seen the same styles and motifs during his youth," Debra says. Years later she remains moved by the significance of this visual revival. "We filled a gap of eighty years. This would have otherwise been lost forever."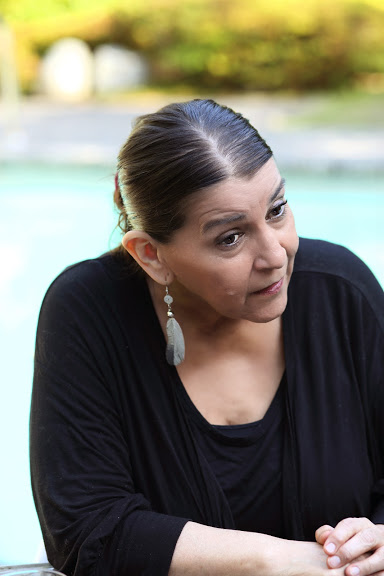 Debra self-identifies first and foremost as a messenger. "We're storytellers," she affirms. "Artists carry history. They are visionaries responsible for reflecting culture." And it's reflecting, not mimicking, that Debra is interested in doing as she continues to develop her own iconography within the realm of Musqueam design.
She credits her ancestors for her consistent workload and demonstrates whole-hearted gratitude for her successful career. "You ask anyone creative – it's a gift," she insists. Today that gift is focused in two directions: the private commissions that first established her reputation and a second commercial line that allows her designs to be more widely accessible. For Debra, the ability to expand the reach of her work while remaining grounded is key. The private/commercial balance she has carefully constructed enables loyalty to her own creative vision.
As for the storyteller within, Debra divulges growing interest in screenwriting, with an anti-pipeline plot already in the works. However she maintains that she isn't particularly vocal with regard to controversial politics. "If I could make a blanket to wrap around all of us, and force us to merge as a community, that would be my contribution," she suggests.
The value she places on community stems back to her childhood in Kerrisdale, where her fondest memories are centered around the local pool, fresh fruit trees, and afternoons spent roaming freely. "It was always about the Kerrisdale pool," she laughs, recalling hours spent in the shallow end testing her confidence and relishing her solitude. It's no surprise that today, with the guidance of her ancestors and the respect of the Musqueam community behind her, this local artist continues to chart an independent course towards the deep end of personal fulfillment and community awareness.