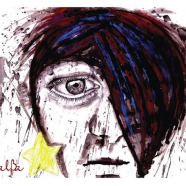 Sep

02
Tags
Related Posts
Share This
Interview with Artist Timothy J. Sullivan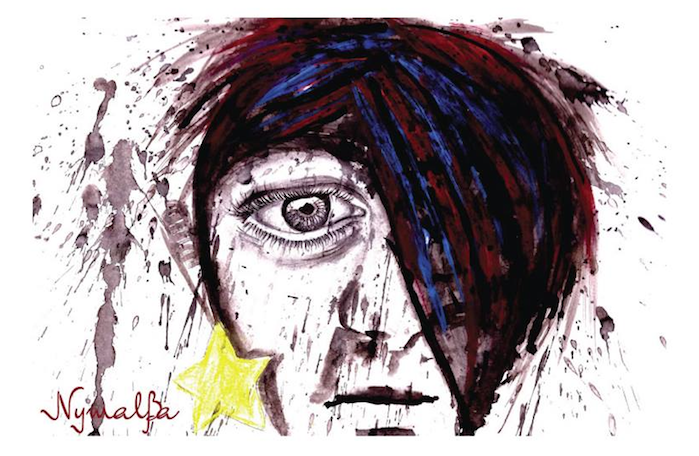 By Aryan Etesami
Photos courtesy of Tim Sullivan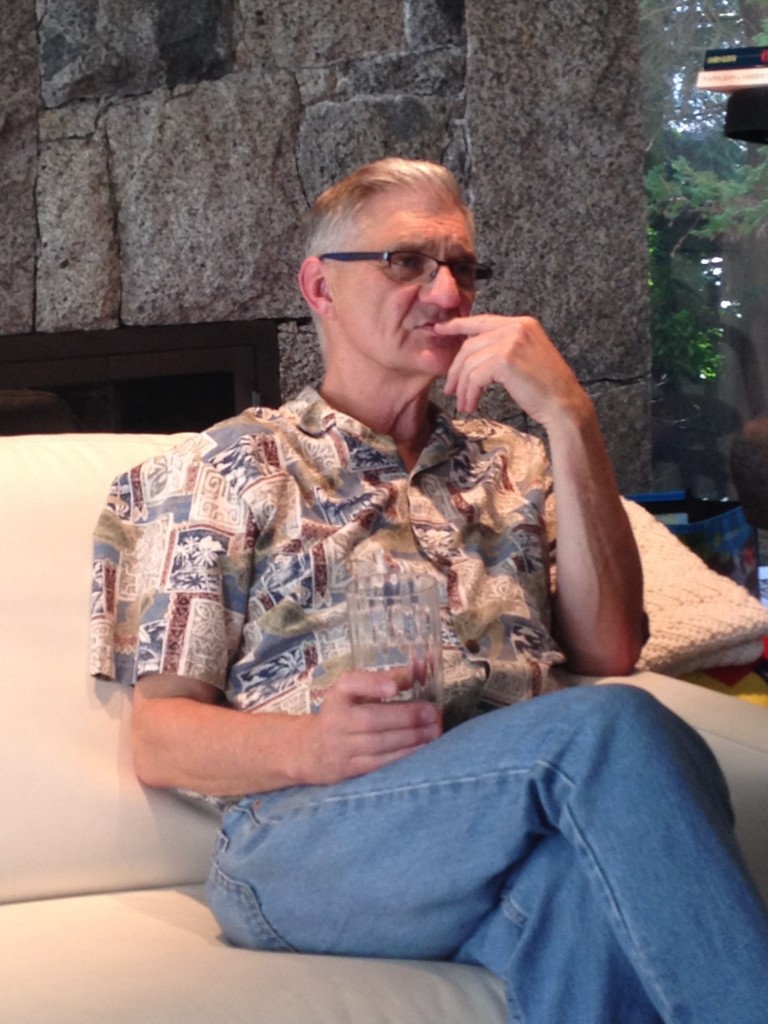 Tim Sullivan, a local contemporary abstract artist, was born into an Anglophone family in Montreal, Quebec in 1946.
Ever since childhood, Tim had a ceaseless interest for various art forms as well as philosophy, and spirituality. Despite his passion for the arts, Tim decided to pursue a career in his other area of strength, the sciences and specifically Chemistry. He obtained his Bachelor of Science Honours and later his Master's degree in Chemical Kinetics from Concordia University in Montreal in 1971.
He then moved to beautiful British Columbia to further his Chemistry education at Simon Fraser University, where he left as a Doctoral Candidate in 1974. While Studying at SFU, Tim spent 5 months in London, England on what turned out to be a life-changing odyssey for the future artist. There he embarked on a journey of self-discovery and enlightenment, and came to the realization that Chemistry is just not what he was born to do!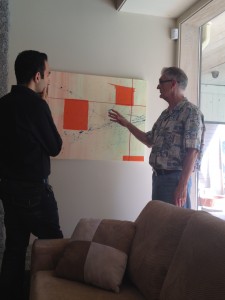 Following his return to Vancouver, Tim left the PhD program at SFU and took on a number of jobs as a chemist before changing course to studying Psychology; he was accidentally re-introduced to art in his late 40's when a romantic partner gave him a book to read: "The Artist's Way" by Julia Cameron. After reading the book, he immediately purchased the necessary supplies and started experimenting with paints and canvas, using his creativity. Tim's reunion with his artistic side was followed by a series of demanding posts as a counsellor and a trainer for a mental health facility, as well as the responsibility of raising a child, which together would not allow for him to focus on art.
The fire had already been lit however and as soon as he retired from his stressful work, Tim returned to his passion for abstract painting. Shortly after, he had created enough paintings to exhibit his work! Today, Tim lives the life of an artist in Bowen Island, BC, as he expresses himself through such vivid and colourful paintings. I recently had the chance to sit down with this talented man and listen to his fascinating life story. Here are Tim's answers to a few questions I was so eager to ask of him:
A: Art in the most general sense for me attempts to express beauty; or one might say artists create objects, works, or expressions that invoke a sense of beauty in the beholder. There may be other 'uses' of art, such as to provoke a just response, arouse feelings of various kinds, but in the end it is beauty and the appreciation of it that changes us most.
Q: What do you enjoy most about 'abstract' art?
A: Abstract, or non-representational art is most appealing to me because it offers a way to engage the viewer in ways that provoke the imagination, arouse the feelings and stimulate the mind, at least for those willing to take the journey, beyond the conventional, beyond what is immediately familiar. The "familiar" does not engage us deeply, it slips by and we have not been moved, touched, or delighted. Not really. We are merely pacified, lulled into a sort of complacency once again. What I enjoy about good or exceptional abstract art is its power to provoke an unconventional sense of beauty in us. We can be affected to a soul level, and not even understand why, yet feel compelled to remain looking, feeling, wondering. This is the mood I wish to invoke in others that view my art.
Also, it is a process driven activity, which is to say I usually do not have a goal in mind, rather I let the process of painting itself guide me. I let the painting itself unfold what comes next. The process becomes a conversation between the emerging work and the muse coming through me.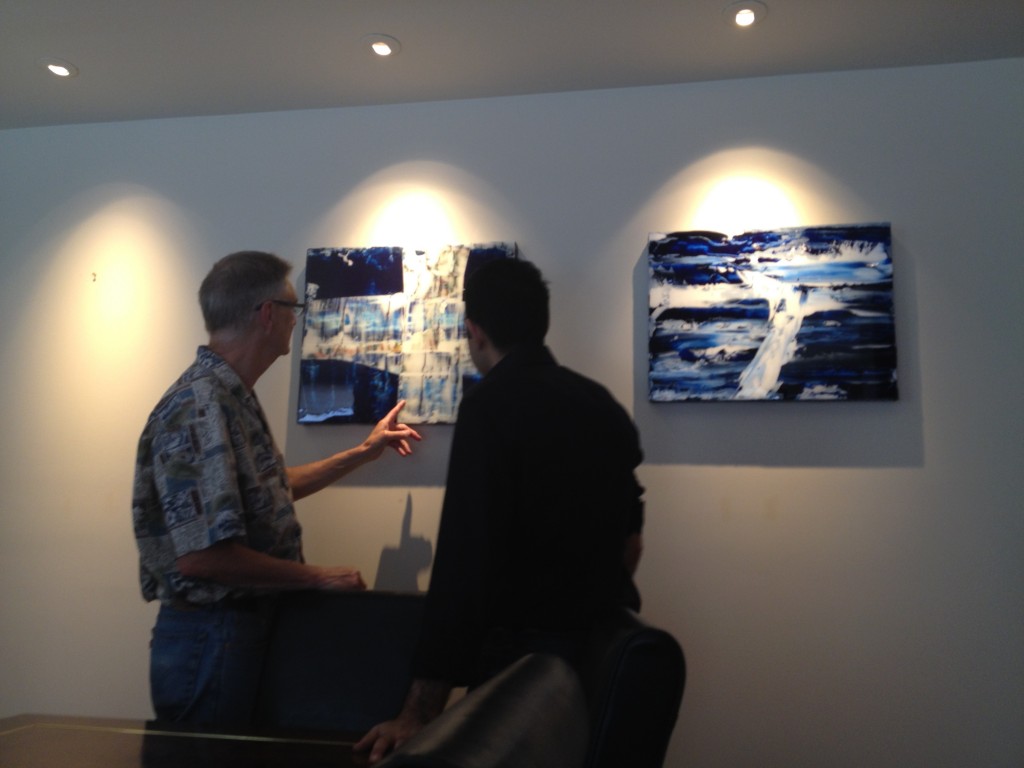 Q: Which other form(s) of art do you most admire and why?
A:  I truly love writing, as my second most loved art form. The various forms of the 20th century novel most inspire me, too many to mention all: Joyce, Virginia Woofe, Hesse. Writing in its own way invokes feelings, ideas and the imagination. Words in themselves can paint scenes, landscapes.
Q: Where do you prefer to be when painting?
A: In the seclusion of my studio on a quiet morning.
Q: Do your painting ideas come from life, from photos or from your imagination?
A: From all those sources and more, but indirectly. I say it is the "muse" who brings the inspiration but how that happens is a mystery.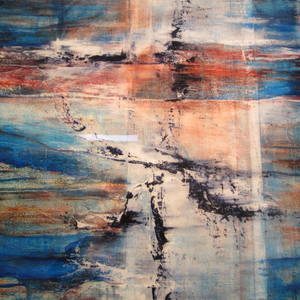 Q: Where do you find your daily dose of inspiration?
A: I find inspiration in many places: from the natural surroundings of Bowen Island to the work of artists I discover on-line.
Q: What techniques do you usually use to paint? 
A: My process involves using brushes, palette knives, and rags to apply and scrape away acrylics, and mixed medias, to create multi-layered art pieces. I am experimental in the sense that I will use tools or techniques that spring to mind while in the studio. Sometimes another artist's techniques will inspire me as well.
Q: In your opinion, what is the role of an artist?
A: Art can have many functions and artists assume various roles as history has shown. My role as an Artist is to bring beauty into the world, as expressed through the works of art.
Q: Which living artist do you most admire?
A: I admire many artists. It is difficult to name just one that tops the list. The early abstract expressionists are always in my mind, Rothko, de Kooning, Pollock but also Picasso of course, and many modern artists. I will mention the Group of Seven.
Q: Which one of your paintings are you most happy with to-date and why?
A: What I am 'happy' with changes frequently as my inspiration flows and I discover a new way to express my vision.  One also must be mindful of the 'inner critic' which can be a plague of unhelpful judgements.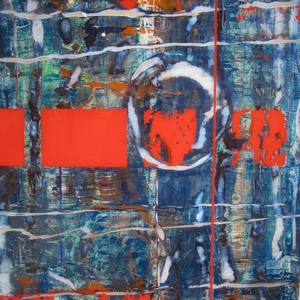 Q: Finally, do you have any upcoming exhibitions our readers can look out for, to go and see your work?
A: Currently, I have a selection of work at Caffe Barney at 2975 Granville, another selection at ARTS PACIFIC gallery in Artisan Square, Bowen Island (http://artspacificgallery.com/, and my own studio/gallery at #2-533 Artisan Square on Bowen Island. I also display art on my own website timosullivansart.me and on Saatchi http://www.saatchiart.com/emodyne.