Tags
Related Posts
Share This
Inside The Bakeshop
Photos: Noriko Nasu-Tidball
These days, it's not hard to feel like the world has become a touch impersonal. Online shopping is becoming more popular, most of us buy our groceries in big department stores, and, often times, we don't really know where our food is coming from. The Bakeshop at 4021 MacDonald street is a family owned and operated store that brings some personality back into our lives. It's not every day that you find a bakery like this, where the people who sell you your baked goods are the same people who make them.
Family togetherness is one of the defining features of The Bakeshop. Mike and Meg are as close as a brother and sister can be, and together they own and operate the store with their mother, Donna Nelson. Although it's only been a year, there's a rhythm to The Bakeshop that could only be possible though the kind of family relationships that are brought to the kitchen. As we talk in the kitchen of The Bakeshop the three of them take turns explaining what it is that makes The Bakeshop such a unique place. For them, going into business as a family felt like the natural thing to do. They tell the story like this:
Mike: Right out of high-school Megan enrolled in the baking and pastry arts program. And so she had a wedding cake business for around ten years. It got to the point where she either needed to expand or quit
Meg: I also needed a location to work out of. We were working with a caterer over in New Westminster and it was just so far from all the wedding venues in the city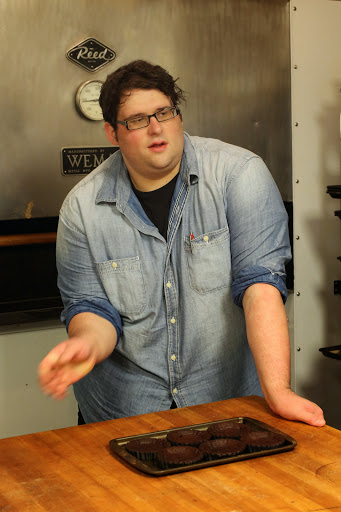 Mike: A month before we bought the bakery Megan said to me, "do you want to go into business together?" and I just said yes. From that point on I did as much training as I could anywhere I could get it. And now we've got a really great worker with us, her name's Emily, and she's been able to pick up on things really fast. She's awesome. The only thing that she, or even myself or mum, can't really do is Megan's designs on the cakes. But that's what makes Megan, Megan. That's cakes by Meg. Nobody can touch that, she's phenomenal
The name "The Bakeshop" is simple and catchy, and reflects the easy-going, personable environment inside the store.
Mum: We spent about a month and half going through different variations of different names trying to make it feel like "us". Then I said "what's the point of coming up with some exotic name when everybody is going to say 'can you go down to the bake shop and get a loaf of bread?" So we decided to call it The Bakeshop
The Bakeshop is an oasis of family and community oriented service in an increasingly impersonal world. As soon as you enter The Bakeshop you can feel the comfort that comes with a family environment. The Bakeshop has only been in the area for a year but many of their customers come in daily to buy their morning loaves of bread or maybe a coffee and cinnamon bun.  Already, The Bakeshop is a part of the community. The reason for this is simple but important: they do everything they can to make sure that the needs of their customers are not only met, but exceeded.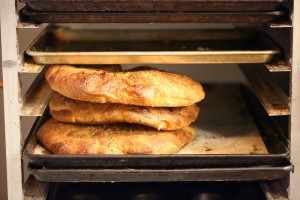 Mike: We just try to talk to everybody; we're very social with our customers
Mum: We're always looking to do what our customer wants and I think that over the year we've evolved a little bit and tried to put out some different things and it has definitely attracted a lot of people and they're very loyal to us. A lot of our customers come in daily. They buy their bread here every day. Some people come in two or three times a week for their cookies. It's very heart-warming because we feel like these people are really happy that we're here and they want to support us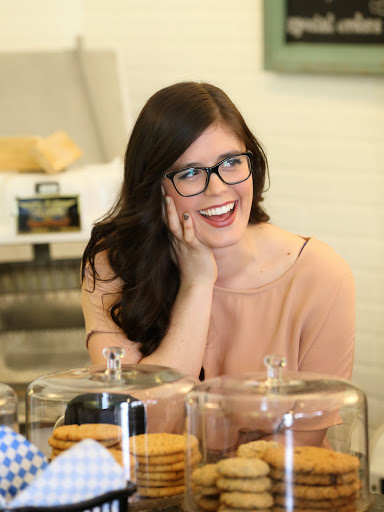 Meg: That's probably the biggest thing that I've learned. We can't just do what only we want to do. It's important that we listen to our customers. When we started this I thought we'd only be making baked goods. I didn't want to do much else, but because I went into business with my mum and my brother I've recognized the need for that sort of thing. It appeals to so many workers and kids and they love it!
The Bakeshop is part of a small number of locally owned businesses in the area. This means that being a part of the community and listening to the needs of their customers, which Mike, Meg, and Donna make their number one priority, is essential.
Mike: We have high-school kids, families and lots of elderly folks. There are senior homes in the neighbourhood so they come down in the morning, grab their coffee or cinnamon bun. It's a really wide demographic. Also, the shops next door to us bring in people from all over the city. We end up getting a lot of customers from east van, north van, and really everywhere. It's great. At the same time, the demographic for coming to our shop is still nowhere near where it could be. This place was put out of the minds of a lot of people by several years of bad ownership, but now we're here and people are finding out about us. We're slowly winning back the neighbourhood.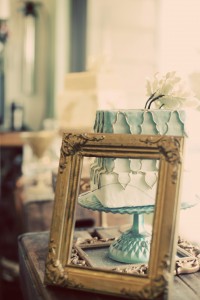 Mum: It's not so often that you go into a shop and get served by the owners. It makes a huge difference with the customers because they know they get treated differently. We care about the business and we care about making people feel good about being here
Meg: It means a lot to people in this neighbourhood. They like the fact that we're a family here and we do our best to make them feel like family
It also doesn't hurt that Mike, Meg, and their mom create incredibly delicious baking. There's something unique about the baking here. Using methods specific to The Bakeshop, the three put creative twists on classic baked goods. The Bakeshop is a chance for Meg and Mike to explore these kinds of flavors and ingredients in baked goods that you don't see very often, giving it this one-of-kind feel that enhances the whole experience of The Bakeshop.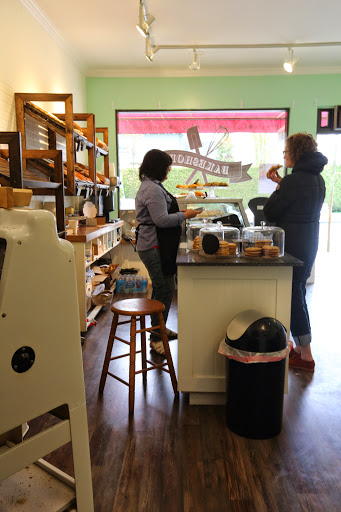 Mike: We find ways to sweeten things naturally that you don't normally see. In multigrain bread there's traditionally a natural sweetness to it, usually because there is honey or something similar in it. For our shop, what we do is we boil our seed mash and our greens. That way the seeds release sweetness. You get a really nice flavour without adding any product. It helps us appeal to anybody. We can make an amazing product for people who both are and aren't concerned with what's in their bread and people who avoid sugar. Plus we're way more concerned about flavour and quality than about speed. That's number one priority. We could sit and make 100 loaves of bread with sugar and shortening and it'd be bread, but it's not what we're doing.
Meg: It's constantly changing and evolving. We keep the favorites but because it's only been a year still, the trial and error is ongoing. We have to constantly be noticing what things are selling, what things are asking to be brought back, and what new things people are asking to see on the shelves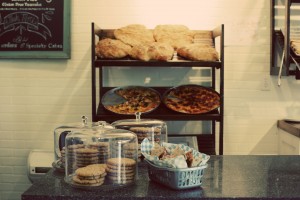 Mike: We're trying to use flavors that you've never heard of. Like chocolate and rosemary, you know, or putting beets into our bread. It's seasonal too. When fall comes we'll start making things with pumpkin. I'm working on a good recipe for heavy pumpkin bread and mum will start bringing in her pumpkin pies and tarts.
In the end everything that comes out of The Bakeshop is unique, creative, and delicious. The inspiration for these creative projects comes honestly:
Meg: They're all things we want to try. We don't make anything that we don't want to eat and that's what it comes down to.
Every bakery has its own identity, little things that make it impossible for the kind of product at The Bakeshop to be created anywhere else. Everything is specific to the location. Temperature, humidity, and all those things play a large role in making bread. "If The Bakeshop ever moves" says Mike, "We're going to have to go over everything again". But perhaps more important is the passion that all three of them share for their bakery.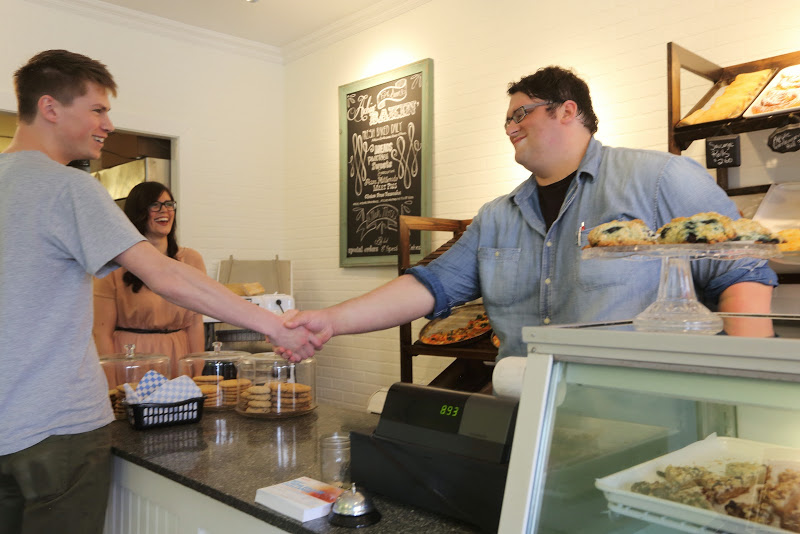 Mike: Few people really have something that they can call their own at our age, so the fact that Meg and I were able to do it -thanks to our parents, who were our biggest support for all of this- is really great. Our parents have always told us that whatever makes us happy – do it. But be aware of the consequences. You can do what you want but be prepared for this to happen. It's been a great way to grow up.
The banter that Michael, Megan, and Donna share is the kind of thing that can only come about through a genuine closeness and the kind of bond a family shares. The Bakeshop is a pleasantly surprising sort of place to find, and it will continue to be an important part of the community by listening to their customers.