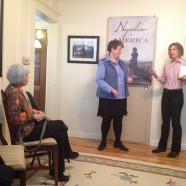 May

03
Tags
Related Posts
Share This
Dear Readers
Dear Readers,
Introducing the May 2014 issue, I turn to Joseph Campbell's quote for a sense of camaraderie.
Any disaster you can survive is an improvement in your character, your stature, and your life. What a privilege!  ~ Joseph Campbell
Recently I spent a delightful few hours with a Canadian writer Joy Kogawa over lunch. No surprise to me. Her clear and palpable compassion and dedication toward humanity comes from her personal pain and unlimited imagination. We quickly focused our attention on creative collaborations in the face of of platitudes about reconciliation, whether sorting our personal relationships or both sides of the nuclear energy issues. She pondered what collaborative actions would come out by individuals and groups if we realized a potential risk to our own existence. Imagine our capability to transform an enemy into friend…..What seemed out of the question now seems possible, even probable. Joy continues touching many lives by asking relentlessly hard questions that matter.
This being our compassion-theme Issue, I'd like to shed light on the inner trials faced by artists; Kagan Goh, a published author, award-winning filmmaker and an established spoken word artist whose personal mission has been to educate people about mental health issues and fight the stigma against the mentally ill, Shannon Selin, a Canadian writer of historical fiction, asking "What if Napoleon escaped and made it to America?"and keeping curiosity alive beyond the history textbooks. Since Mom-and-Pop storefronts are alarmingly disappearing in Vancouver, one shop that caught my eye was The Bake Shop, setting the pulse, life, and texture of their communities.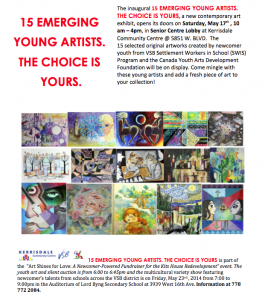 And last but not least, nothing better and more delightful to support young emerging talents in art!  "15 EMERGING YOUNG ARTISTS. THE CHOICE IS YOURS." will be showcasing 15 original paintings created by newcomer gifted youth. All are welcome! Please check our May E-Gallery for more detailed information.   
Cheers!
Keiko Honda Editor-in-Chief Chair, Community Engagement, KCCS