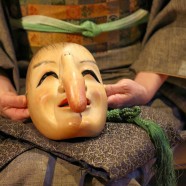 Apr

05
Tags
Related Posts
Share This
Yayoi Hirano: Bringing the East West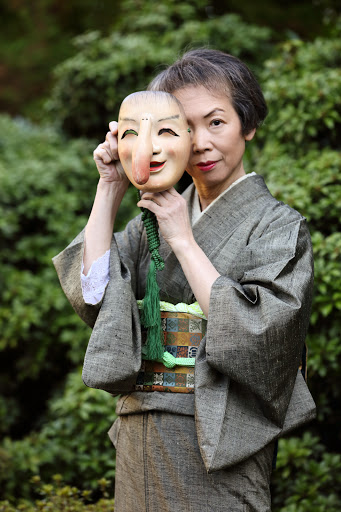 By Haley Cameron
Photos: Noriko Nasu-Tidball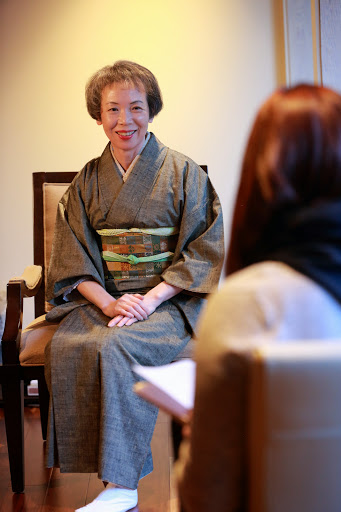 The first half hour I spend with Yayoi Hirano provides a notable clash of cultures. The slight Japanese woman sits across from me in a traditional kimono complete with tabi socks, as we explore the boundaries of our linguistic restrictions over a few slices of pizza. It's during this casual dinner that I learn Yayoi-san relocated to Canada from Japan twelve years ago. And later, as we discuss her interesting career, I learn that merging various cultural extremes is rather habitual in her lifelong East-meets-West artistic dialogue. Having a piece of Ham and Pineapple while dressed in traditional Japanese garb no longer seems quite so unusual.
It's unfair to limit Yayoi-san to a single title, considering her vast talents in a multitude of creative outlets, but above all else she identifies as a mime artist. "Since I was a child I loved to act," she tells me, sharing that in her very first elementary school production she was so determined to be on stage that she performed through a fever of 102 degrees. Yayoi-san's interest in drama continued to develop through her youth. She recalls watching a European theatre group present Shakespeare's The Merry Wives of Windsor in high school, considering it an important milestone in her own developing love of drama. Despite the language barrier, Yayoi-san was able to recognize the underlying story and therefore relate to the movement, costumes, and sets. "I was dearly fascinated. I fell in love," she says.
While Yayoi-san was exploring various means of artistic expression she met Lecoq mimes (the traditional French mimes typically associated with the art form). Having already realized acting's ability to transcend linguistic barriers, miming struck a chord for the young artist. She began to study Noh theatre: a historically-rooted Japanese acting style which incorporates carved masks and traditional dress and substitutes chanting for regular dialogue. Through Noh theatre, Yayoi-san was able to combine the Western mime influence that inspired her, with a traditional Eastern practice. "It's quite haunting; very powerful emotionally," she says of Noh chanting. She uses comedy to exemplify how important it is to maintain emotional communication with the audience. "It's almost like fishing," she smirks, as she gestures to reeling in her audience on a fishing line, "especially when different languages and cultures are involved".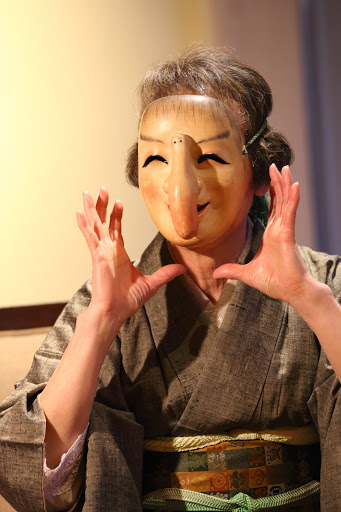 Yayoi-san's dramatic pursuits extended into her post-secondary studies. She attended Toho University in Tokyo, a school renowned for its performing arts department, where she studied diligently and began to establish her professional career. In 1986 she found herself touring Canada, completely unaware that she would one day call it home. Shortly after Yayoi-san's first Canadian tour, the Japanese government offered funding for her to continue her studies internationally. She began her further training in Colongne, Germany before moving to Edmonton to seek the tutelage of an accomplished clown. Her time in Alberta was highlighted by her participation in the local Fringe Festival, North America's oldest and largest Fringe Theatre event: the first true test of her adaptability as a performer. "An act dropped out last minute and they suggested I fill the space." Yayoi-san had mere minutes to decide not only if she would perform, but also what she would call her act. "It was the last day they could finalize the programs," she recalls, laughing. In the end her performance was exceptionally successful, receiving rave reviews from local media, and Yayoi-san returned three consecutive years to perform in the event.
Having established herself as a solo performer, Yayoi mimed primarily in Europe throughout the 1990's. She explains that her art form is far more widely received outside of Japan, where the Asian aesthetic is unique and exotic. "Elsewhere it offers a history that interests people," she says, adding that while she knows of Japanese theatre groups who travel to North America to perform, she is unaware of anyone based in Canada or the US who has a comparable repertoire. A theme of Japanese culture and history has always permeated Yayoi-san's work. Her most recent production, an interpretation of Medea, combined a Western myth with an Asian performing style. In other years she has reproduced Shakespeare in Japanese, or Japanese folklore tales well-known beyond Asia. Yayoi-san claims that by presenting stories that the audience already knows, they are able to connect with the narrative and further appreciate the unique performance style being used as a conduit of communication. She relates it back to her high school experience where she first realized the great cross-cultural power of acting.
In 2001 Yayoi-san returned to Canada on tour with a dance company, and was billeted by a generous man named Doug who would, just one year later, become her husband. In 2002 Yayoi-san moved to Vancouver permanently. Since living and working in North America, Yayoi-san has been able to collaborate with a number of other talented artists, including esteemed photographers, costume designers, and musicians. She ultimately represents her own company: The Yayoi Theatre Movement, which was established as a registered non-profit society in 2006. And while she does choose to work with other local talents, Yayoi-san's abilities extend well beyond performing. The quiet and focused woman is an accomplished choreographer, singer/song writer, and teacher. She is also involved in the design process of her own costumes, and carves and paints her own Noh-inspired masks; a laborious task with each design taking approximately six months and requiring specialty materials from a unique Tokyo supplier.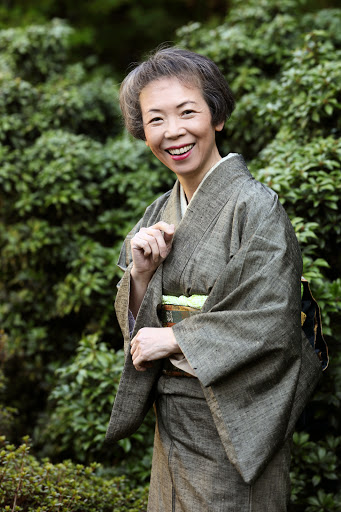 With her extensive involvement behind the scenes, the lifelong performer has difficulty deciding if she prefers the preparatory or performing aspects of her work. She finds it increasingly satisfying to see that all the moving pieces come together. While this detail-oriented nature may have always underlined Yayoi-san's approach, it has only been amplified in past years. Shortly after officially settling in Vancouver she was diagnosed with breast cancer. Her personal fight against the disease has taught her to appreciate the moment, and set lofty yet attainable short-term goals to keep her moving forward and building on her achievements. She talks about her battle with cancer both politely and candidly, calling it a turning point in her career. "Who knows how long I can perform? You can't always worry, but you can do whatever it is you want to do right now." This threatening reality check served as a reminder that she isn't immortal. Yayoi-san says that her biggest goal at the time being is to train a successor in order to pass on her seemingly endless knowledge and experience and guarantee the survival her company long-term. Her criteria are somewhat surprising. "I'm less concerned with how good of a dancer they are, and more conceded with how good of a person they want to be." As we discuss her growing interest in the production side of things, Doug pipes up to assert that the joy and satisfaction being on stage brings her is still evident with every performance. The successful performer humbly struggles to name a favourite role or specific performance from her in-depth portfolio. "Once it's finished, I forget it," she tells me. "I'm always thinking of what's next. I guess my favourite role is whatever I'm currently doing."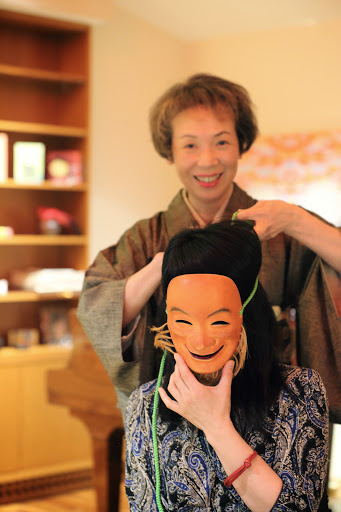 When she isn't on stage herself, her work is primarily of a choreographic nature. Given her thorough understanding and first-hand immersion in the Noh style and general Japanese culture, she is in high demand to share the specific movement patterns characteristic of the deeply cultured country. "As a Japanese performer every movement has to be incredibly clear and clean," she says. Yayoi-san's Japanese expertise also helps with the more basic layers of presentation needed to accurately convey any narrative. She uses the wrapping technique of the kimono as a prime example, explaining that a wrongly worn kimono symbolizes a dead body. She has been hired out as a character consultant for various translated works, in an effort to remain true to the original story. "Some work just has to be done a certain way," Yayoi-san tells me, at somewhat of a loss to translate the significance of minute details in Japanese culture.
These days a layer of feminism also impacts her work. She remains intrigued and enamored with Japanese Kubaki theatre, or "dance drama", originated by a female in the seventeenth century. Kubaki theatre has since developed into a restrictive male-only underground movement; its somewhat mysterious history further inspiring Yayoi-san's feminist preoccupation with the art. Ultimately this thematic inspiration is one more global dialogue that can transcend linguistic and cultural barriers. Having long since finished our pizza, Yayoi-san begins un-wrapping her collection of Noh masks, explaining how the one she hands me reflects my personality. Trusting her whole-heartedly, I can't help but consider the remarkable cultural mergences she has accomplished even in our short evening together.