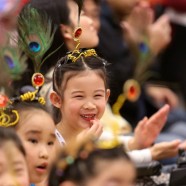 Mar

13
Tags
Related Posts
Share This
Kick Off The Year of the Horse
Welcome Speech by KCC Board President, Robert Lockhart
 "Vancouver School Board representatives, performers, support workers, and guests:
Welcome to the 2014 presentation of the Vancouver School Board SWIS Lunar New Year Festival in the year of the Horse.  Since 2010, Kerrisdale Community Centre Society along with Point Grey and David Thompson Secondary Schools has sponsored this VSB SWIS program. The show has grown from its first presentation in a small space in the Kerrisdale Seniors' Centre, to fill our auditorium.
Our society is proud to offer this venue that features the talents of so many young people from our community. If past performances are any indication, you will experience an afternoon of action, dance, singing, games and other multi-cultural festivities.
This year for the first time, and in the true multicultural spirit of this community the descendants of the first inhabitants of this region will deliver an Aboriginal blessing on this festival.
In the Chinese Zodiac, this is the year of the Horse. Those fortunate to be born in this year of the cycle make unremitting efforts to improve themselves. They are energetic, bright, warm-hearted, and able.  I believe you will also find that these characteristics also describe the performers you are about to see.
Welcome, and thank you for participating in this annual event.
Enjoy the show." ~Robert Lockhart
Photos by Erik Price Photography