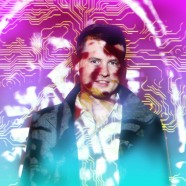 Dec

01
Tags
Related Posts
Share This
Making Art, Marketing Art.
An Interview with Stuart Ward

Interview by Raffi Wineburg
Photographs courtesy of Hfour
Over eight million people watched live on Youtube, as on October 14, 2012, Austrian Skydiver Felix Baumgartner was lifted 39 kilometers into earth's stratosphere by a 40 acre helium-filled dry cleaner bag, then promptly stepped out into space, free falling for over four minutes before parachuting safely to earth. When he deployed his chute, a camera focused intently on the corporate sponsor logo printed on top: Red Bull.
Marketing and advertising are changing. Television ads, once the pinnacle of product promotion, are often used by consumers as bathroom breaks, or a channel flipping recess. Youtube and Facebook ads are mere annoyances, small blips in an otherwise unending stream of entertainment.
More and more, companies—Red Bull being perhaps the most notable—are turning to experiential marketing—connecting consumers with a brand through a live interaction. Does sponsoring a free fall from space make consumers go out and purchase a case of Red Bull? Perhaps. Does it create a memorable and lasting impression with the brand? Undoubtedly.
"It seems," says Stuart Ward, founder of experiential design company Hfour, "that what people crave, are real experiences. And we can see that in marketing everywhere."
Hfour creates multi-sensory experiences to "solve design challenges and create marketing solutions." A "multi-sensory experience" put simply, is art. Stuart instals live digital art displays at events to create branded art experiences.
"We need new ways to engage people and I say, instead of being the advertising, be the entertainment," said Stuart. "Be the content people want to watch, not the stuff on the side of your Facebook page."
Stuart's job is to make just such content. His work is incredibly varied. Recently, he worked on a Vancouver Public Library Foundation fundraiser called Touch. The event raised money for a new VPL "Inspiration Lab," a state-of-the-art technological space for Vancouverites to create their own digital content and media. At this year's cherry blossom festival, Stuart installed custom lanterns and used LED lighting to illuminate cherry blossom trees throughout the city. At the 2012 Tedx Vancouver event, Stuart collaborated to create a custom visual accompaniment to a ballet performance. In 2011, Stuart developed a video installation for an energy drink launch party which was themed around 1960s Chicago-style art.  He designed pop art themed motion graphics and projected them onto gold framed screens.
"Instead of the logo, and a picture of the can, it's, 'here's the ambience of the [time period]'," said Stuart. "If you had a good experience [at the party], you're going to have a good association with the brand."
Yet Stuart is not just another ad-man disguising marketing as art and cashing in. In fact, it's just the opposite: Disguising art as marketing as a way to satisfy an intrinsic drive to create art.
It was a drive that started young. Stuart can remember "holding a crayon since I could hold a crayon," and would draw elaborate, process-based pictures—a cliff, or pit first, and then create a bridge over top, or fill the pit in with water.
"It was an imaginary playing on paper…and it was hours of entertainment," Stuart said. "I would get lost in my own little world on that little piece of paper with my pencil."
He went to a boarding school on Vancouver Island whose mandate was to create "well rounded students." In an early foreshadowing of his current work, Stuart became enthralled by fine arts and computers.
"I was always in the computer lab or arts studio," he said. "It was fascinating to me what a computer could do, and at the same time it was down to the art studio working with paint or clay. So there was continuos duality of working with computers and traditional materials."
While his current work aligns with his early interests, it is decidedly unexpected. Stuart graduated from the University of Calgary in 2003 with a fine arts degree and specialization in painting and fine art theory. After graduation, he eventually found himself teaching English in Japan. His plan was to make some cash and then take the silk road to Europe where he could re-focus on art. Instead he wound up working at a media company in Tokyo, and VJing (creating multimedia video performances) in Tokyo night clubs. It wasn't such a bad deal. Stuart got into the clubs without cover charge, drank for free with his friends, and undoubtedly scored some cool points for anyone counting.
From the VJing, a natural evolution occurred.
"It was here's a fashion show, or here is an event and we need custom content," said Stuart. "Then it was a steady progression into video art installations associated with brands."
The question of how to make a career as an artist—one that has troubled artists for centuries—answered itself. In this regard, Stuart is incredibly fortunate. He can do what he loves, fulfill his desire to create, and—he hopes—lend to a collective betterment of society by increasing arts' accessibility, and lowering barriers of entry into the world of art.
"If we are talking about Joe Average, are they interested in going to the art gallery? Probably not," he says. "But would they be interested in having an engaging art experience beyond their normal lives? Probably…I would like to make that a possibility…because hopefully it can deepen the soul, or deepen the potential for human expression.
"It might not get someone interested in art, but it might get someone interested in a whole realm of possibilities for expression and experience."
Stuart tells me a story of the great 18th century artist Thomas Gainsborough, who loved nothing more than to paint landscapes. His landscapes though, weren't selling. In his era, all the money was in painting portraits. So Gainsborough sought out rich patrons in the country side and suggested that he do their portraits with a sprawling landscape behind them. That way, Gainsborough painted their portrait, meeting his financial needs, and simultaneously getting the satisfaction of doing what he loved: Painting landscapes.
It seems Stuart has taken a page from Gainsborough's book: Trojan horsing his artistic passion into a more lucrative world.
"I would be making art no matter how it goes," Stuart told me, before pausing with remiss, and asking, "At the same time, [I wondered] how do I find a living at making art?"
Do what you love, we're told, and money will come. It's an undeniably beautiful sentiment, although one most sensible people find just a tad optimistic. Transforming your passion, interest, and drive into a steady income is no easy task. Stuart Ward has managed to do all three.[[]]

Sakura Illumination Tour, projected media and programmed led lanterns, Vancouver Parks (images shown from Charleson and Queen Elizabeth Parks) April 2013.

Illuminating Port Coquitlam, interactive installation, February 2013, Port Coquitlam Recreation Complex. 2x ~5m screens. A publicly funded interactive installation for the centennial featuring heritage and contemporary images of the city.
Left: View from outside.
Right: View from inside.

The hidden nature of beauty – 2 of a series of 8, oil on wood, 28"x28" each, 2003, first exhibited 2004 at Birds and Stone Gallery.

Moving Forward, a projection mapping submission for Zushi Media Arts Festival, 2012, Tied for 2nd place (Judges' ranking)
~35m x ~8, Zushi, Japan.
Above: emerging lights
Below: building shatter

Op Art Projection Installation, CBC Studios, client: Art For Life (a fundraising event for Friends For Life) Vancouver, Canada.
Projected image size: ~10m wide.

Opening performance, a collaborative between ballet dancers, organist, dj and visual performance artist at TEDxVancouver 2012. The Orpheum Theatre, Vancouver, Canada.
Above: Photograph from the performance.
Below: Still image from the video performance graphics

Stage design and projection mapping graphics design for Yumi Katsura's Grand Collection in Tokyo, Japan, 2013. Stage size: 18m x 18m x 0.9m.

Projection mapping graphics design for Yumi Katsura's Grand Collection in Tokyo, Japan, 2012. Backdrop size: 12m x 7m.

Hexahedral Mapping Presentation, projected imagery on found plywood structures, ~2.5m wide. VIVO Media Arts, May 2013.

Hexastar projection mapping sculpture, projected imagery on prepared wood sculpture, 48"x48" 2013. Exploring the relationship between perception, reality and illusion, an ongoing project. First exhibited at Lab Art Show.