Tags
Related Posts
Share This
Becoming Art
"Becoming Art"
An Interview with BRF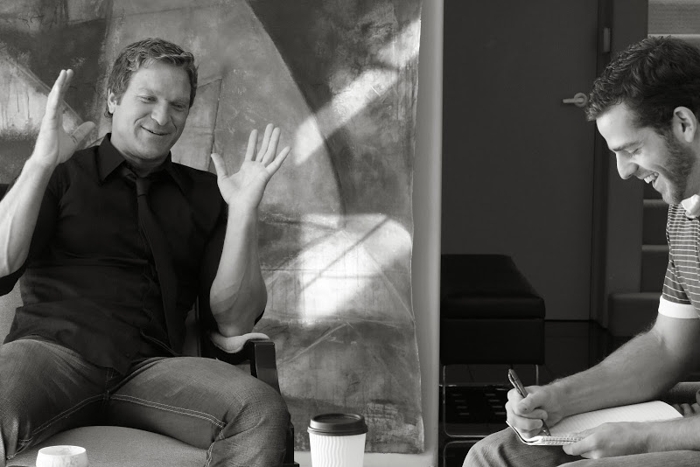 by Raffi Wineburg
Photos: Noriko Nasu-Tidball
1. Pioneer
"Part of what makes him so special is that he is doing something that no one has considered art before." -Melissa Mann

With short blond hair, bulging muscle, and Clooney-esque laugh lines etched into an otherwise youthful, clean-shaven baby-face, Brent Ray Fraser looks like an Aryan superhero.
In reality, Brent is a multidisciplinary erotic performance artist. But he doesn't like labels. Few labels, if any, do him justice.
"I don't even like to be called and artist," he said. "Art is just what I do."
There is no one who "does" art in the same way as Brent. The first such example is Ecdysiart: for these live shows, Brent simultaneously paints and strips naked—a literal and metaphorical take on art as an act of self exposure.
At the end of an Ecdysiart performance Brent often creates "[object] D'art." where he imprints his body part onto a canvas ("like a self-portrait of arousal"). Brent has also pioneered an art form called "[object] paintings" where he uses his body part as a brush to create portraits or landscapes.
Brent's art is truly unique and regarded as such: He has performed (not always naked) in hundreds of venues and garnered international acclaim for his works and performance pieces. His art is both experimental and boundary pushing. It forces us to reexamine what we believe art is. It challenges us to recognize the human body as an object of art. And it dares us to celebrate sexuality in new, provocative ways.
"When you take away things that push the envelope, then we will just crumble," said Brent. "Sexuality is something that is swept under the rug, but if you take that away we will cease to exist."
Brent exists to make art. Just the word 'art' itself is enough to spark his almost endless exuberance. Sometimes, asked a question about his own art, he gets lost in his excitement, eulogizing arts' profundity until he realizes he has strayed and says grinning: "I don't even know what the question was anymore." Then he laughs.
His laugh must be mentioned, the two-tiered masterpiece that it is. At first, deep and powerful, this man-laugh gives way to a type of boyhood giggle. His voice raises an octave and strings of 'ha, ha, has,' come out in short, staccato bursts which escalate in volume as if he's laughing at his own preceding laughter.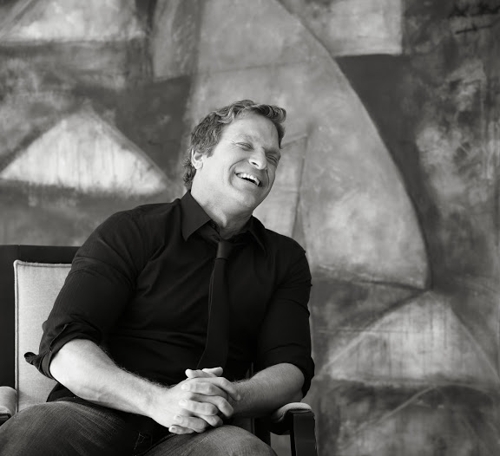 Such childlike enthusiasm, however, does little to explain how Brent became involved in his specific line of work. Those familiar with Freud might turn to fixation or repressed trauma to explain something like [object] d'art. Yet Brent's childhood lends nothing of the sort. His art evolved naturally. Things happened, Brent responded, and art—the reflection of the artist—manifested.
2. Striptease
"It's very weird. It's ironic actually what I do now. Because I used to be very shy and introverted." -Brent Ray Fraser
Brent grew up in Surrey, BC. From a young age he showed both a talent for art and a fascination with the human body. He would sketch detailed drawings of Hulk Hogan and other "muscular dudes" striking poses. Now, he just draws himself.
But Brent was shy. While art came naturally to him, performing did not. In first grade, Brent's classmates would gather round his desk to watch him draw. Shunning his adoring fans, young Brent pulled his desk to the corner of the room, refusing to let anyone watch.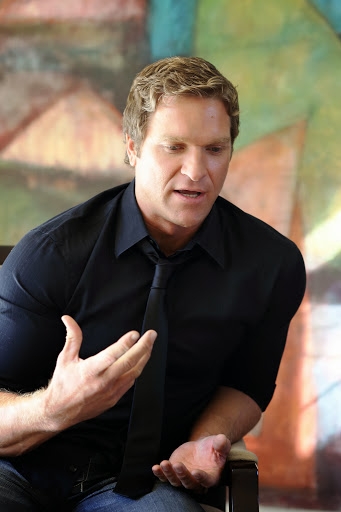 By high school, Brent had officially resigned from class presentations—either skipping class, or accepting a failing grade. These public displays left him with clammy hands, a beet-colored face and severe heart palpitations
He graduated high school with disastrous grades in anything that wasn't P.E. or Art. Yet, with the help of his grade 12 art teacher, Brent put together a portfolio and was accepted into Emily Carr University of Art and Design in Vancouver.
It took Brent ten years to graduate. He got bored quickly. He floundered, partied, experimented, switching his focus often. Meanwhile, he started a personal training business, began bartending, worked as a night club bouncer and never considered 'making art' as a viable way to make a living.
In art school though, Brent's aversion to public speaking came to haunt him.
"You get into University and

This slideshow could not be started. Try refreshing the page or viewing it in another browser.