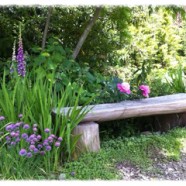 Oct

01
Tags
Related Posts
Share This
OUR NEIGHBOURHOOD GARDEN PARTY
OUR NEIGHBOURHOOD GARDEN PARTY held at the Kerrisdale Community Garden Angus Drive & West 60th Ave.
Reported by Alison Verghese (KCCS Board Member)
On Saturday August 24, the Kerrisdale Community Garden hosted their first  Neighbourhood Garden Party, courtesy of a grant from the Vancouver Foundation's Neighbourhood Small Grants.
Let's recount the splendors of summer and share a moment with Kerrisdale neighbours, residents and local businesses in one of Vancouver's most successful community gardens.
Part 1:
Kerrisdale Community Gardeners proudly show off the "fruits of their labour".
Video is missing.
Part II:
Let's continue to enjoy the hidden treasures at the Kerrisdale Community Garden in their "fields of gold"…
Video is missing.
This event was brought to you by the members of the Kerridale Community Garden and supported by the Kerrisdale Community Centre (KCC) and Kerrisdale Community Centre Society (KCCS).