Tags
Related Posts
Share This
From Kerrisdale to the False Creek Grandragons

Kerrisdale Community Centre board member Bill Harris is the race manager of the Grandragons.
Story and photos by Katja De Bock
Across the street from Kerrisdale Community Centre, Ron and Betty MacDonald are preparing several times a week for a day on the water.
The MacDonalds are cofounders of the False Creek Grandragons seniors' dragon boat racing team and have been training and racing since 1998. Dragon boating originated in China and requires 20 paddlers, plus a drummer and a steersperson to compete in racing events such as Vancouver's Rio Tinto Alcan Dragon Boat Festival. The name Grandragons was chosen because all founders of the group were grandparents.
"It just kind of started as a joke, but now we've come so far," said Betty MacDonald, who trains several times a week and would like to see more Kerrisdale residents join. She tried to recruit people from Kerrisdale when the team started 17 years ago, but was advised the people are too old. "Well, guess who belongs to there now," said Betty, 78.
If you are over 50, or newly retired and in good health, you can come out for training, said Tom Oliver, captain of the Grandragons, with several members aged 80 and up. "You just have to have the desire and the ability to be able to paddle, and to get in and out of the boat."
An annual fee of $350 covers coaches, boat rentals and entry fees of around seven regattas a year. Most of the athletes are competitive, which is an international trend, said Oliver. "More seniors are becoming involved in competing," he said. "Internationally, they now have a Senior C-category for people 60 and over. They never had a category for that age group before."
Race manager Bill Harris is a non-paddler, responsible for managing challenges like starting line mistakes, crashes, and age disputes during contests.
"You can't really think of it as a recreational exercise. We want to be a competitive team, where we do go into regattas," Harris said. "We have two excellent coaches. World class. Our head coach [Kamini Elizabeth Jain] has been in two Olympics herself and she has been known for travelling all over the world to train other teams."
Our current coach treats us the same as her younger athletes, said Ron MacDonald, who competed and won several medals for the Senior C team at the dragon boat world championships in Hungary this year. "She doesn't baby us or treats you with kid gloves. She demands the maximum out of you and pushes you to get that." He added the coaches' mantra is "Nobody has ever died paddling, so don't hold back."
Coach Jain, who has been coaching the team for more than 10 years, is happy about MacDonald's success in Hungary. "It's great to see him so proud, because he's put so much into the sport."
Jain laughed when she described the logistics of the training sessions as the most challenging part. "When you get them in the boat, and ask them to work harder, and ask them to do some technical elements, they're usually really good at it. But it's just getting them into the boat, into the right seats, the number of people per boat," she said. "It takes them a bit longer than I would like and we laugh about it now, but sometimes I need to get them all out of the boat again." However, she added, this is not an issue specific to seniors, it is just due to the fact 60 people have to get into three boats simultaneously. Jain shares coaching responsibilities with award-winning paddler Heather Hellevang.
The team's efforts have resulted in several victories for the Grandragons, including winning the Seniors' cup three years in a row at Alcan, and Nationals in 2010 for seniors mixed in Whistler.
However competitive, dragon boat paddling is first and foremost a healthy and social sport, said Ron MacDonald. "It develops your core muscles and your cardio-vascular system . . . It's a good social engine, because in dragon boating, you have a cohesive group of 24 people."
His wife Betty agrees. "There are people that aren't really into the high-tech racing, but we love just being on the water, which is important, too." Betty volunteers with other teams, where the athletes are MS or kidney transplant patients.
People interested in joining the team could first book an introduction course at False Creek Community Centre, said Ron MacDonald. After that, they could contact Tom Oliver for a test trial. The team practices two mornings a week at False Creek Community Centre from February till November.
But don't expect to win medals too fast. "You can paddle right away, but to become an expert paddler, it takes years," said Oliver.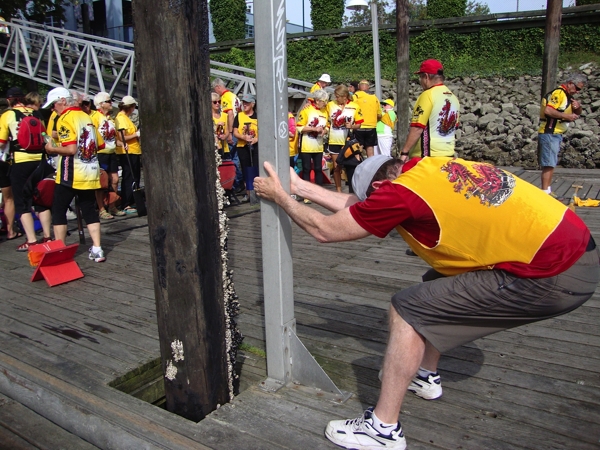 A one-hour training requires 10 minutes of stretching afterwards, as demonstrated by Grandragons athlete Stephen Worsley.

Tom Oliver, captain of the Grandragons, is thé man to contact if you want to join the team.

Ron and Betty MacDonald were the cofounders of the Grandragons back in 1998.

Ron MacDonald shows the medals won by his Senior C national team at the dragon boat world championships in Szeged, Hungary in 2013.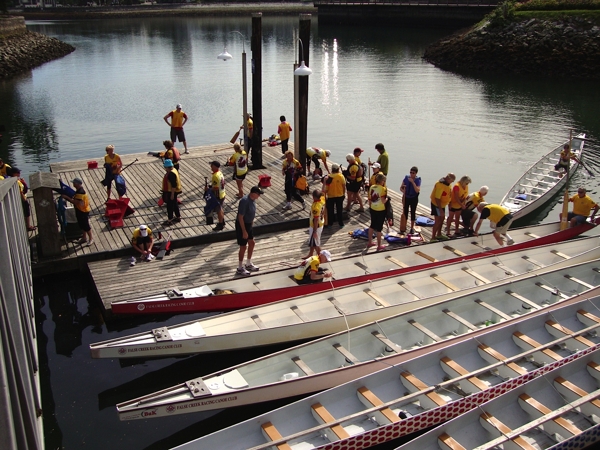 The Grandragon team arrives from training on September 19, 2013
It's just a clip of the documentary!