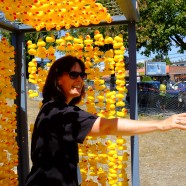 Sep

01
Tags
Related Posts
Share This
An Interview with Cameron Cartiere

An Interview with Cameron Cartiere:
The Dean of Graduate Studies at Emily Carr University of Art & Design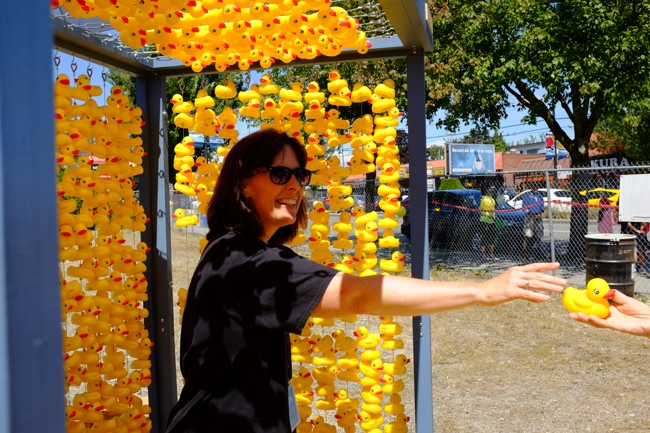 By Brandy Baek
When people talk about their experience of first making their decision to choose a career path, they typically talk of this pivotal moment in which an experience sparked their passion. Cameron is no exception to this story. She narrates her story of being 11 years old and attending the first retrospective exhibition of Dr. Seuss in San Diego. In this exhibition, Cameron recalls walking under a Seuss designed moose head and looking at various drawings, sculptures, and paintings which Dr. Seuss has created. At a certain point, she asked her mother who did this, at which her mother replied, "Dr. Seuss". Then, Cameron asked once again to make her question clear, "Who made all this happen?" Her mother replied that the curator was responsible for it and that was the moment Cameron thought to herself that she wanted to be a curator in the future. Eventually, this dream she had as a child came true, and she currently works as both a public art curator and the Dean of Graduate Studies at Emily Carr University of Art & Design.
Ever since she started her curatorial practice, Cameron recalls instances in which her mother had difficulty explaining to others what her daughter did as a curator. To put it simply, her mother often explained, "My daughter hangs pictures on the wall." This is now the title of one of Cameron's lectures. But her mother's perception of curatorial work changed when she visited an exhibition Cameron was preparing with fellow graduate students. While like many people, her mother knew what a curator was, she wasn't aware of  how complex the job could be and she did not realize that the negotiation process is important in the realm of the duties of a curator. Spending the day in the gallery, watching her daughter working with the other students opened up her eyes to the complexities of curatorial practice. Cameron summarizes that the work of a curator also involves having a vision and doing collaborative work of bringing different artists together.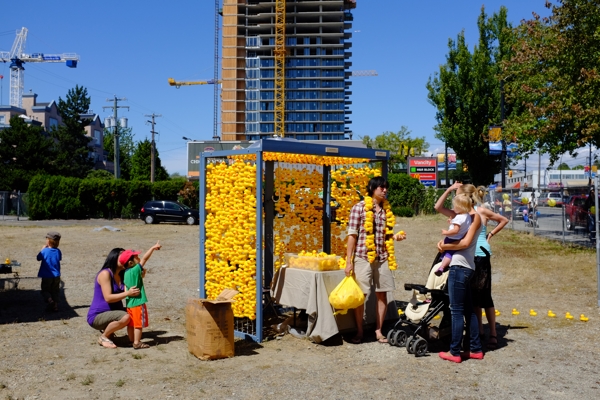 One example of a project Cameron is currently working on that requires collaboration and negotiation is in the community of Marpole.  She describes her most recent experience of collaborating with Emily Carr students to make a "duck abacus" for the 2013 Marpole Summerfest which took them a couple of weeks to finish. She came up with this idea when she was asked if she would like to take 7000 rubber duckies that had been used for a fundraiser race on Vancouver Island. This request motivated Cameron to take 3000 rubber duckies to start a project (4,000 found another home) with the goal of sending a key message to the public inspiring them to think about the sustainability concerns resulting from these rubber duckies possibily ending up in the landfill. Cameron describes how children were so excited to see the ducks they ran to the abacus. As each child was offered a duck to take home and give it a second life, they were encouraged to think about where their own toys might end up when they were no longer needed. Cameron was pleased and amazed at how over and over again, each child took time to consider their responsibility in taking a duck and what happens to their toys. Over 500 duckies were given away that day and over 1,000 have found new homes via the chART Public Art research project.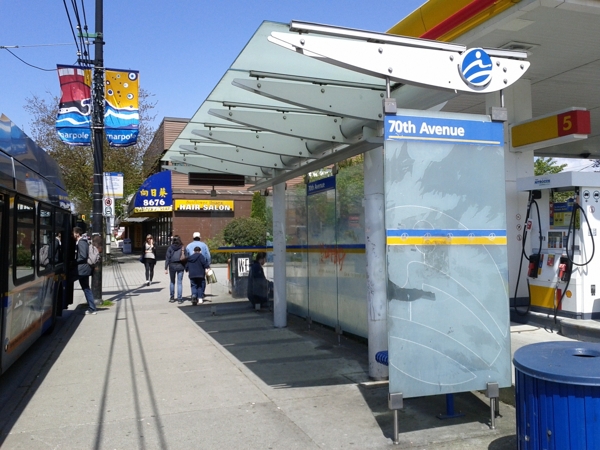 Another project Cameron worked on with her graduate students was a bus shelter on Granville Street near 70th, which had been planned to be replaced but was off the maintenance schedule for 2 years. To start this project, she contacted Translink using her past connection with them from other public art project incollaboration with Emily Carr. Although Translink's response was positive, her proposal initially failed to receive approval from the city authority responsible for the shelter. However, Cameron did not give up on the plan and called the representative and asked him what his concerns were. His response implied that he perceived the bus stops being strung with flags with comments after the Stanley Cup riot as being a product of a graffiti attack and he was concerned that a similar project would take place in the bus shelter in Marpole. While Cameron did not share his view of the flags that spontaneously appeared after the riots, she did understanding the reason for him to hesitate, and she succeeded in getting permission by explaining the project was actually an anti-graffiti and beautification piece inline with previous city project. While installing this temporary artwork, she recalls people thanking the team working on the project for creating a clean shelter. The project involved taking pictures of clouds in between the electrical cables and connecting its coordinates to look like a giant cloud. The public's perception of this project was generally quite positive, they talked about how they appreciated the fact that someone cared about their daily experience, asked when is the next project coming, and commented that this cloud figure improved their journey. In terms of observable outcome, the transit users showed a better attitude during the ride. 
She also describes how the graduate students working with her from Emily Carr, have taken initiatives to start projects in Marpole, such as having a competition for a street mural, creating artwork based on the inspiration gained from hearing immigration stories from parents to children, and teaching high school students photoshop techniques so they could express their vision for the future of Marpole. Cameron research, chART Public Art, is funded by the Social Sciences and Humanities Research Council of Canada. Her students are helping to collect data on the sustainable impacts of public art encompassing various areas.
Cameron's work thus far has been inspired by three main public art influences. The first is Suzanne Lacy, who Cameron worked with when they were both at the California College of Arts in Oakland. The second is Mary Jane Jacobs, a public art curator based in Chicago whose created the ground-breaking project Culture in Action. A third public art figure Cameron derives inspiration from is Harriet Senie, a writer who tracks the history of controversial issues in public art and who is co-founder of the "Public Art Dialogue" magazine. Cameron describes her own work as a curator, writer, and practioner and so the influences of these three figures cut across the range of her experience.
Cameron concluded the interview by saying that one of basic impacts some public art works can offer is to simply add delight in people's daily lives and sometimes it can be enough to just make people smile.