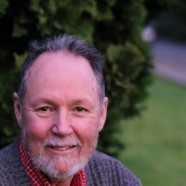 Mar

01
Tags
Related Posts
Share This
The Tree of Life
A Q&A WITH ROBIN CLARK
by Lauren MacFarland
Photographed by Noriko Nasu-Tid-Ball
British Columbia is easily one of the most beautiful places on earth, due largely in part to our abundance of forestry, giving our province a rich and diverse ecosystem.  Robin Clark, principal and team leader of Robin B. Clark Inc. works with local industry all over the province to ensure all forestry projects are done with sustainability in mind, preserving our natural wonders for generations to come.  The Tree of Life, an ebook inspired by his work with nature explores the connection between people and the earth, a connection that proves that "there is a beautiful blue print for life." 


1 )How did you get involved in ecological preservation?
My parents, grandparents and even the great grandparents I never met, lived and worked in in rural areas and loved nature. Growing up our family spent weekends and holidays camping all over BC.
2) The Tree of Life reminds us that all people are connected to nature, do you believe that in our high-tech world, they have forgotten that? Why is it so important to remember this connection?
The connection to nature has definitely been forgotten. I work mostly in rural communities where I would expect the situation to be different, but it"s not. It's important to remember the connection to reduce stress and recharge ones batteries.
3) What does it mean to be a "steward to all of creation"? How can one participate in active stewardship?
A "steward to all creation" is a tall order but bring ones attention to a small niche that calls you is a great place to begin. Small efforts by myself and many others are making a difference and moving stewardship from a concept to reality. There are hundreds of organizations from corporation size to small not-for-profits the do stewardship projects.
4) Most people today would consider it difficult to work with forestry in a way that is "economically viable, socially favorable and environmentally sustainable", how do you approach each project to make sure all these goals are met?
While economics remains an essential ingredient of forestry success in the First Nation communities I work with, training programs to provide community members sustainable employment is a key factor to ensure project success. Environmental stewardship is top of mind with decisions makers and ecosystem restoration is often combined with new activity.
5) B.C. is a naturally rich province, what makes it so beneficial to work in the forestry industry here (besides the abundance of forests!)
One of the great benefits in working all across BC is the opportunity to appreciate BC's 14 distinctly different biogeoclimatic zones. From desert ecosystems of Ponderosa Pine to west coast valleys of 90 metre tall sitka spruce, the diversity of vegetation and animal life is emmense. Photos from my recent e-book capture some of that diversity. *
6) What is some of work you do in relation to the First Nations and the preservation of their lands?
I like to think of my efforts on First Nation lands and Traditional Territories as conservation oriented. Current projects on the land include protection of communities from wildfires by doing forest fuel management, removal of invasive species and tree planting, habitat enhancement for species at risk and forest management and stewardship plans for a variety of forest tenures.
*To read Robin Clark's ebook, The Tree of Life and see some of the stunning photos capturing the diversity of British Columbia's forests, visit http://issuu.com/sciencetosage/docs/robin_s_tree_story1_
Enjoy!