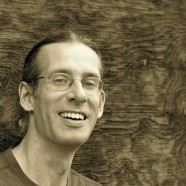 Dec

01
Tags
Related Posts
Share This
'Riding the Wave' with Joël Tibbits
 by Trina Moran
Author of the soon to be published A Mythology of Sound, Joël Tibbits professional life is grounded in the areas of music composition, film making, sound design, and yoga. Originally from New Westminster and Surrey, Joël has been involved with music since his teens and holds a degree in music composition from Simon Fraser University. Overall, Joël is most fascinated with exploring facets of consciousness through music and sound.
Joël started becoming involved with music in high school where he learned to play guitar, piano, and even began composing his own music for guitar, cello, and piano. He later pursued a Bachelor of Fine Arts degree at Simon Fraser University where he majored in music composition, specializing in esoteric and contemporary music. During his studies at Simon Fraser, Joël participated in a summer music composition program abroad in Darmstadt, Germany where he had the opportunity to meet and study with internationally renowned composers. After his university education, Joël spent a year in Japan studying Samurai philosophy. He exclaimed that hundreds of years ago in Japan when the Samurai class was still prevalent, their class also became obsolete and re-emerged as artists. Joël claims that studying Samurai philosophy in Japan revitalized a sense of artistic self within himself. Also after SFU, Joël focused on martial arts (Kung Fu, Hung Gar) and mystic practices such as tarot, Kabalah, spirituality, theology, metaphysics, and cosmology.
Currently, Joël enjoys working on short films. He currently worked on a web series that parodied the hit television show, Mad Men. It went on to compete in the 2012 LA Webfest and took home 3 awards. Joël also worked on 'filament' a short film he directed in 2011 which follows a character through a variety of environments while exploring the character's stream of consciousness.
Joël has also written a book entitled A Mythology of Sound which is based on his own personal experiences, his own concept and interpretation of consciousness, and what Joël 'sees in those stories'. It will be published in 2013 through Paramedia publishing company (see http://parammedia.com/a-mythology-of-sound_by_joel-tibbits.php).
Overall, Joël's goal is to 'be part of the human evolutionary process' and to create an opportunity and an environment for others to take part in group meditation events, exploring what he describes as 'facets of consciousness'.  When asked about the music of today, Joël defines music as a 'facet of consciousness' and notes that everyone has their own process when listening to music; it means something specific to them and only they can experience it that way. 'Whatever music I am listening to at the time is what I need'.
After discussing the unique community environment found in Kerrisdale, that the need for community is exceedingly important and goes without saying. He also notes that the community centres in Vancouver are quite dynamic, are self aware, and have a large potential in building communities and what they can offer.
In essence, Joël invites people to perceive life as 'riding the wave', as music is measured in sound waves. As well, all life on earth experiences waves of energy as part of their existence. Therefore, in one way or another we all ride a wave through life.
Joël Tibbits will be offering workshops at the Kerrisdale Community Centre in January, February, and March 2013 that will focus on facets of sound and consciousness, as well as featuring topics from his new book A Mythology of Sound. Workshops will also include multimedia presentation, music examples, and meditative practices. Workshops will specifically explore the facets of sound and consciousness in: listening, space and time, and healing. Workshops are open to people of all ages and promise to engage your sense of consciousness, listening, and sense of self as you 'ride the wave'.