Tags
Related Posts
Share This
Roots
An Interview with Mark Perry
by Trina Moran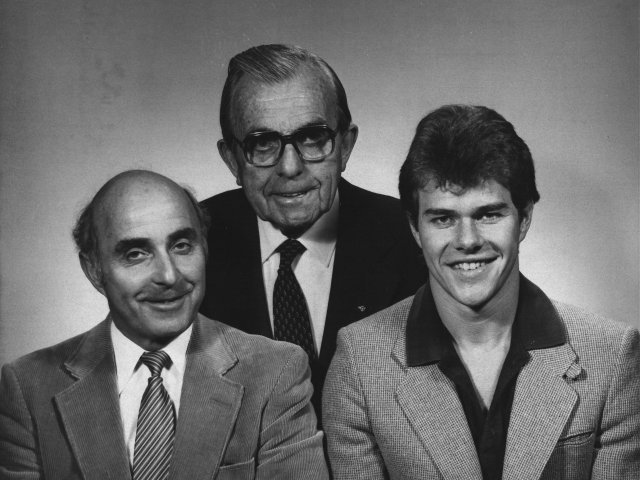 When you walk into Kerrisdale Lumber on West Boulevard and West 46th Avenue, you right away get caught up in its bustling atmosphere: exquisite garden ornaments, hanging fire places, BBQs, and cheerful employees who are delightful to talk to and eager to show you how one of their many intricate home furnishings work. I stumbled upon a decorative fireplace that emitted smoke. Did I mention it hangs on a wall? It hangs on a wall.
Overall, the store itself is an extraordinary home hardware store that has everything and anything you would possibly need to furnish, fix, re-decorate, re-model your home, or accentuate, your backyard, or garden. Amidst the liveliness of the store, is Mark Perry. Mark is the current President of Kerrisdale Lumber which his grandfather, Bert Perry, founded in 1921. Rich in history, pertaining to both Kerrisdale and Vancouver, Kerrisdale Lumber's mandate is to provide the ultimate home hardware shopping experience; able to cater your home's each and every need over time.
Kerrisdale Lumber was founded in 1921 by Bert Perry who started the business with a horse and wagon after migrating from England after World War I. Sidewalks and just about everything at that time were made of wood and was what allowed Bert's business to thrive in the beginning. In the 1920's, Bert did not restrict Kerrisdale Lumber to only Kerrisdale (part of the Municipality of Point Grey at the time). He had his eye on expanding the business and making a name for the company and sought business wherever he could. Much of the original wooden streets of Vancouver were built out of the pine supplied by Kerrisdale Lumber and contracted by Bert Perry. The story behind the wooden streets of Vancouver is well known to Mark who recalls that his grandfather was friends with one of the purchasing agents for the city of Vancouver at the time. It was possibly over a game of billiards, a round of scotch, or both, that this purchasing agent, a friend of Bert's, spoke to him about how the city was planning on building its streets out of wood and was in the lookout for a paving block supplier. Immediately seeing the opportunity, Bert set out looking for the best price for paving blocks. Nothing local or at the time was able to supply what Bert needed. Refusing to back down and call the search a bust, Bert kept on his horse searching for what he needed. Finally, a supplier in Deep Cove had what Bert was looking for. Right away the contracts were made and Kerrisdale Lumber boomed into the lumber market. Mark notes that back in those days 'more was built with wood' and that since then there has been countless innovations in building materials. Mark adds that 'things were simpler then'.
Bert also was extremely active in developing Kerrisdale itself. Aside from supplying the wood used to pave and build the streets, Bert also funded and co-founded the Kerrisdale Community Centre as well as supplying wood to many of the houses built in the Kerrisdale area. Some are still around today and are classified Heritage Homes.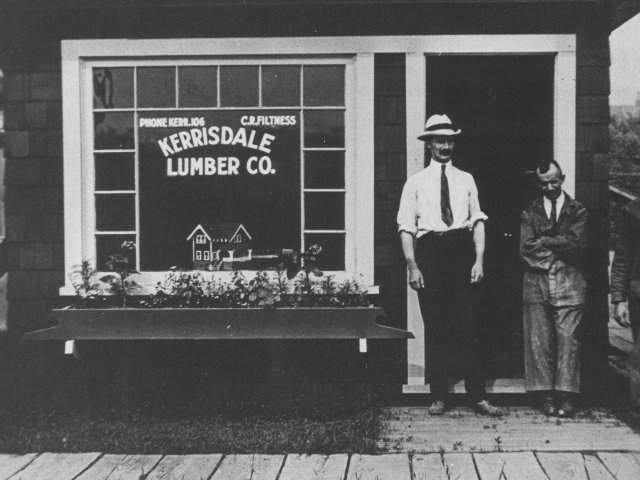 In 1964 Bert retired, leaving the store to his son Tremayne. The 1960's came with competition from larger stores and chain yards. This pushed Tremayne into a joint advertising effort with two other friends who were also owned lumber businesses. Thus, IRLY BIRD was founded. Today there are approximately sixty building supply stores affiliated with IRLY BIRD since the three founding stores in the 1960's. In 1974, Mark became the third generation to join the Kerrisdale Lumber team.
Mark grew up in Kerrisdale and started out working at Kerrisdale Lumber on the weekends when he was in high school, helping out around the store. Mark enjoyed working directly with the customers and making them feel welcome and at home in the store. Today, Mark is still involved in everyday operations and meets directly with customers in the store to discuss products and building plans. Overall, Mark knows the value of the satisfaction of each and every client, and potential client. He strives to make everyone, staff and customer, feel welcome and at home. This is why he argues it is better to do business with a family owned business; you get treated like family.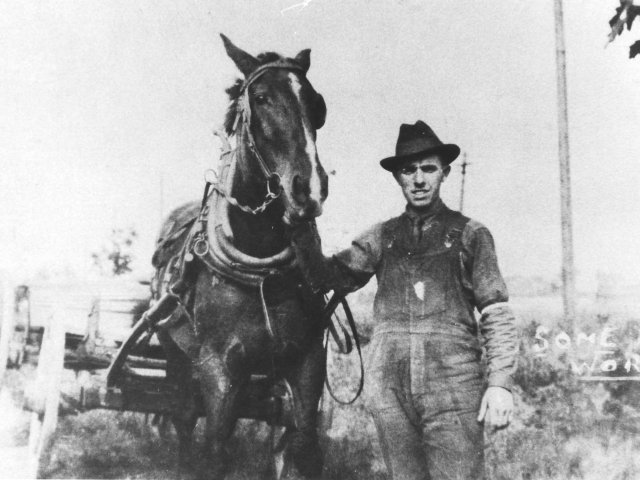 Looking back on Kerrisdale Lumber in 1921, I asked Mark if he thought this is what Bert possibly saw the route of Kerrisdale Lumber taking. Now boasting a substantial selection of home decorations, furnishings, and BBQs, a stretch from the original lumber supplier, Mark feels confident Bert would be pleased with Kerrisdale Lumber's success with the new revenue that he himself initiated and with the overall success of the business as well that detailing that the store has definitely 'grown with the times'. Another expansion of the company is Perry & Co. which is situated next door to Kerrisdale Lumber. Perry & Co. is a boutique home decorating store marketed towards women. It is one of a handful of exclusive retailers of Farrow & Ball, a British clay based paint company. Aside from paint and home decorations, Perry & Co. also sells jewellery, lighting attire, furniture, and personal accessories. Like Kerrisdale Lumber, Perry & Co. shares the same welcoming vibes. The staff are friendly, sociable, and personable. All in all, Kerrisdale Lumber sells just about everything.
When asked what Mark himself has personally contributed to Kerrisdale Lumber he remarks that expanding the company to selling BBQs and other backyard amenities was an ideal expansion to the company's market. Fully equipped and knowledgeable of how to turn your backyard into a ravishing garden oasis or dream kitchen, Kerrisdale Lumber is the place to consult. Although the company is still extremely busy keeping up with wood supply contracts and demands. He also notes that he focuses on his employees more than his predecessors. Mark feels that it is essential to allow the people who work for his company to have more 'latitude' to do things their own way and making them feel confident. People who can smile while doing the work, regardless of what work their doing, is what is key to working for Mark. He wants people who enjoy will enjoy their work and working with other people. He treats them like family so that they treat each other and the clientele like family. In essence, Kerrisdale Lumber is all about creating a constructive and supportive work environment, happy and healthy business relationships, and all around good vibes. Elements that make Kerrisdale Lumber first-class. 
Looking back on his career, Mark has learned that they key to business is: have a solid business plan, be well financed, be organized, seek professional advice, and to learn the distinctions between fair and equal. From Bert and Tremayne, Mark has learned the value of relationships and treating people with respect. He also learned that the two most important things to know about business are: value and business, which he learned from his parents. His mother taught him as a young boy the meaning of value and how it reflects upon everyone and everything in the world. From his father, Mark learned the importance and value of relationships and being friendly, polite, respectful, and sociable is just as key as having a strong business plan.
Mark learned from his grandfather the importance of community. Kerrisdale Lumber is a supporter of schools, churches, and councils both in Kerrisdale and the Vancouver community. Mark is on the Advisory Board for Community Living British Columbia which supports and develops persons with mental disability over the age of nineteen.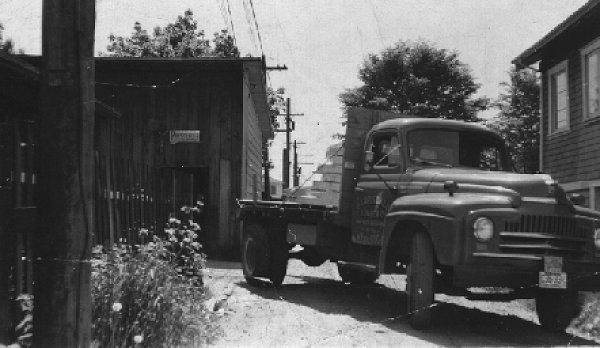 Overall, Kerrisdale Lumber has stood the test of time closing in on nearly one hundred years of business in the Kerrisdale community and Vancouver. Although it now boasts out of town, as well as international contractors, Mark is proud of what the company has accomplished since 1921. He is symbolic to the value of community and the development of the city of Vancouver and Kerrisdale since its foundation. As president of Kerrisdale Lumber, Mark is humbled by the success of his family's business and is confident that as long as the company and continues to grow with the times and is perceptive to technological innovations, Kerrisdale Lumber will continue to thrive.[[]]