Tags
Related Posts
Share This
Jack Parasiuk
Jack Parasiuk
By COCO BIKADOROFF
Photographs by DEAN MCLEAN
It couldn't be more nestled in the heart of the village. The fresh flowers surrounding the patio and the beautifully designed french doors set the entrance for an inviting bistro experience.
Jack Parasiuk is a hard working entrepaneur with a very kind and happy air about him. He took over Suvai Restaurant in 2007 when the opportunity presented itself after he had been working with the previous owners. But this is not his first restaurant; he owned a business in Gastown with his best friend and current chef Denis Scipion who he has great respect and admiration for.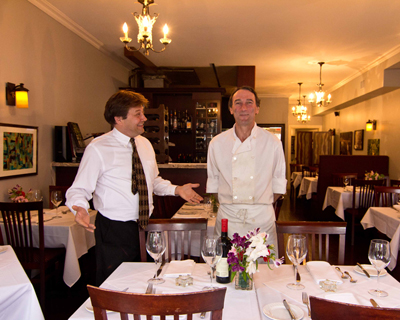 Jack started in the business as a young boy along with his family. His European upbringing taught him that a happy environment involved many a good time including good food, drink, dancing, entertainment, socializing, but with an emphasis on food.
When asked 'Why Kerrisdale?', Jack said that it reminded him of the '70's. The village ambiance is a perfect setting for Suvai's epicurean experience, and the close knit community reminds him of simpler days, when the world was not as technologically busy and people were more engaging and personable. He feels that is what it's like present day in the community. He believes in treating others the way you wish to be treated and that this neighbourhood has provided him with just that.
People smile and take the time to chat even if they don't know him, and you can tell when you meet him that even after one encounter, however small, he will remember you.
Jack hopes that Suvai will leave a lasting impression on its visitors. That a good time will be had by all and that they will remember the warm, cozy spot in Kerrisdale where whether you come for the wine and game hen, or just a bowl of daily soup and bread, you will leave feeling contented and that they have given you their top service.
Jack and Denis' love of fine food shines in their menu. Delicious and beautifully presented, I have always experienced a taste sensation when I've dined here. Although this is not a restaurant review, as a lover of tasty food, I must give kudos where it is due.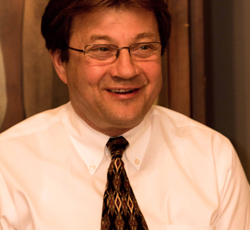 I often see Jack walking up the street with bags of fresh veggies and herbs, assisting wherever he can and making sure that the product he offers his customers will be as fresh and delicious as possible.
He is a hands-on restaurateur who you can tell really loves his business, values his staff, and takes great pleasure in being a part of a community where he can be a true part of it in a memorable culinary capacity.
A successful business in Kerrisdale? "It's a nice life" He says with a contented smile. Jack's inspiration comes from bringing happiness to others. He strikes me as a man who is satisfied to just get a greeting on the street from a stranger, so don't forget to smile at Jack when you meet him on the street, and you will.
*Suvai Restaurant is located at 2279 West 41st Ave, Kerrisdale Tel: (604) 261-4900